2010 West of England Regional Championship - Fourth Section: retrospective
18-Mar-2010
A great atmosphere, a great piece and a great win for a cracking band as Test Valley head for Harrogate as champions.
---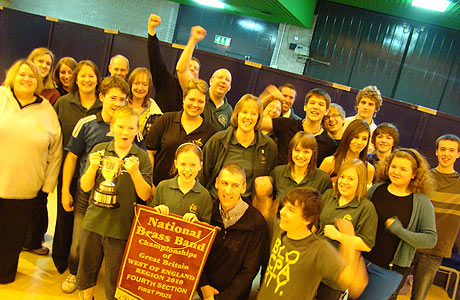 Champions cheer: Test Valley win the Fourth Section

There was a great atmosphere all day in the Arena Hall at the Riviera Centre, where under what looked like a massive Bedouin tent roof, 20 bands came and thoroughly enjoyed themselves on Philip Sparke's 'Saint Saens Variations'.

Enjoyed

And they did just that too, with competitors and supporters who spoke to 4BR telling us that for the first time for quite a number of years, they had thoroughly enjoyed the weeks of preparation for the contest.

It was also plain to see as well as hear that they were not exaggerating either. The hall was invariable close to full for all 20 bands, whilst for the results there wasn't a spare seat in the house.

Given that next door in the main Forum Hall two other contests were going on at the same time, it gave a clear indication to just how popular Philip's work has proven to be.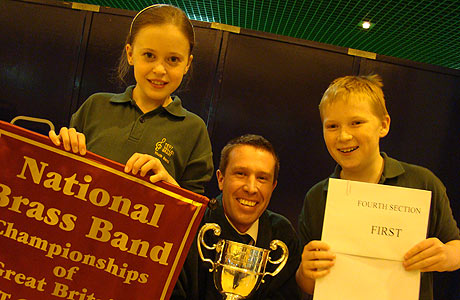 Little and Large: Test Valley's MD Steve Large and his great little helpers

Opportunity

Stan Lipeatt and Jappie Dijkstra were not going to miss an opportunity like that to tell the assembled masses just what they thought of what they had heard - and both judges were full of praise for all the competitor's efforts.

Jappie spoke with a note of pride in his voice after he revealed that the piece had been chosen in 2009 for a number of competitions on the European mainland and had proven to be just as popular there.

"It's the right choice for the right contest', he said. "Philip Sparke is a master for writing works not just at the very top level but also for contests such as this. He always produces a piece that is musical and that tests the players and conductors."

Although he went on to say that didn't mean it was an easy work, it was one that could be mastered if bands managed to play with the right lightness of touch in terms of articulation whilst maintaining good intonation. The vast majority of the bands did that he added – making the task of picking the winners that much harder.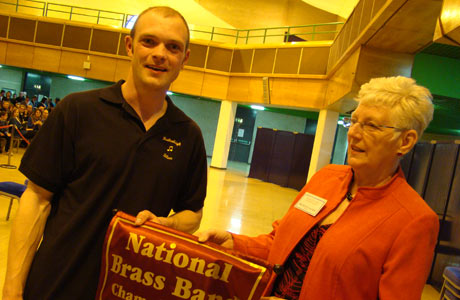 Hatherleigh head to Harrogate in second place

Excellent address

That was borne out by Stan Lippeatt's excellent address too – which he did through necessity due to the results taking a bit longer than usual to compile, with 20 sets of remarks sheets to sort out.

Stan was on good form, with one cracking adjudicating tale that will remain unreported as it is well worth the telling if he appears at a contest near you in future.

"We agreed most of the day with our positions for the bands," he said to knowing laughter from the audience (some well known adjudicators he inferred do come up with the cheap line that they agreed on everything in the box from the placing of the bands to the standard of the cup of tea brought to them in the comfort break).

"The first two bands were very clear for us, but we did have to deliberate over the bands that came third and fourth. There were very credible performances today from start to finish and I have to give a special mention to the overall standard of solo playing, which we both felt was first class."

No wonder he got a cheer.

Two bands

The two bands that he was talking about were eventually revealed as Test Valley Brass and Hatherleigh Silver.

The latter produced a full blooded performance under the baton of David Hayward, which had just enough extra sheen about it to pip Downton on the day, and send them to Harrogate for the first time in many a year, whilst Downton return to the International Conference Centre for a second year in a row.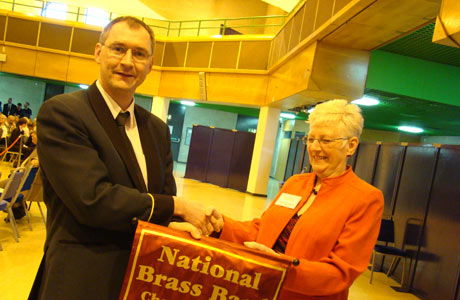 Downton pick up a podium finish and a Harrogate berth

Discussion

The two bands that merited that discussion and debate were Downton and AW Parker (Drybrook).

Further down the prize list there was plenty to enjoy and Stan later told 4BR that even with those bands, only a few really struggled to bring something out of the music. Separating out the bands in the midfield placings was really difficult he said.

Unfortunately just the three bands could gain the trip to Harrogate (and Stan later told 4BR that the fourth band was worthy of a place if the qualifying criteria was different), so despite the hearty cheer at their name being announced Kevin White and AW Parker (Drybrook) just missed out by the narrowest of margins.

Downton's delight was heartfelt as their re-representative came up to collect the third placed banner, as was the smile of a man who now knew the pleasant headache of fund raising for Harrogate was to begin.

Just a few minutes earlier, there was an equally vocal squeal of delight when the debutants of Wight Brass were announced in 6th place – a wonderful achievement on their first appearance, whilst there were a fair old celebration at the back of the hall when Shanklin Town made it an 'Isle double' by being announced in 5th.

Celebrations

That was nothing though compared to the celebrations that ensued with Test Valley Brass.

Their two young representatives Adam Large aged 11 and Jenna Wallace just 10, raced up to collect the Fourth Section trophy and winners banner with smiles as wide as Hampshire cats, if any such animals exist in Andover – followed hot on their heels by Band Secretary Andrew French, and band conductor Steve Large.

"I can't quite believe it!" he told 4BR. "I was delighted by the way we played, but there were so many good performances today. It's a great piece for such a young band as ours, full of great tunes, and with plenty for everyone to do, and we can use the piece in concerts too."

Test Valley has endured some ups and downs here over the years, and this band was reborn following the fall of the former Test Valley incarnation that just a few years back raced up through the sections only to find that it couldn't maintain it progress.

Champion

After three years away they returned last year to come 3rd and go to Harrogate - now they return there as West of England champions.

Steve added: "Things came too fast in the past, and now we all want to enjoy our banding with family and friends."

And what an extended family of intertwining relationships it is too – with Steve at the helm and his wife on solo baritone, Adam on flugel horn (which he only moved to three weeks before the contest) and his sister on repiano.

Meanwhile, young Jemma is joined by her mother on bass trombone and her father on principal cornet – and that is just for starters!

Now the band will start the long process of fund raising for Harrogate where Steve just hopes they get to play a piece as enjoyable as this.

Don't we all.

Iwan Fox