2010 Yorkshire Regional Championship - Championship Section retrospective
11-Mar-2010
Subjective opinions and hard nosed decisions - whichever way you look at it, Brighouse were Kings of Bradford.
---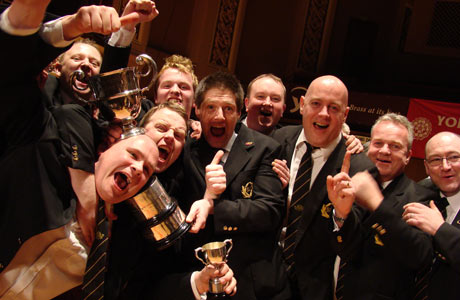 Kings of Bradford: Brighouse & Rastrick players celebrate

Brass band contesting is all about subjective opinion making. For adjudicator's however, it is also all about hard-nosed decision making too.

And it's that eternal mixture of dichotomies that gives the contest structure both its undoubted strength and inherent weakness. It's what makes the bars bubble with rumour and counter rumour, heated debate and forceful argument.

And if there was any time left at Bradford's St George's Hall after an 11.20pm finish on Sunday night, those bars were humming like an electricity generator at a Texas penitentiary.

Important decisions

Those all-important decisions on just who would be crowned Yorkshire Champion for 2010 fell to Derek Broadbent and C. Brian Buckley, and although they were not exactly dead men walking as they left for their cars, they must have known they had ignited one heck of an argument around the drinking holes of Yorkshire for weeks to come.

A top heavy field of thirteen bands meant it was a long old slog of a competition, despite the fact it was illuminated by a clutch of performances that were out of the very top drawer of Championship contesting.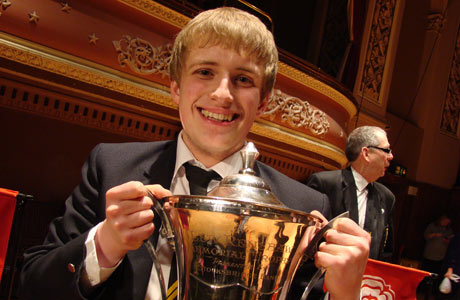 Plenty to smile about: Carlton Main claim second place

Stunning

The judges were forthright in their opinions when asked directly about their decisions (although their speeches from the stage were perhaps understandably brief given the hour), and they were more than happy that they were able to make them on the basis not simply of technical error, but of musical excellence.

It was a 'stunning contest', Derek said, whilst Brian added that the winners had put a 'tickle on the back of my neck', with their musicianship. The top five bands were 'outstanding' they added, and the differences between them 'so small'.

They added that any of the top five possessed the potential to win, but with the qualifiers, and the winners in particular, it was the way in which the musical picture of George Lloyd's 'English Heritage' unfolded that was so thrillingly persuasive.

For them, that meant Brighouse & Rastrick, followed by Carlton Main Frickley, Rothwell and Black Dyke, Grimethorpe and Marsden. Few would disagree that these were the best six on the day after they had played, but the final make up was certainly up for late night discussion.

Happy lads

Brighouse players celebrated in fine style on stage after the announcement of the results – happy lads at the thought of returning to London after a two year absence and even happier by going there as Yorkshire champion.

Behind the cheers however, the realists amongst them will have known that a degree of serendipity had played a small part too.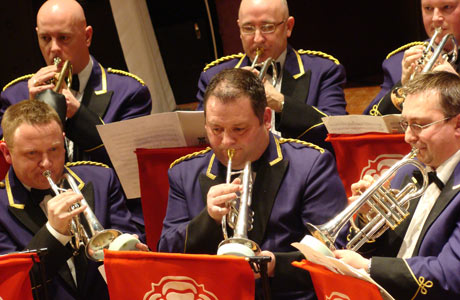 Pointing in the right direction: B&R head to Kensington

At times they were stunning – especially in the extended middle section that was touched with sublimity, as David King caressed the music, adding tasteful longeurs at occasional phrase endings that brought a heightened sense of expectation for what was to follow.

Steven Walsh on euphonium took the 'Adjudicator's Instrumental Award' for his ear catching contribution, but the trump card was surely the MDs interpretation – one of breadth and imagination.

The victory also gave the Australian MD his own hat trick of sorts – with wins here as conductor of Black Dyke, YBS and now Brighouse & Rastrick – an amazing record he shares with Peter Parkes, who did it with Imps, Grimethorpe and Dyke.

The errors though were noticeable – very in some cases, and whilst they didn't rob the integrity of the music they certainly gave cause for concern. The MD himself will surely know that if Brighouse is to bring him a first National Championship title at London, these inherent problems need to be sorted. The judges may not be so sympathetic in Kensington.

Relaxed confidence

With two qualification places on offer, both Black Dyke and Rothwell were able to take to the stage with an air of relaxed confidence.

Both produced the most technically assured playing of the day by some considerable margin, and may be left wondering what on earth cost them victory.

Black Dyke produced an edifice of brilliance that seemed almost error proof. By it's close Dr Nicholas Childs wore the smile of a contented man after his band had produced an engrossing account highlighted by inspired soloists and an ensemble of detailed security. It is hard to imagine a band playing better than this and ending up in 4th spot anywhere else this year.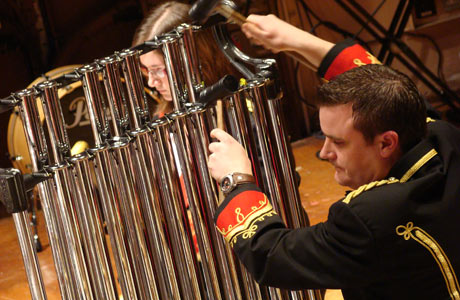 Can you hear us in the box? Black Dyke end up in 4th place

The same could be said of Rothwell too, who produced perhaps their finest contesting performance under David Roberts only to finish in 3rd.

With qualification already assured this was a relaxed Rothwell, a band able to fully showcase their considerable technical as well as musical abilities under their MD. There was also a vibrant warmth to their ensemble sound, that was controlled and balanced from start to finish, whilst their stable of soloists were also on the rarest of form.

David Roberts wasn't the only person wearing a wry smile of bewilderment at the announcement of the results for sure.

Smiling

Philip McCann will certainly be smiling – most probably well into the next few months – after leading Carlton Main to London as runner up. His emotional response at the conclusion of their performance spoke volumes – giving 'Best Soloist' winner Kirsty Abbotts the type of hug that had the potential to break her ribs if it went on any longer.

His delight was understandable too – after a performance rich in detail and broad musicality and which contained a stunning duet cadenza between Kirsty and Mark Walters that was a class above anything else on the day.

The moments when things didn't quite go to plan were minimal, and like David King, the MD brought tasteful longeurs to some phrase endings in the quiet section of the work that were a thing of beauty.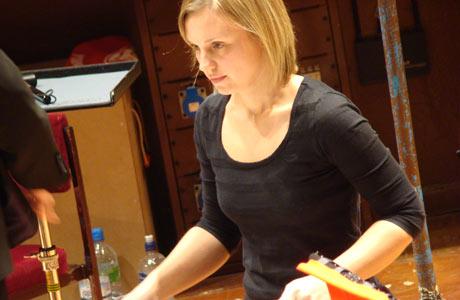 Not just a pretty face: Carlton Main's perc section strut their stuff

Shattering

For Grimethorpe; shattering disappointment.

For a second year they missed out on a return to London by the narrowest of margins following a performance that scaled the heights only to be pulled back by some nasty individual errors and thoughtless playing.

Allan Withington's reading of breadth was persuasively laid out, but just when you felt they had more than done enough to claim a qualification place, if not a victory, that looseness of execution cost them dearly. So it proved.

The final top six place was taken by a delighted Marsden under Glyn Williams.

This was a exceptionally determined, gritty effort, full of character and purpose, and although it was not a thing of musical beauty compared to the bands that came above them, there was a fine sense of style and a purpose to the playing that fully reflected the MD's desire to put all the basics in the right place.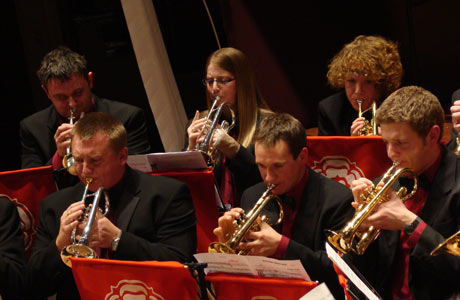 Never sounded better? Rothwell relax and end up in 3rd

Peripheral

The two bands that may have thought they had done enough to claim a top six berth ended up in 7th and 8th places respectively.

Hepworth will have known that they were going to find it difficult to repeat the heroics of last year after they had to overcome the virtual loss of solo cornet player Nick Payne due to a painful tooth abscess. Although he bravely took his usual seat on stage, he was a peripheral figure as in the reallocation of the huge cornet workload his usual classy contributions were minimalised.

It was a decent effort in the circumstances by the band, but one that understandably fell short of the qualification mark.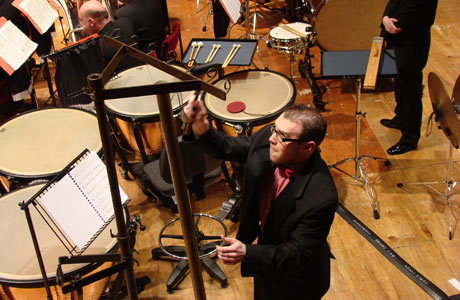 Something to hang onto: Grimethorpe's efforts can only gain 5th place

Skelmanthorpe meanwhile could count themselves a little unfortunate that an intelligently prepared and delivered performance under John Roberts didn't quite get the reward many felt it deserved. Purposeful and well constructed, it was secure and detailed, and whilst it did tire, it was high class playing.

Fell away

Thereafter the standard fell away (and with 13 bands, at times it was questionable whether at least three were of true championship quality)

Wakefield Metropolitan's lyrically inspired, but error strewn account ended up in 9th, whilst Powerfuel Hatfield's truly bravura performance under John Berryman was 10th.

With their MD Graham O'Connor in the audience due to his recent ill health, John Berryman stepped in at the last moment to lead them with skill and insight, even though the piece was understandably under prepared. The players did Graham and John proud.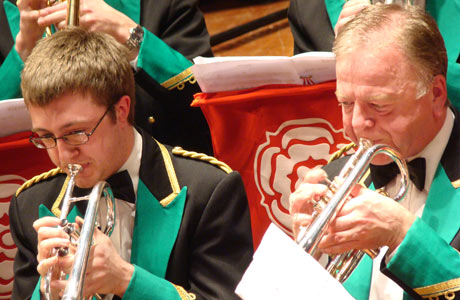 Marsden magic: 6th place for the hard working Marsden Silver

Bottom three

Meanwhile, the bottom three bands were left to reflect on a piece that tested their skills to the limit and at times beyond.

Stannington struggled throughout despite brave individual contributions and a well thought out reading, as did Drighlington and Old Silkstone.

Whilst they all gave it everything, all three couldn't disguise the fact that they were really a trio of good quality First Section bands, not truly competitive championship ones.

With the contest fast approaching 12.00 midnight there was just time for the announcement of the results and a well-deserved presentation to Graham O'Connor on his 55-years of unbroken service to the Yorkshire banding movement.

Then came the opinions, arguments, debate, rumours and counter rumours. Brighouse champions, David King back at the top. It's as if he has never been away.

Malcolm Wood