2010 Yorkshire Regional Championship - First Section retrospective
11-Mar-2010
There was plenty to talk about in the First Section as Meltham & Meltham Mills found a walk on Moorside very much to their liking.
---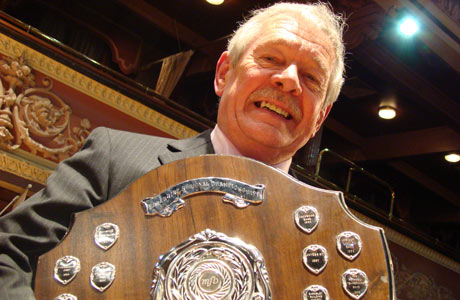 Retirement smile? Hopefully not for Stuart Fawcett and Meltham

Gustav Holst's 'A Moorside Suite' was composed for the 1928 National Brass Band Championships by a man eager to explore the possibilities of the medium that he found less restrictive than the military band (for which he had already written his Suites in E flat and F).

The result was, and remains, a lively, elegant work, one that presents a timeless set of challenges to players and conductors alike.

Adjudicator's criteria

Sitting in the box were Kevin Wadsworth and Lynda Nicholson, both of whom spoke at length to the audience to inform them just what they were looking for from the performances on the day.

Lynda Nicholson gave her reflections on each of the three movements and the style required to make them work, whilst Kevin was forthright and detailed in his analysis too. The bands couldn't say that they didn't know what the judges were looking for.

The winning performances were adjudged to have been those that allied consistency to style – an important consideration given the eventual outcome of the results.

Pecking order

Crossing the finishing line as champions was Meltham & Meltham Mills, ably led by Stuart Fawcett.

Stuart was leading the band for what was the last time after a decade or more of superb commitment to the Meltham cause (and the band has had to endure a horrendous run of number 1 draws here in years gone by), so no one could begrudge him his moment in the spotlight, cheered on by his grateful players and supporters.

With a fine 'Scherzo' opening, lyrical 'Nocturne' and well delivered 'March' theirs was a coherent performance, notable for its style despite the occasional lapses in concentration and errors. It was also a performance that resonated in the box – to title winning effect.

Now to start twisting Stuart's arm to get him to delay his retirement until after September at the very least.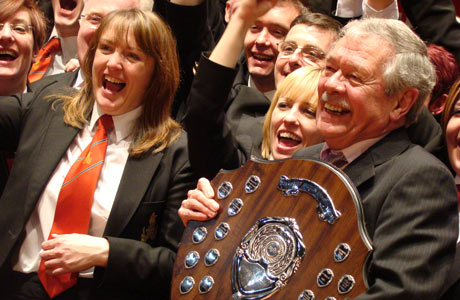 Harrogate bound: Meltham celebrate their First Section victory

Relaxed

Joining Meltham at Harrogate will be Hebden Bridge, who despite having just three basses and a reduced cornet section delivered an accomplished performance (with a lovely bit of euph playing from 'Best Soloist', Ian Plant) that although relaxed in style and tempi, still caught the essential 'Englishness' of the music under the experienced Roy Curran.

Narrowly missing out on a place in Harrogate were Cornerstone Brass conducted by Gavin Lamplough, although in honesty they will wonder perhaps how they came so close to getting there after a performance that was so under cooked that it would have qualified as being medium rare.

The quality of the ensemble sound though stood out, and whilst the detail was more questionable, the style was persuasive and balanced.

Singed around the edges

Hade Edge on the other hand produced a performance that was so well done that it was almost singed around the edges. Simon Wood had left no stone unturned here, with a reading (minus score) that had real insight into the folk inspired light-footed style.

With effective dynamics, secure soloists and that sense of delicacy to the style, they seemed to have a Harrogate place in the bag, but the judges felt differently. It must have come close though.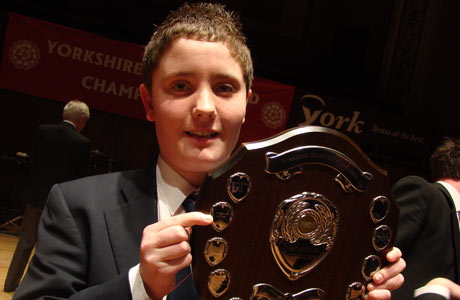 Seconds out: Hebden Bridge claim their place at Harrogate by coming runner up

Authority

As for Hammonds Saltaire?

Followed by the 'Financial Times' and led with equally authority by Morgan Griffiths, you would have put the contents of the safe at their old sponsors Yorkshire Building Society on them winning here after a performance that seemed to bring the old test piece back to thrilling musical life.

With a balanced, cultured ensemble, secure, artful soloists and a reading that had a stamp of classiness – there was so much to admire. There were occasional lapses, but small ones only, so by the end of the treacherous middle movement, which had been overcome with a confidence borne of hard work and skilful application, victory seemed assured.

Not so. Just how it didn't come higher than it did, or even win by a considerable margin we may never know. The judges didn't like it – simple as that. The contesting gods haven't been generous to Hammonds over the past couple of years, and this one was particularly unlucky.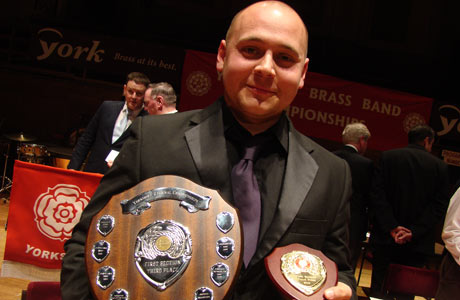 Turning the corner? Third place for Cornerstone Brass

Intriguing

Brandishing a new name City of Sheffield (formerly Stocksbridge) followed Hammonds on stage with MD David Holling conducting minus a score.

What followed was an intriguing interpretation – at times persuasive and almost inspired, at times oddly, and waywardly idiosyncratic.

One thing was for certain though – it was totally engrossing and interesting, even if you wondered just where the inspiration came from. It was perhaps just a little too left field to have come higher than it did, but you have to applaud the MD for his bravery.

Uneven performances

For Lindley, Yorkshire Imperial Urquhart Travel and Kippax, decent, if uneven performances saw them battle it out around the fringes of the top six places, although they could have ended up in just about any order.

Too many individual flaws especially in the treacherous 'Nocturne' undermined their efforts of a possible qualification place, but when added to a tendency to over accentuate the opening rhythms and to opt for volume rather than quality sound to close, they could have little complain about in coming where they did.

These were bands that showed their potential in the areas they were comfortable with, but also showed their inherent weaknesses in the areas they were not.



Home grown talent: Ian Plant with his Best Soloist Award

Bottom three

The same goes for the bottom three of Slaithwaite, Yorkshire Co-op and Holme Silver.

Yorkshire Co-op, might be slightly bewildered at their 11th place finish after delivering a performance that contained classy individual parts which never quite gelled into a coherent whole. Tabby Clegg on principal cornet was perhaps the best 'top man' of the day.

Slaithwaite seemed to be always at odds with the style of the music, never quite capturing the playful lightness of the 'Scherzo' in particular, whilst Holme had one of those days when the accumulation of unforced errors and lapses in concentration meant that they were up against it almost from the word go.

Overall though a contest of surprises; especially for Hammonds and possibly for Hade Edge - and of delight - for Meltham and Hebden Bridge.

There may well be quite a few more like this around the country this coming month.

Alun Perry