2010 Yorkshire Regional Championship - Third Section retrospective
11-Mar-2010
Two fine performances took the chance to show off their Labour & Love skills to book their places at Harrogate in September.
---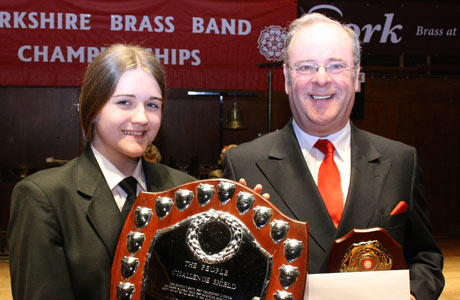 All smiles for Chapletown Silver from Sheffield
Picture: Steve Jack

A day, which rather wearily ended around 11.30pm, actually started bright eyed and full of enthusiasm at 8.00am on Sunday morning, as bands headed to the draw for the Third Section and a 9.30am start time.

A few hours later the contest had actually finished ahead of schedule, allowing plenty of time for Chapeltown Silver and Clifton & Lightcliffe to head to the Delius Bar and sink a few well-earned Harrogate half pints of celebratory intoxicant.

Pattern

As had become the pattern from the previous day, there was plenty to enjoy from the 12 competing bands, with a host of solid, well managed performances, some very interesting takes on the old pot boiler of a test piece, and a final decision from the judges that guaranteed debate in the bars.

Both Lynda Nicholson and Alan Morrison were full of praise for the competitors – although they also made sure they knew just why they had come where they did too.

Again it was a question of consistency, banding basics and the elimination of costly errors that allowed them to place the contenders in the order of their personal preference. It's hard to disagree when faced with a pair of judges who knew the score and how it should be played – although some of the bands did make it rather easy for them too.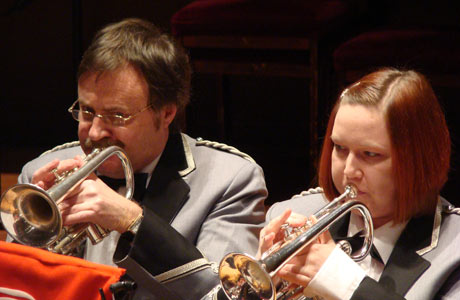 Determination gains reward for Chapletown's back row

Head scratcher

That said, the one band that may have left them scratching their heads was Gawthorpe under Stephen Bradnum. This was a conductor who took risks – with dynamics and especially tempi, and whilst it was confidently constructed, it was an interpretation of 'Labour & Love' that somehow for the judges missed the sweaty graft and Mills and Boon inspired love interest.

On another day it may well have won the contest at a canter – but on this occasion Mr Bradnum came up against two judges with a palette more for the emotional than the aesthetic.

Right boxes

The two bands that did tick the right boxes were Chapletown and Clifton & Lightcliffe, who produced robustly coloured, authentically paced accounts of Percy Fletcher's romanticised take on a DH Lawrence novel plot to head to Harrogate in September.

Chapletown's bravura account under Andrew Dennis benefited from a cracking trombone section who managed to give a tasty edge that was just the right side of 'Frank Berryesque', and a warmly balanced ensemble sound allied to impressive soloists that held its balance right through to the close.

It provided the judges with a confident marker that was not to be beaten, with Clifton & Lightcliffe's account as the penultimate band of the contest the one that eventually ran it closest.

John Clay's sensible approach to tempi and dynamic held its shape throughout, and with solid individual contributions and a balanced ensemble there was little doubt that it would be there or thereabouts come the results.

Not for the first time John had used his vast experience to fine effect and his band did him proud.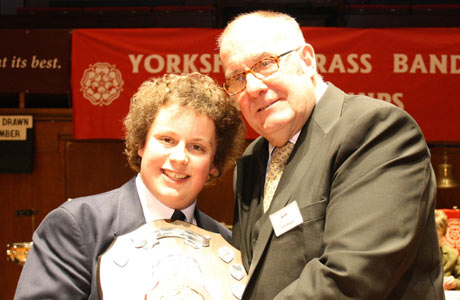 Harrogate bound for Clifton & Lightcliffe
Picture: Steve Jack

Missing out

Just missing out on the trip to Harrogate was Wetherby & District who produced a solid account to start off the contest, and whose performance was substantially enhanced by the cornet playing of Andrew Yeomans who deservedly took the 'Best Soloist' prize.

Crofton meanwhile rounded off the competition with a well managed account under Tim Sidwell to come 4th, whilst Elland Silver had one of those days under Jim Shepherd when but for a few too many individual frailties may have pushed for a qualification place rather then ending in 5th.

The final top six place went to Gawthorpe Brass '85', who just became a little over enthusiastic in the dynamics to hold their balance and tonality in control after a promising start.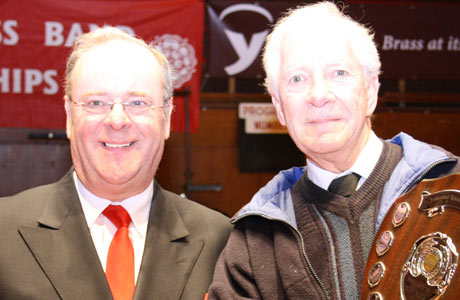 Just missing out for Wetherby & District in 3rd
Picture: Steve Jack

Blighted

With the rest of the field promising performances were blighted by understandable errors and some unfortunate little blips in concentration. There could be few complaints at where they eventually came, despite extended periods when everything did fall nicely into place.

West Yorkshire Police, Skelmanthorpe 'B', Maltby Miners, Lofthouse 2000 and Armthorpe Elmfield bravely tried to meet the 90 year old challenges, but found that age had not wearied the quite as much as they possibly thought.

Each had their moments, with neat ensemble work from West Yorkshire Police, a fine soprano featured with Maltby, an equally talented young solo cornet with Lofthouse and a whole clutch of up and coming youngsters with Armthorpe.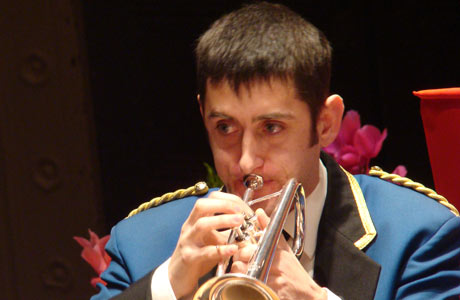 Best Soloist Andrew Yeomans in action for Wetherby

Younger players

What was good to both see and hear though was the commitment of the younger players who more than held their own with their older counterparts, and the sensible approach of the MDs not to try and bluff their way through – despite the odd unnamed conductor trying to help with a bit of enthusiastic vocal support.

For the winners and qualifiers though, plenty to sing about in the bar.

Iwan Fox