2010 Yorkshire Regional Championship - Fourth Section retrospective
11-Mar-2010
A great test piece and some great playing made for a highly entertaining 4th Section contest - won by a French fancy of a band.
---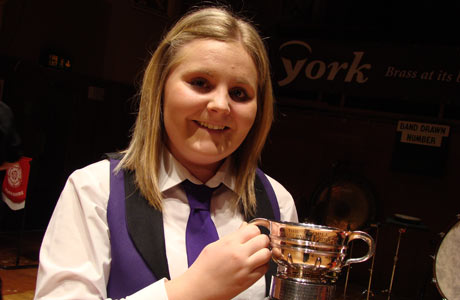 A fantastic smile from Amy Linthwaite of Worsbrough as they take the title

This was a cracking afternoon of contest music making.

A great test piece, some wonderfully committed performances, excellent soloists and bands that knew they could produce really good renditions of a piece they certainly enjoyed playing.

The horrors of 'The Talisman' seem a long time ago now.

Familiar tunes

Most people would have been familiar with the inspiration behind Philip Sparke's 'Saint –Saens Variations' - just about from the very first note of the piece, and as a result they would have thoroughly enjoyed what Philip had expertly crafted with it.

It's not often bands at this level get to play to virtually full halls, but that was the case on more than a few occasions as the paying public took the opportunity to enjoy a piece they could whistle the tune to all the way home.

That said the work certainly wasn't easy – but the bands did themselves proud by producing a high standard of playing that other areas will do well to match.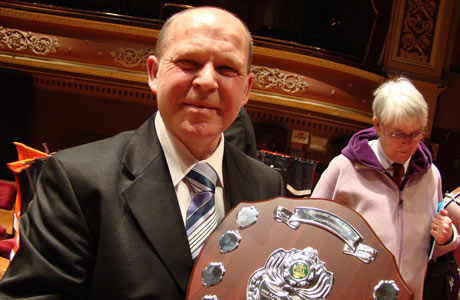 Winning MD John Hopkinson with the Steve Platten Memorial Shield

Composer in the box

Steve Pritchard-Jones was joined in the box by the composer (a coup for Yorkshire to get him) and both men gave very specific details about what they wanted to hear from the bands from the stage.

Doing the basics was one thing, but tempo markings counted enormously too. The judges did allow a degree of latitude with the markings (around 10%) but anymore than that proved costly.

Some bands found themselves in a position where they were racing along like a French mare in the 2.30 at Chantilly at the close – more through enthusiasm and adrenaline it must be said that controlled velocity.

As it is on the tin

Worsbrough took the title because they did everything that was required of them on the score – no more, no less. The basic tempo markings and dynamics were fully adhered to and so by its close there was no doubt that it was a performance that would be in around the qualification places.

John Hopkinson's direction was clear and precise, his instructions encouraging and his face a mix of sweaty delight and relief at the close. Both he and his band had produced a wonderful performance.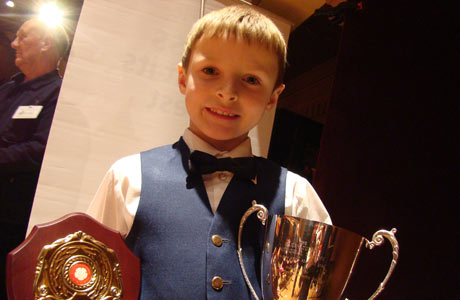 A star in the making - 8 year old timpani player Matthew Lawrence

The return of Dinnington

Although it was almost impossible to forget all the media hype that had surrounded Dinnington of late, they still had to show that when it came to performing on stage there was more to the newest television celebs than truly garish uniforms and a £1 million recording contract.

And despite the 'Hi-de-Hi', jackets, Jonathan Beatty and his band did just that – and more, with a performance that very nearly ended with the fairytale climax television executives would give their right arm for.

They of course benefited from having Michelle Ibbotson on soprano, but it was the playing of others that caught the ear too – from the excellent solo cornet to the warm basses, and rock solid euphonium. With the winning post in sight they perhaps revved the engine a bit too high in the volume and tempi department, but by its close there was little doubt that they fully deserved to win through to Harrogate.

Sue Perkins will be delighted.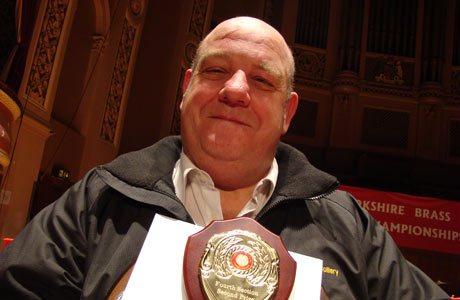 Million pound smile from Dinnington as they head for Harrogate

Solid Linthwaite

Linthwaite's approach to the basics from start to finish was very nearly as good as that of the two qualifiers, but just when you felt they were going to push their way through and claim a place at Harrogate they just let the moment slip as their stamina waned.

It was a fine performance however, and one to be proud of.

The next PLC?

There was no doubting the individual highlight of the contest, which came with Friendly Band (Sowerby Bridge) conducted by Colin Hardy and in particular, their timpani player.

Matthew Lawrence is 8 years old and only took up the instrument in January this year. Knee high to a Majestic timp he may be but by heck didn't he play them well.

Percussion expert, Ray Payne did a fabulous job setting everything up for the youngster and putting him at ease (including a post performance reward to spend on lemonade at the bar), and whilst he looked a touch sheepish when called to the front of the stage to accept the applause of a delighted audience, in the years to come we think he may get used to the attention.

Colin meanwhile will have been delighted too - not just by Matthew, but by his band, who produced a rounded sound and secure ensemble to claim 4th place – their best result here for some time.



Lovely stuff from 3rd placed Linthwaite

The early markers

Huddersfield & Ripponden and Thurcroft set the bar for the rest to beat as the first two bands to take to the stage. Thurcroft's Andrew Stevenson gained a well deserved 'Best Soloist' award for his classy efforts with Thurcroft as they eventually ended in 6th place, whilst Huddersfield produced a highly enjoyable account to finish in 5th.

Both bands were full of potential and promise and were ably led by their conductors, who marshalled their resources with real intelligence.

Alex Francis meanwhile led Barnsley Metropolitan in a committed account that certainly had energy and drive, whilst Deepcarr could count themselves a touch unlucky that their performance that was colourful, vibrant and spirited didn't quite come higher than 8th.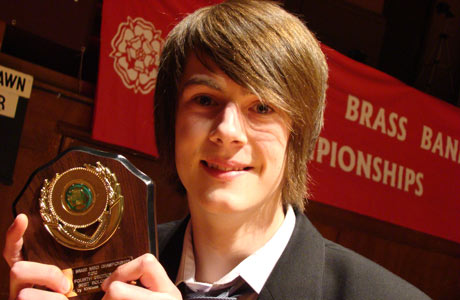 Best Soloist Andrew Stephenson of Thurcroft Welfare

Proud of

The remaining bands all brought something to the contest to be proud of – with Oughtibridge determined and purposeful, Wilsden a little more hit and miss but full of vitality and commitment and Clifton & Lightcliffe an absolute joy.

John Clay's next generation displayed a wonderful sense of confidence and commitment to the cause, helped by John's little gestures of encouragement, smiles of pleasure and nods and winks of support.

The same too goes to Haworth, with Charles Hindmarsh resplendent on red bow tie and with his band delivering a wonderfully committed performance that although uneven in execution was full to the brim with character and vibrant enthusiasm.

For the delighted players of Worsbrough, Harrogate beckons, and they can be confident that they will do well there on this form. As for Dinnington – yet more good news and another step to international stardom.

Malcolm Wood