2010 Midlands Regional Championship - Introduction and preview
9-Mar-2010
The Midlands has plenty to offer this weekend for players and supporters alike although we all miss the dodgy burger van at the back of the old Burton Town Hall dont we?

---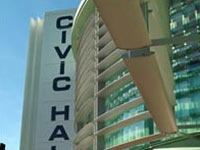 Things are looking up in the Midlands – especially now that their Area contest weekend takes place in two cracking venues in Bedworth.

Fags

There is a busy, and at times very vibrant competitive atmosphere to be found here now, although some of the older battle wearied bandsmen still yearn for the battered old burger van at the back of the car park at Burton Town Hall, where they could swap band rumours and inhale fags whilst raising their cholesterol levels to artery bursting levels.

Still, times move on, and Midlands banding is moving on towards what is hopefully a much more prosperous future too.

With a number of these competing bands taking the opportunity to enjoy an early season run out at the Mineworkers Championships in Skegness (a local contest of sorts) quite a few have been able to put quite a bit of bunce into their pockets – handy when it comes to paying for the Harrogate or London hotel later in the year.

What they need now is a bit more success from the bands.

Free zone

London has been a success free zone for some time now, although Harrogate holds promise for this year and beyond, given the increasing success of a number of lower section bands in contests around the country (Butlins especially).

The Midlands Regional Committee has been revitalised in recent years and Lesley Bentley and her team have not been afraid of putting their necks on the line with their ambition either.

The move to a new brand harry spankers venue in Bedworth has proven to be both popular and successful, whilst this year's decision to ask Dr Robert Childs to adjudicate in the top section with David Read, has been met with approval from the competing bands – not a single murmur of discontent.

Confidence

That shows a degree of confidence and even a sense of adventure that should be embraced and celebrated, even if the demise of the burger van will forever be a loss to whole of Midlands mankind…

All it needs to do now is to get itself a date on the banding calendar that doesn't fall on the same weekend as three other regional championships.

That will be next we are sure.

4BR will be at the contest and will bring the usual draws, results and opinion as soon as we can get it up on the site.