2010 West of England Regional Championship - Introduction and preview
5-Mar-2010
As always there is always a warm and friendly atmosphere down in Torquay - and they have plenty to smile about too...

---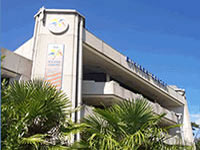 There is always a warm welcome by the seaside for anyone who wishes to listen to the competing bands at the Riviera Centre on the weekend.

Plenty to be pleased with

And much of the warm welcome is due to the fact that the West of England has plenty to be pleased about at the moment when it comes to those bands.

Not for the first time in the past decade the region can boast about their National Champions – St Breward in the Fourth Section and Brunel Brass in the Third, whilst as a whole there were excellent returns from just about every qualifier who made to Harrogate.

The really good feeling comes though when you look at the Championship Section.

For many years the top level here has been statistically the regions weakest, but a brace of top ten finishers means that for the first time since the heyday of the defunct Sun Life Band there are real hopes of a top six finish or better at the Royal Albert Hall.

Trickel up effect

Could it be that the 'trickle up' effect of talented performers and conductors has finally started to bear fruit?

With numbers up, three new bands making their debut and one returnee, no wonder you will see the indefatigable Brian Elliott and his excellent team of helpers wearing permanent grins on their faces as they organise a slick and highly professional operation over the two days.

Tasty

The Riviera Centre provides an excellent venue for a contest of this size, and whilst there are some complaints about the acoustic in the arena hall, it does mean that everything in under one roof, the players are very well catered for and there are plenty of places to have a quiet cup of tea both on site and around the town. The night life can get a touch tasty too.

4BR will be there over the two days to bring you as much of the action as we can as quickly a we can write it up, whilst there will be the usual Twitter service, picture updates and comments, and retrospectives too.