2010 North West Regional Championship - Introduction and preview
5-Mar-2010
The one thing bands in these parts enjoy doing is competing against each other so Sunday should be a great day of domestic battles then

---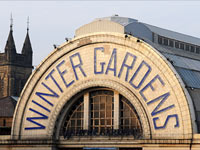 There is always a keen sense of rivalry between the bands here at Blackpool, as perhaps more than any other region, they all tend to enjoy competing against one another either locally or nationally.

Well attended

Well attended contests such as Brass at the Guild Hall and Tameside, the Whit Friday bonanza and the regular trips to Prestatyn and delights of Pontins means that local bragging rights are very nearly as important as national ones.

It is however made a little more complex by the local gradings not quite being in line with the National ones, but that invariably adds a bit of extra spice to proceedings – as does the decision to stay with the one judge in the box.

Strong region

The North West is a very strong region not just in terms of numbers, but also quality too, with fine records to uphold from Championship to Fourth Section come the Finals at Harrogate and London.

For instance, Foden's will be looking to make it five in a row and create their own bit of history in the Championship Section, whilst the remarkable Oldham (Lees) Band will be looking for their sixth consecutive title in the First Section.

Elsewhere there are bands returning to the contest (one for the first time in over a decade) and with numbers up this year there is a feel good factor around.

Crumbling splendour

Unlike the other regions the event is held on the one day amid the crumbling splendour of the Winter Gardens, and whilst the old venue is showing its age, there are not too many alternatives around that can cope with such an influx of excitable bandsmen and women all clamouring for beer, food, registration, trade stands and places to change.

How long the contest can stay here is matter for debate as the local council has unveiled ambitious plans for redevelopment of the site in the coming years (next year is pencilled in for 27th February), but for the time being there is still plenty to enjoy in the various halls before they are turned into yet another bland shopping and leisure facility.

Great job

Peter Bates and his team do a great job keeping the event going throughout the day and there is always a warm welcome to visitors.

4BR will be on hand to bring you as much of the action and the results as soon as we can, with the usual reports, opinions and retrospectives.