2010 Yorkshire Regional Championships - Introduction and preview
1-Mar-2010
The 2010 National Championships of Great Britain kicks off in Bradford on the weekend - just 140 days since Black Dyke became 2009 champions at the Royal Albert Hall.
---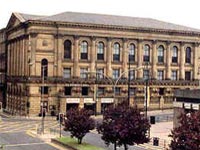 Where better to start than Bradford?

Just 140 days after Black Dyke retained their title at the Royal Albert Hall, the Nationals are with us again. And appropriately, it all kicks off at St George's Hall in Bradford.

Yorkshire could very well set a very high standard for the rest of the 2010 Regional contests to try and better.

Numbers up

Numbers are up this year, and if all 60 contenders take to the stage over the weekend of the 6th/7th March, it will be the highest entry list seen here since 1999.

Peggy Tomlinson and her hard working team run a very efficient and progressive championship. The demand for tickets remains impressively high, with plenty of keen competition in all five sections to look forward to.

The welcome here is warm, but businesslike: The bands know just where they stand from the time their entry form is sent in to the moment they sit on the stage ready to play, the audience is well informed without losing that traditional blunt Yorkshire bias, and the event continues to look forward not back.

Adjudication Panel

For the third year in a row, the Yorkshire Committee has worked with 4BR and British Bandsman magazine, the judges and composer Philip Sparke to run a Youth Adjudication Panel.

This time four teenagers will pit their judging skills against those of the men in the box and the hacks of the press perched high in the stalls to see which bands in the Fourth Section tickle their fancy on Philip's, 'Saint-Saens Variations'.

Despite Yorkshire's dominance at the Albert Hall (three of the four qualifiers came in the top six, and the trophy hasn't left the county since 2005), it wasn't quite as 'White Rosy' a picture at Harrogate at the Lower Section National Finals.

Not one band managed a podium finish last September in the four sections at the International Conference Centre – the best a couple of 4th places finishes. Despite the standard of the very best bands here, the trickle down effect is still stymied by a somewhat bloated Championship Section.

Change

That may well change this year, with a number of strong looking bands in the First Section in particular, and a number of up and coming outfits lower down too. The best news of all though is surely the increase in numbers in the Fourth Section, which this year will see 12 bands compete on the Sunday morning.

4BR will be there all weekend bringing you the action. We hope to use Twitter for immediate opinions and get your reactions as well. The retrospectives should be with you in double quick time too.

No wonder there isn't a better place than Bradford for the 2010 National Championships of Great Britain to start all over again.