2010 Norwegian National Championships - Postcard from Bergen
10-Feb-2010
There was so much to enjoy about Bergen this year - despite the snow and the smell...
---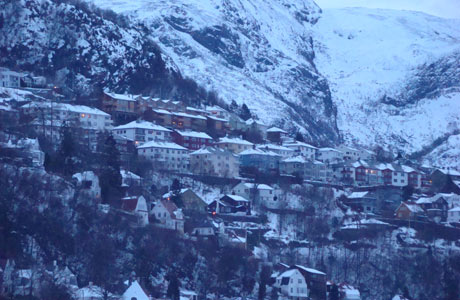 Picture postcard - without the smell...

Snow: Tons of the stuff.

Just when you thought you had the chance to get away from it all after the weeks of ice bound horror in Great Britain, you fly to Bergen to be faced with even more of the frozen terror.

And before you think Bergen would be used to it – think again. They are fed up to the back teeth of it too.

Dusting

The city may look picturesque with its dusting of gleaming whiteness on the expensive houses high up on the fjord, but Bergen normally only gets about 14 days of heavy snow per year – and it had been falling here for weeks.

Another seven days of it and it would be an unwelcome record. They were even down to their last supplies of salt for the roads.

The streets were full of mucky slush, the sidewalks treacherous with ice, driving had become a skating rink lottery and to make matters even worse – the place stank.

With ice covering the lake, the seawater has flowed in and mixed to produce a sulphurous miasma of pong that greeted your nostrils like the smell of a wet tramp in front of an open brazier as soon as you walked out of Bergen airport.

Welcome to Norway.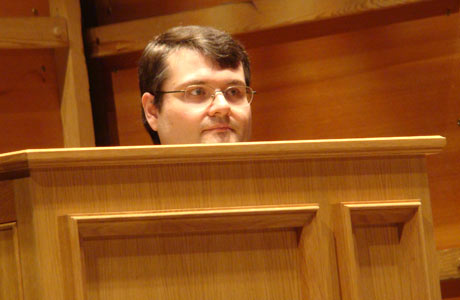 Staying ahead for Manger - and their mighty mechanical organ player...

Detour

It was so bad here on the Thursday night that they had closed the main road to Bergen. The taxi driver took us on a long (and expensive) detour via the village of Lakesvag, made interesting by his running commentary on local history (from milk deliveries, to the Germans having a U Boat dockyard here in the War, as well as the barracks, which have been turned into very nice flats). They couldn't do anything about the smell either though.

Thankfully, by the time you get to the wonderful Grieghallen for the National Championships things are so much better on the senses.

With over 70 bands taking to the two stages, open adjudication, great organisation and a feeling of inclusiveness to everything that goes on, you soon forgot the snow and smell outside.

Next 30 years

Although the Norwegian Championships are over 30 years old, it is the next 30 years or more that are being planned for.

The introduction of an 'Open Class' has been made to encourage parents of children involved in lower section bands to take up brass playing themselves and to become an active playing part in the championships, rather than merely enthusiastic supporters. Two bands played on the weekend, with ambitious plans for more to follow.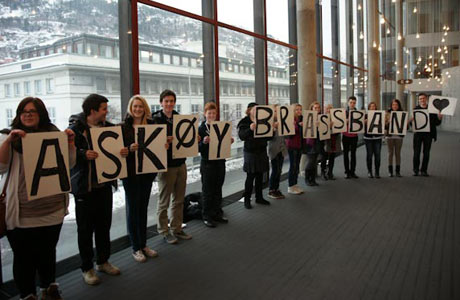 Askoy's Countdown
Picture: Rolf Hestetreet

The increasing number of 4th Division bands (23 this year) may also see the introduction of a 5th Division in the next few years, as the organisers plan to ensure that playing standards are not diluted by trying to cram more bands into current set up.

Clear thinking

That clear long term thinking benefits everyone – from those eager parents right through to the Elite contenders who thrilled a packed Grieg Hall without a murmur of discontent about them being judged in the open for the first time.

Even the pre results concert had been given thought and preparation, and so by the time Steven Mead and Eikanger Bjorsvik (plus the odd furry cartoon animal or three. For all their sophistication the Norwegians are suckers for slapstick humour) had warmed the packed hall up everyone was full of anticipation for the results (beamed up in ascending order on the screen behind).

The Brits who were here were full of admiration – from players such as Alan Wycherley and Steven Mead to conductors Dave Roberts, Melvin White and Gwyn Evans, composers Philip Sparke and Simon Dobson and adjudicators such as John Wallace.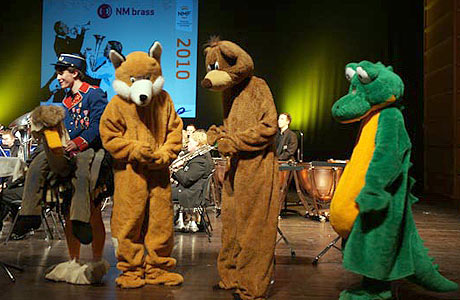 Slapstick comedy: The Norwegians love their strange animals..
Picture: Rolf Hestetreet

Similar tales

Those who have been out here longer had similar tales to tell – from John Hudson who picked up his cornet again to fine effect this year, to Michael Antrobus (who still wears his Black Dyke tie with pride), still perhaps the most successful and influential British export of all.

He wore a smile of delight the width of Bergen harbour after hearing that his current band Sandefjord Brass Symposium had won the 1st Division title in such thrilling fashion. His celebration was only marginally tempered by the news that his beloved Everton Football Club had just lost the Merseyside derby to Liverpool.

Committees

Philip Sparke related a story to 4BR about his recent visit to Trondheim where he gave a presentation to the wind band organisation. There he was amazed to find that there was a packed seminar full of 14 – 16 year olds learning about the importance of becoming active band committee members as well as players.

That sense of social responsibility and transparency permeates through every contest pore. The lower section contests are a delight – from the young presenter giving a potted history about each competitor as they take to the stage, to the players who stop to listen immediately after they played to fellow competitors.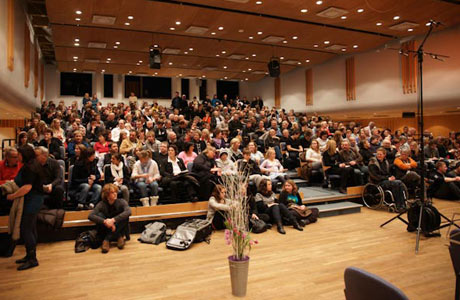 Packed to the rafters - in the 4th Division
Picture: Rolf Hestetreet

Preston

All this and not one representative that we could lay eyes on from any contest in the UK to find out just what makes this championship work, and work so well.

In a few months we will be heading to Preston for the English Nationals. As one well known wag suggested, perhaps the Brits will surprise us by announcing open adjudication at the Guild Hall – although with only the back of the tent taken away and not the front…

The heart sinks deeper; even if the English snow will be gone by then and the nostrils will have had time to recover.

Iwan Fox