2010 Norwegian National Championships - Lower Division retrospectives
10-Feb-2010
As always there was plenty to enjoy in the lower divisions - from Orskog, Bjorsvik and Fla to name just three...
---
There was much to enjoy in the lower divisions at the Grieghallen, where the evidence of the improving standard of lower section bands in the country was clearly evident.

2nd Division

That was certainly the case in the 2nd Division on the Friday where Orskog Brass conducted by Karl Ole Midtbo, won their second title in three years with a highly effective and enjoyable performance of 'Essence of Time'.

With Foden's star Alan Wycherley sat on soprano, the band gave a spirited, vibrant account of a very difficult work. It was a touch splashy in terms of execution, those problems were offset by a reading of subtly and nuance by the experienced MD.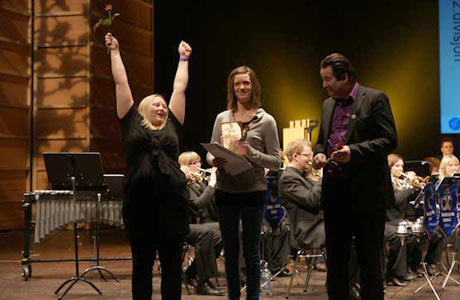 Orskog delight!
Picture Rolf Hestetreet

'The Wych' has been around long enough to have experienced most things banding can throw up, but even he was refreshed by coming to Norway to play. That tells you something.

Speaking to one of the adjudicator's Gavin David Lee after the announcement of the results, he too was enthused by the standard of playing – especially from the winners.

Although he did point out that a few choices made by some of the bands were in retrospect more than a little over ambitious, he was full of compliments about Orskog's ability to draw the music from Peter Graham's score.

On this evidence they should make the move up in class without too many difficulties.

Neatly into place

Although the rest of the field fell quite neatly into place with the allocation of points from Gavin and fellow judge Arnfinn Dalhaug, the differing levels of competency on show were fairly easily identifiable.

Gjallhaorn's committed performance of 'Labour and Love' took second place, whilst Brottum's 'Five Blooms in a Welsh Garden' owed much of its success to the delicate shaping in style and subtle use of tempi engineered from MD Michael Antrobus.

Overall, the standard of the 2nd Division was highly encouraging, and although some choices did stretch the competency elastic to breaking point on occasions, there were also times when band's showed remarkable levels of technical as well as musical delivery.

Haukas, Oster and Flesland performed well, whilst a highly emotive and highly committed performance of 'Coventry Variations' from Radoy was perhaps more than a touch unlucky to end up in 7th place.

No doubting first place however, and no doubting the celebration of Orskog well into the wee small hours either.
---

3rd Division

As in 2009, there was little doubting the destination of the 3rd Division National title once Bjorsvik Brass had left the Peer Gynt Stage on the Friday under the direction of Russell Gray.

Although on this occasion they took the title by just the one point from Manger Old Stars, the victory was perhaps just as clear-cut. Lindas Brass took the final podium spot in third.

The contest between the two top bands was rather like those games of 'Masters' five a side football you see on Sky television. Two teams of former star players from two of the best outfits in the business (in this case Eikanger and Manger) showing that even though age may have increased waistlines and reduced the follicle count on many a head, the playing skills were still pretty much intact on repertoire that didn't ask them to stretch a playing hamstring too far too often.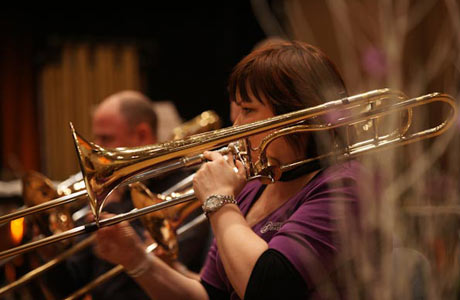 Bjorsvik class takes 3rd Division title
Picture: Rolf Hestetreet

Delight

Saying that, Bjorsvik did opt for Philip Sparke's 'Partita' – not exactly easy pickings, but when you have performers such as Tormod Flaten (who retains a remarkable 'grey free' head of hair, much to his delightful wife's enjoyment when we spoke to them at the Brass Night party) then even this test piece can be played with an easy facility on a minimum amount of rehearsal time.

Russell Gray enjoyed every minute of it – directing with a free hand, safe in the knowledge that his performers would respond in kind. It was classy, broad stroked playing - technically secure, musically mature (in the right sense of the word) but never played in a manner that could in other circumstances come across as arrogance.

They knew they were the best band here by a country mile, but they still performed with a level of professionalism that never belittled the well beaten opposition.

That opposition saw Manger produce a fair old account of 'Salute to Youth', which although more than a little hit and miss in places, still had musical integrity and a fair old amount of class about it too.

Third placed Lindas Brass pushed the top two bands all the way to the finishing line, after they produced a typically colourful and highly enjoyable performance of 'Trittico' under the baton of Helge Haukas.

Smorgasbord

As with the 2nd Division there were still the occasions when ambition overrode hard nosed contesting sensibility, but it was difficult to complain when you were presented with a smorgasbord of delight that included 'Triumphant Rhapsody', 'The Holy War', 'Firestorm' and 'Rhapsody in Brass' amongst others.

Performances throughout the rest of the prize list were varied, but the spirit of adventure was undimmed even when all that was left between success and disaster was the fragile thread of commitment to the cause.

That may well be what Bjorsvik may have to face up to in the next few years as they take a step up to the 2nd Division. There will come a time when not even their remarkable mature skills will be enough to fend of the challenges of more 'committed' rivals – unless they really want to return to the grind of full tie contest banding.

Until then, enjoy them when you can – they are a delight to listen to.
---

4th Division

The foundation level of Norwegian banding continues to grow with an amazing mix of endeavour and skill.

That was obvious to even the most casual listener on the Saturday morning in the packed Peer Gynt Hall, where 23 bands took to the stage in a contest that never once lost its sense of fun and inclusiveness. There was plenty of fine playing on show too.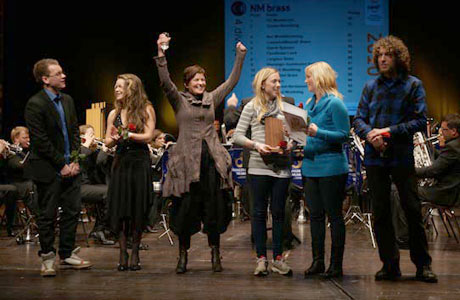 Fla victory - and celebration!
Picture: Rolf Hestetreet

Raised eyebrow

The day started bang on the stroke of 9.00am and finished a couple of minutes ahead of schedule around 5.30pm.The winners were Fla Musikkorps conducted by Odd Steiner Morkved, after their performance of 'Dimensions' by Peter Graham gave them a two point winning margin over second placed Tysnes Musikklag directed by Eirik Gjerdevik, with Grenland Brass led by Gwyn Evans in third.

As with the 2nd and 3rd Divisions, there were some choices that rather raised an eyebrow or two before and after the bands had played, but the overall standard was encouragingly high.

It was Fla's first National title, and the delight on the face of their representative as their name was announced as champion at the results ceremony was something to behold. It was a deserved win after a wholly enjoyable rendition of Peter Graham's difficult work.

Tysnes too will have been very pleased with their runner up spot, courtesy of a well-rounded performance of 'Kaleidoscope', whilst Gwyn Evans certainly brought a touch of Welsh inspired emotion to Grenland's performance of 'A Salford Sinfonietta' to claim the final podium spot.

Hit the mark

Although not every band quite hit the mark on their chosen repertoire (although Langhus Brass will have been a little disappointed to have come 8th after a cracking performance of 'Kaliedoscope' under the baton of Idar Torskangerpoll), each was given a rousing appreciation of their efforts by the lively crowd in the Peer Gynt Hall.

Norwegian banding has much to be proud of at this level – and with the real prospect of a 5th Division being created to accommodate even more young bands they may have to find an even bigger hall to cram everyone wanting to enjoy them all in the years to come.

Iwan Fox