2010 Yeovil Contest - Octagon preview
31-Jan-2010
4BR looks forward to the cross border skirmish in Yeovil for what promises to be an entertaining Wales versus England weekend.
---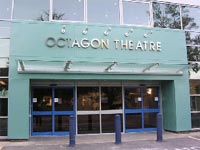 The 33rd Yeovil Entertainment Contest takes place this weekend at the Octagon Theatre, right in the centre of the pleasant South Somerset town.
Impress

12 Championship Section bands line up to see which of them can impress adjudicator Dennis Wilby and carry off the £2,000 top prize and the Chris Palmer Shield, which has been presented to the winning band here since 1978.
Over the years the contest has attracted many of the top bands in the country, for what was seen as the traditional contest season 'opener', and whilst the likes of former champions Foden's, Leyland and Cory no longer make the trip, there is still a decent line up of contenders more than willing to try their luck.
The event has evolved in the last couple of years too, with the organisers seeking the views of the competing bands. Following consultation, there is now open adjudication.
Excellent

The excellent organisation by Christine Buckley and her team means that the day runs along smoothly from star to finish, whilst a knowledgeable audience is appreciative of band's efforts. In addition to the podium prizes (£1,000 for second, £750 for third) there are also awards for the 'Best Soloist', 'Best Section' and 'Best Soprano'.
There are still a few tickets left, but be quick, as this is usually a contest that sells out before the day.

Untouched

The contest format remains untouched – the competitors having to deliver a 25-minute own choice entertainment programme (that strangely includes applause).
Reigning champion Flowers withdrew this year, so 12 bands will take to the stage, starting at 10.00am, with the contest likely to end with the announcement of the results around 6.00pm.
Return

Seven of last year's competitors return once more, headed by five time former champion, Tredegar. There has always been a strong challenge from over the River Severn, and this year, the current Welsh Open champion, BTM, as well as the Pontins and First Section National champion, Tongwynlais Temperance, join them.
Tredegar and Ian Porthouse will keen to gain an early confidence boost for the season to come after a rather disappointing 2009, and the Wychavon Entertainment Champion will be keen to go one better than last year and claim their sixth Yeovil crown.
BTM under the talented Tom Davoren will be looking to kick start a season that they hope will include returns to both the British Open and National Finals in London. They have yet to win the Yeovil title, but they were not too far away last year in coming 3rd.
Meanwhile, Tongwynlais will still be on something of a high after last year's heroics, and will want to find out just where they stand in relation to their Welsh rivals ahead of the Area championships in Swansea in March. Their last appearance here was back in 2006 when they came a lowly 12th.
Local contenders

With the West of England Regional Championships not too far on the horizon, the five 'local' contenders will also been keen to do well against Celtic opposition (although with the Wales versus England rugby international clash on the same day there's added cross border piquancy), and to impose themselves on their Area rivals ahead of Torquay.
Woodfalls has already been in early season action, with a decent showing at Skegness under the baton of Gareth Pritchard, and have a consistent record to maintain at this contest, even if they have yet to lift the title itself. They should be well prepared then.
The current West of England champion Camborne, last appeared in the podium places at the contest in 2008 when they came runner up, and whilst their sole victory came way back in 1993, they will be keen to head to Torquay with silverware to their name. The talented Kevin MacKenzie, last seen leading St Breward to the Fourth Section National title in Harrogate, takes the helm as they look to improve on last year's 5th place.
Mount Charles didn't make much of a mark at the contest last year, coming 9th, and the Cornish band has been quietly going about rebuilding over the past year or so. They took the title in 2002 and this year they will be fronted by perhaps the brass band world's most famous 'entertainer' and crowd pleaser Richard Evans leading from the front in his own inimitable manner.
St Dennis returned to the contest last year under the baton of Brian Minear and came 11th, so they will be looking to improve on that this time around under the direction of one of the movement's rising baton stars, Darren Hawken. Meanwhile, Poole Borough makes it debut under Phil Randall, who has carefully and skilfully steered the band back towards the limelight in recent times. They too will be keen to check just where they stand against championship rivals ahead of Torquay.
Londoners

In what will be a four way regional tussle for glory, London & the Southern Counties sends three contenders in the shape of former two-time champion, Aveley & Newham, regular competitors, Kidlington and debutants, Milton Keynes.
Aveley & Newham hasn't hit the heights of late (although they were 4th last year), but has been rebuilding under the baton of Nigel Taken, and will be looking to boost their contesting confidence as they prepare to battle it out at Stevenage and what they hope will see them return to the National Finals at the Royal Albert Hall.
Kidlington has sprung the odd surprise over the years, and although they will be something of an outsider once again, they shouldn't be underestimated after a solid 7th place 12 months ago. Milton Keynes make their debut under the direction of Paul Fensom, looking no doubt to set a mark before they too head to Stevenage.

Midlanders

That just leaves the sole Midlands representative and the return of Jaguar (Coventry) under the baton of Dave Lea. They have been making solid progress over the past couple of seasons (they were 10th here in 2008), so a morale boost this weekend could set them up nicely for the challenge of 'English Heritage' at Bedworth in a few weeks time.
So which of these 12 bands will end the day £2,000 better off and more importantly, filled by early season confidence ahead of the battles to come?
A bit of a three way tussle if recent form is anything to go by, with BTM, Tredegar and Woodfalls, the most likely podium finishers. Tongwynlais and Mount Charles should be in the mix with Camborne and our dark horse of Jaguar (Coventry).
4BR Prediction:

1. BTM
2. Tredegar
3. Woodfalls
4. Tongwynlais
5. Mount Charles
6. Camborne
Dark Horse: Jaguar (Coventry)