RNCM Festival of Brass - Postcard from Manchester
31-Jan-2010
Chris Thomas looks back over the highlights of the 2010 RNCM Festival of Brass.
---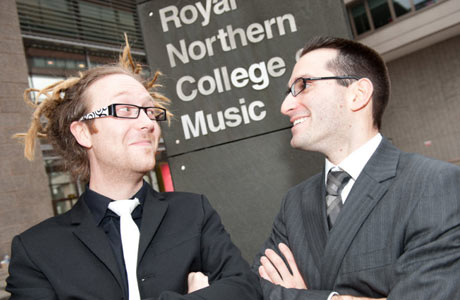 Leyland's Likely Lads.... Simon Dobson and Jason Katsikaris
Picture: Ian Clowes

More images of the 2010 Festival can be seen at: http://www.pbase.com/troonly/1001_rncm_sat

It's easy to feel that like the proverbial gramophone record when writing about the critical importance of the RNCM Festival of Brass in the banding calendar.

Pillar of stability

Yet against the backdrop of a brass band movement that amidst falling audiences, warring factions and financial crisis is beset by more than its fair share of problems at the present time, it remains a musical pillar of stability and excellence for the serious brass band enthusiast.
Walking around the Royal Northern College of Music over the course of the weekend, one could bump into any number of composers and personalities, amongst them Torstein Aagaard-Nilsen, Hollywood musical legend and winner of ten Emmy Awards Bruce Broughton, Simon Dobson, Edward Gregson, wife of the late Philip Jones, Ursula and from the USA, historical expert Ron Holz, all of whom were approachable, affable and happy to talk about their work and music.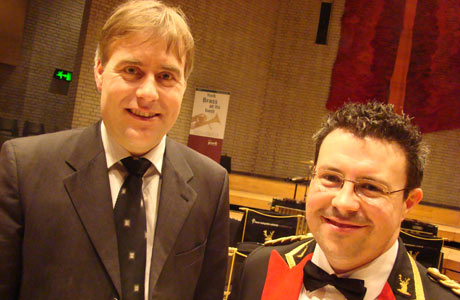 Composer and performer: Torstein Aagaard-Nilsen and David Thornton

Absentees

There were also many notable absentees though. With the exception of those engaged at Butlins and those participating in the Festival itself, where were many of our leading adjudicators? Where were our foremost conductors?

And where were many of the players that value the kind of repertoire being performed here?
Butlins clash

The clash with Butlins was an unfortunate but unavoidable one this year and will not reoccur in 2011 when the Festival reverts to its normal slot of the last weekend of January.

Yet that is little excuse for the fact that audiences were down at the RNCM this year and this despite imaginative programming from Paul Hindmarsh that had something for everyone.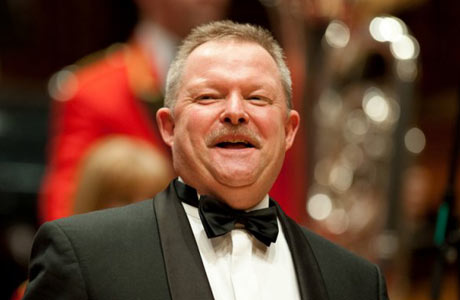 Smiles all round: Garry Cutt in happy mood with Fodens
Picture: Ian Clowes

There are many events in the banding world that jostle for our support and although the enthusiasm of those present at the RNCM, including groups from the USA and Scandinavia, was second to none, maybe we should all be giving more thought to supporting an event that the band world would be very much the poorer for, were we to lose it.
Happier note

On a happier note, the musical content of the Festival continues to go from strength to strength, with Grimethorpe and Cory returning this year following enforced absence due to other engagements last year and Paul Hindmarsh's inspired programming as always encompassing a number of themes and ingenious sub-themes.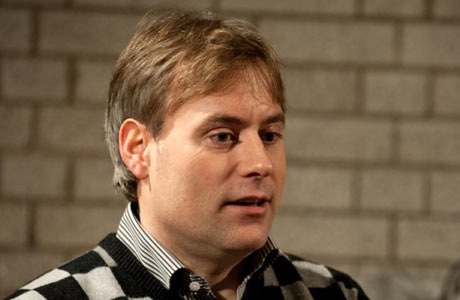 The featured composer of the Festival - Torstein Aagaard-Nilsen
Picture: Ian Clowes

Torstein Aagard-Nilsen's music has been little heard in the UK other than through recordings and the opportunity to hear several of his major works in high quality live performances throughout the weekend was invaluable.

The exploration of Salvation Army repertoire threw up some unexpected gems in the form of marches by Wilf Heaton, Emil Soderstrom and William Broughton, whilst the re-discovery of pieces such as Bruce Broughton's California Legend and Erik Leiden's Sinfonietta also proved to be one of the many pleasures of the weekend.
Recitals

The Philip Jones connection was celebrated with a discussion between Ursula Jones and Paul Hindmarsh, with an accompanying exhibition of PJBE memorabilia and several pieces that celebrated his memory, including a series of fanfares by young composers that heralded the beginning of each concert.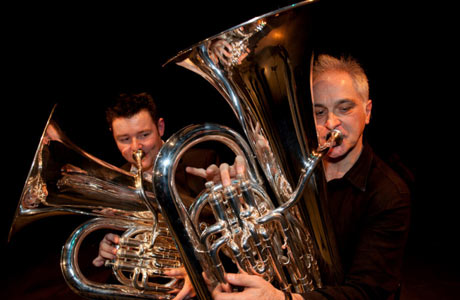 That's the way to do it! James Gourlay and Les Neish swap tips
Picture: Ian Clowes

Recitals and "fringe events" proved to be no less inspirational, notably in the performances by student groups including the Metropolitan Brass Ensemble, whose "Philip Jones Remembered" recital was absorbing from start to finish, whilst David Childs' Saturday morning euphonium recital proved to be a fine demonstration of just why he has made such an impact both in the field of brass bands and the wider musical world.
Enterprise

For sheer enterprise though David Thornton has to be congratulated for his Sunday recital that following on from his premiere of the new Aagaard-Nilsen Concerto with Black Dyke on Friday evening, included no less than three premieres by Cai Isfryn, Simon Dobson and Lucy Pankhurst and ably accompanied by Quintessential Brass, a laptop and an effects pedal.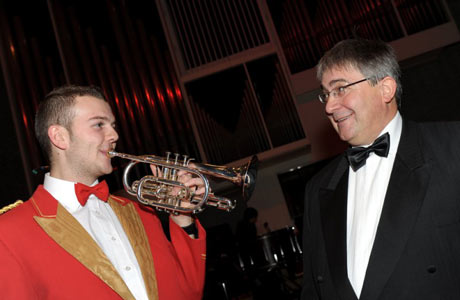 New boy on the Cory block: Cory principal Tom Hutchinson and Bob Childs
Picture: Ian Clowes

They proved to be three very different works that whilst challenging, displayed the diversity of talent amongst a prodigiously talented rising generation of young composers. We are lucky to have them and it was an ambitious project that deserved to be recognised.
Paul Hindmarsh's indefatigable enthusiasm once again gave us an inspirational and action packed weekend of music that remains unique in its scale and concept.

It's impossible to imagine that next year's event will prove any different.
Chris Thomas