2010 Butlins Mineworkers Championship - Championship Section retrospective
28-Jan-2010
Desford take their fourth Butlins title - but victory wasn't as clear cut as the record books may suggest...
---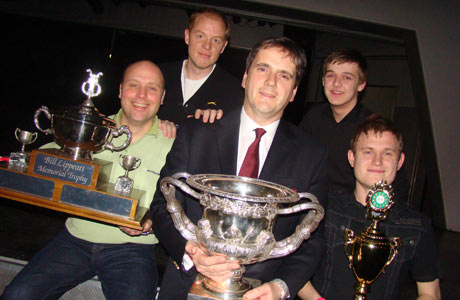 Four wins for the Desford five

For the fourth time in seven years, Desford left the Butlins Skyline Resort in Skegness with the Warwick Vase and wodge full of cash to their name as Mineworkers Champion.
They have now picked up over £25,000 here since 2003.
Just

They will also know however that despite this year's result, they will be hard pressed to repeat the feat again if they continue to rely on a victory strategy that is basically an enhanced version of a wing and a prayer.
Desford was a worthy champion – just.
A lack of detailed rehearsal time due to the terrible January weather left them distinctly on the pink side of being under prepared – heard by an uneven performance of the set work 'Sleepless Cities' and an entertainment programme that delved deep into their back catalogue.
Talent

That they still won says a great deal about a band that more than any other becomes the sum of its talented individual parts on the contest stage, and a conductor in Russell Gray who has an alchemist's touch of turning brass band base metal to silverware.
There were no real on stage celebratory antics after the announcement of the results – just a general acceptance of a job done. The class act of the contest, Desford did enough, no more, no less to regain their title – and they knew it.
Test piece

The two days provided intriguing test piece contesting and enjoyable entertainment fare.
The bands and their MDs under estimated Paul Lovatt-Cooper's set work on the Saturday – a typically filmatic score of vivid effect and imagery, severe technical difficulties and ear catching melodies.
Many a conductor didn't like it, many a player (principal cornet players especially) couldn't play it – and many a band therefore came a cropper.
'Sleepless Cities' has no pretensions to be a 21st century 'Journey into Freedom' – it is what it is.
PLC's latest is a perfectly acceptable, totally transparent cross over work, equally at home on the contest or concert stage. The audience, packed into the Centre Stage venue loved it. The purists may question its construction and thematic development, but it was written to do a job for a contest with a remit to entertain its paying customers.
Like it or loathe it – that is what it did to a tee. And how many test pieces of recent vintage have been able to do that?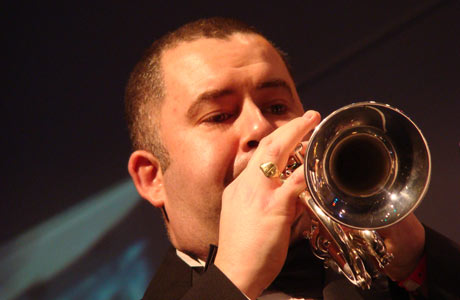 Evans above: Sop star Richard Evans on top form with Desford

Better bands
The better bands were able to use the least amount of camouflage work on the piece on the Saturday – although for the hard pressed principal cornets, that meant varying amounts of blusher to hide their embarrassed red faces as they fumbled their way through the difficult technical solo at letter E.
Even pulling out the main tuning slide and playing it in a different key, couldn't hide the fact that all 11 (make that about 16 by the time the helpers had been added) came up short. They won't be sorry that they have seen the back of this one for some time.
By the end of the first leg of the contest Desford were the band to beat, after their uneven rendition saw them head to a Saturday night rehearsal just ahead of Hepworth, EYMS, Flowers, Virtuosi GUS and Redbridge.
Difficult job

It was a difficult job for adjudicators Derek Broadbent and Peter Parkes. Not one of the contenders had really produced a performance to take the contest by the scruff of the neck.
Desford's unevenness still had those moments when the class shone through, whilst Hepworth's more detailed account contained sloppy errors that took the sheen off their rendition under Ian Porthouse.
EYMS produced a solid no nonsense rendition under Alan Morrison to be placed 3rd, whilst both GUS and Flowers kept the error count low at the expense of missing out the colourful vibrancy that would have created more telling portraits of the PLC cityscapes to end the day 4th and 5th.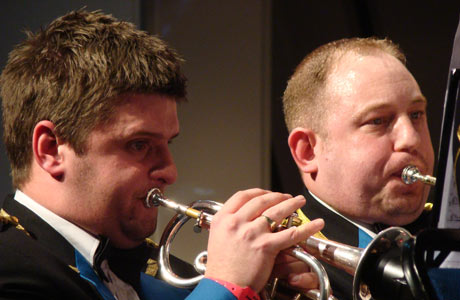 Second again for Hepworth: Mark Smedley leads the way for the Yorkshire band

Fell into place

The rest of the field fell into fairly predictable place (although Wingates will wonder what exactly they did so wrong in ending up last in 11th).
Redbridge sounded a band that never 'got' the work from the word go, producing an error strewn account that was only saved from total disaster by the quality of the ensemble playing when awoken from their self induced torpor. 6th place could and should have been higher for a band of this quality – as they were to show the following day.
Thoresby's spirited account under Melvin White saw them take 7th spot, whilst the trio of Hatfield, Woodfalls and Milnrow could have no cause for complaint after performances of varying unevenness and quality. Wingates were left to scratch their heads.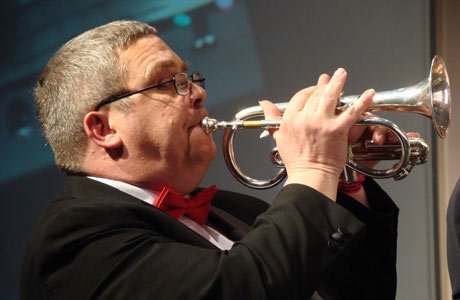 On the up! EYMS sop star John Belton belts it out!

Up for grabs

The contest was very much up for grabs on Sunday then – an ideal situation for an audience who couldn't afford to miss a contender just in case it was the winners they forfeited their seat for.
Hepworth started the day with a polished and effective programme that set the marker for the rest of the field to beat, whilst Milnrow who followed produced a contrasting set that somehow never set the pulse racing, despite the good intentions.
Burke and Hare

Desford then did a bit of a Burke and Hare act and grave robbed their entertainment crypt to harvest the best bits of former programmes to come up with a set that was a bit of a Frankenstein's monster in construction but ultimately worked better than expected when brought to life.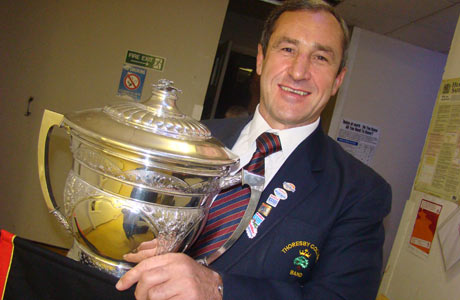 That's Entertainment: Thoresby Colliery took the Entertainment prize on Sunday

Virtuosi GUS will have known that their conservative approach (from the tempo of the first item to the choice of the last) wasn't ever going to really thrill, whilst Thoresby certainly kept their best until last with their inspired take on the 'Halleluiah Chorus' to take the Entertainment Prize.
Flowers amended their Brass in Concert programme to shed the real duds and replace them with something better suited to their talents to come 6th, whilst Redbridge finally showed their true quality with the most innovative programme of the day – played at a standard worthy of their reigning champion status.
Different

Woodfalls tried something very different to open at least, but perhaps didn't build on their innovation to end in 8th whilst Hatfield's reluctance to try and perform repertoire with at least one foot in the 21st century proved costly, despite featuring two cracking soloists in David Belshaw and the Geoff Dove prize winner, Miles Davison.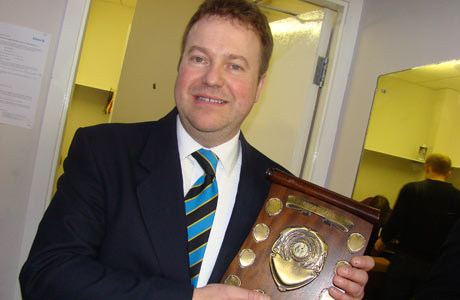 Miles better: Miles Davison won the Geoff Dove Soloist Award

The contest was rounded off with a highly entertaining set by EYMS, that perhaps deserved better reward than coming 7th, and a typical Wingates programme of contrasts and dichotomies, which came 3rd but on another day could have won it. It was a podium finish snatched from the jaws of entertainment victory.
Results

Come the final results and Desford had done just enough once again to take the Butlins title, Hepworth, rued an other missed opportunity to end in second place and Redbridge will have known that they had left themselves too much to do to retain their crown.
GUS was solid if little uninspired in 4th, EYMS, disappointed in 5th, Flowers pleased at 6th, Wingates a touch bemused at 7th. After that it went to form.
A win is a win though – and Desford won't complain at that. The history books only recall the names of the winners and not the margins of victory. All that matter is that they are champions once more.
Iwan Fox