2010 Butlins Mineworkers Championship - Third Section retrospective
28-Jan-2010
A diamond edged performance gave the Third Section title to Delph and their young MD on the weekend.
---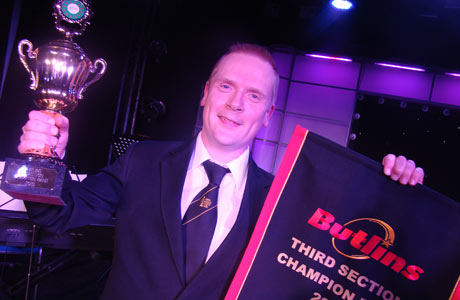 Diamond Delph: Time to celebrate for the North West band

'Diamonds' - on this occasion the 'Koh I Noor', 'Cullinan' and 'Briolette', formed the basis for a fair old test for the Third Section at the Royal Arthur Suite on Saturday. And an enjoyable one it was too.
Essence

Tom Moss, the Liverpool based composer of the work sat enraptured throughout, together with the decent sized audience that listened intently as the contest unfolded with 15 performances of merit and endeavour that captured the essence of the commitment, energy and drive the composer sought to illustrate.
The eventual winner of the £2,000 first prize was Delph, conducted with brio and inspiration by Jonathan Davies. The band had won the Second Section title here in 2007, but after a couple of years of rebuilding following relegation, is now enjoying resurgence once again.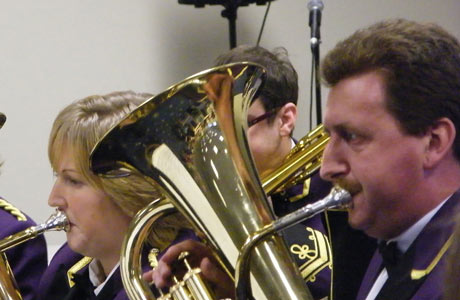 Mining a rich seam as Delph's euphs head for victory

Miners

They are a young band, and were chock full of some busy little diamond miners digging for the 'Koh I Noor'. The opening 'concert march' was brisk, full of vitality and radiant sounds, before moving with from swagger to a real presence with the 'Cullinan' and 'Briolette' movements.
This was a complete contrast, and unlike any other performance in the section it portrayed the well-defined individual and thematic impressions with a stamp of classy authority.
Young Mr Davies appeared to be no older than some of his youthful players, but his musical maturity was in no doubt in what was a fully deserved victory.
Pushed all the way

Another band with a new MD at the helm pushed the eventual winners all the way.
Hitchin's quality was apparent from the opening timpani lead and their forthright interpretation under the baton of Craig Patteson captured the sense of endeavour as well as the tricky ensemble balances of the score.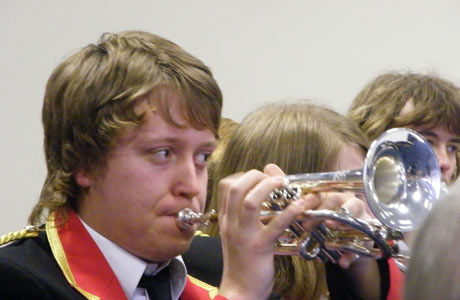 A young sop star of the future plays his part

The odd crackle and uncomfortable moment didn't undermine the thematic development and the performance benefited from notable contributions from the soprano cornet and euphonium.
High standard

The high standard of playing from the main prizewinners was also shown with the warm sounds from Amington who claimed third place. With admirable ensemble detail and control their musical picture was well paced and complimented with clean solo lines from solo cornet through to Eb bass.
After a comfort break for adjudicators Alan Fernie and Chris Davies, Burbage (Buxton) kept up the high quality level (Delph, Amington and Burbage followed each other on stage) with a neatly pointed and accentuated approach in delivering their defined reading.
Their strong back-row cornet line gave the ensemble a nice tonal balance and despite the odd moments of unease they fully deserved their mention off the stage and the £500 to put in the bank.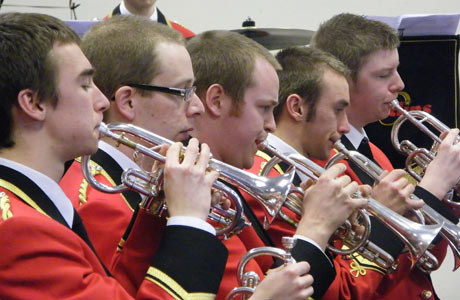 The Burbage five get their band into the prizes

Mining band

Coming 5th and taking the highest placed mining band prize was Shirebrook MW Unison, who produced a performance of articulated style and strong characterisation. It may have been a bit too direct at times (although they had a great lyrical baritone), but nonetheless there was much to enjoy and they could count themselves just a little unlucky they didn't make it into the prize list.
Just too many lapses in consistency cost Pemberton Old DW 'B'. Whilst the 'Cullinan' and 'Briolette' sparkled the 'Koh I Noor' had a duller edge, and although the playing was confident and solid, loose moments with tuning must have proved costly and they had to be content with 6th place.
Outside the top six the three movements proved their testing worth right from the start of the piece – with a number of bands sounding as if they were on prize winning track only to end scrappily fighting their way to the end.
Decent marker

Stamford Brass for instance put down a decent marker off the number 1 draw, but whilst they produced a broad and controlled style some of the phrasing and tonality just cost points and they ended in a disappointing 12th place.
Thoresby Colliery Youth meanwhile left with a great deal of encouragement, despite their overall result. Scrappy and nervous in places, it nonetheless had style and some fine solo interludes. Tiredness meant the reserves of stamina waned, but there were plenty of plus points in this one despite ending in 15th.
It was the same story with Maltby Miners - with a performance full of clean articulation and observance to the dynamics, just let down by a costly accumulation of annoying errors that took the sheen off what could have been a contender. 13th place will have left them disappointed, but on another day they may have been in with a shout.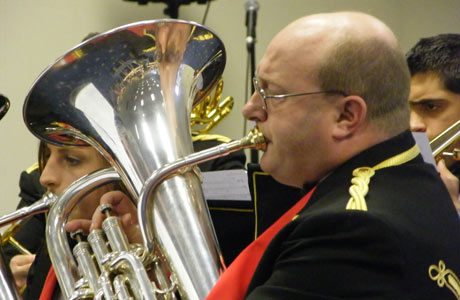 Amington experience pays dividends as they gain reward for their efforts

Undone

Last to take the stage, Tewkesbury's chances were probably undone by loose ensemble moments in the outer movements. The overall musical picture unfolded nicely and featured a balanced ensemble with the stand out performer in the fine soprano cornet. 11th place could have been a tad higher, and we suspect a few others too, but the judges seemed not to like it quite as much.
The outer movements 'Koh I Noor' and 'Briolette' had the colour and sparkle in style from Watford, but unfortunately, they were unable to soften the robust edges enough in the 'Cullinan' movement in particular, which perhaps explained why they ended up in 10th. It was close to being a very good performance, but that lack of contrast cost them the chance to force their way to a top six finish.
Pleased

Meanwhile, Fulham Brass should be fairly pleased with their final position after a performance that contained plenty of musicality from start to finish. Just the age-old problems with tuning and balance as tiredness crept in cost them a higher placing - but it was an effort of merit and musicality to come 7th.

Hemel Hempstead was another band that set out with the possibility of victory very much in their minds with an opening section of brio and purpose. However, they just couldn't maintain that impressive form and eventually they succumbed to the usual plethora of tuning and balance problems to finish 13th. If they can gain a bit more stamina, better days are ahead.
Smart

Hucknall & Linby Brass looked really smart in the quasi 'All Blacks' outfits and contrasting coloured neck-ware, and seemed on course to produce a New Zealand type performance too, after a stately opening and warm middle bands sounds in the second section.
However, their nerve failed them as just when they seemed on course for a high placing. Things rather went awry and a great deal of that excellent work was lost in an error strewn final section that cost them valuable points and resulted in them ending up in 9th place. It was close to being a corker.
Ronseal

Finally, Whitworth Vale & Healey who delivered a 'Ronseal' performance - doing exactly what it said on tin to secure a mid-table finish. It just needed a touch of buffing up in places, but there was a great deal of self restraint and control on show, which if repeated throughout the year could well see the band in the mix at other contests.
The test piece 'Diamonds' was well suited to this section and every band brought something to the music. The overall level of performances was good, with a great deal of credit going to the MD's – all of whom tried to bring character to the movements through musical shaping of phrases and ensemble balance, rather than just whacking out the notes looking for misplaced excitement.
Each of the competitors has a great deal to build on for the Areas in the next few weeks, with the winners in particular a band that will head to Blackpool with bags of confidence. It won't be misplaced either.
Delph were worthy champions – and there could be more success to come this year if they carry on playing as well as they did here.
John James