2010 Butlins Mineworkers Championship - Youth Contest retrospective
28-Jan-2010
Youth Brass 2000 retained their Butlins title, but the Youth Contest was an absolute delight for everyone concerned.
---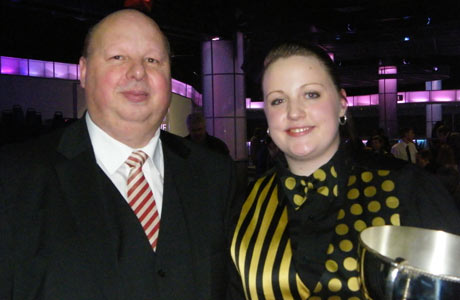 Youth Brass Champions Chris Jeans and Sarah Lenton

As the Championship Section bands were entertaining the packed masses at the Centre Stage venue, a cracking Youth Contest took place at the Reds nightspot with six bands providing three hours of music that was a real delight.
Numbers up
The good news for the organisers wasn't just that the number of entries were up, but that the contest attracted a full hall of supporters and casual listeners too, who created a warm and appreciative atmosphere for all the competing bands.
On this evidence Butlins promises to become an increasingly and important day in the youth banding calendar. The format is well thought out: from having the bands play the two integral building blocks of good brass banding – a march and a hymn tune - to open adjudication and enough time (20 minutes per band) to allow each of the contenders to show off their entertainment talents too. No wonder everyone left with a smile on their face.
High praise
The judges Major Peter Parkes and Kevin Wadsworth were full of praise for all the performers.
Kevin was also impressed by the role of the organisers. He told 4BR: "Anyone who missed the contest missed a real treat. Butlins have got the format just right and the bands responded to it with some great playing too. To see as well as hear what the bands were doing is the right way forward for this contest, and it allowed us to appreciate the commitment and endeavour as well as the playing itself."
That was seen and heard with players knee high to a euphonium in one case. Kevin chuckled: "It was great to see just one young lad giving it his all – even when the euphonium he was playing was just as big as him. This is what the contest is all about – encouraging potential as well as rewarding success. It was a delight, and both Peter and I were really encouraged by the standard of playing and direction from the MDs."
Despite the wide range of ability, Major Parkes encouraged all the participants to aim high and admitted to spotting potential stars of the future.
Meanwhile, Kevin was amazed in particular by the standard of soprano playing and said that whilst he noticed a few nerves in older players he was astonished at the composure of the real youngsters (the youngest just 8 years of age) in each of the bands.
The relaxed contesting atmosphere was something that should be encouraged he told 4BR – even when he recalled laughing at seeing a well placed note on Gresley Colliery's music which told the judges that this was their first ever contest - and 'don't be meanies' with their comments!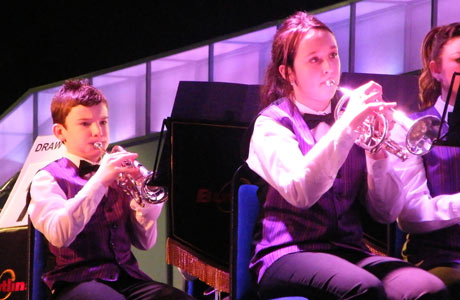 Lions roar for the youngsters of Lions Youth

Lions roar
Nigel Birch's Lions Youth Brass from Cheshire were making their contest debuts this year and will have been delighted to have taken second place and £600 for a very competent and well constructed programme.
The music of Dean Jones was featured in 'Processional' and a 'Welsh Hymn' whilst Alex Holsgrove gave an indication that he is a young euphonium player to keep your eye on courtesy of a cracking performance of 'La Belle Americane'. The march, 'Blaze Away' was played with the right hint of boldness, as was the closing 'Adventures in Brass' - music that will test bands at the National Youth Championships in April.
More PLC from Shirland
Andrew Dennis led Shirland Welfare Training's challenge which opened with a bright and breezy 'Spirit of Freedom' before they produced a neat contrast with 'Dear Lord and Father of Mankind'.
The band's principal cornet brought the warmth of Spain to Skeggy in 'El Cumbanchero' before the band closed with Paul Lovatt-Cooper's 'The Big Top' which led to the judges awarding them fourth place. A year on and this is a band that is maturing very nicely indeed under a very sympathetic and intelligent MD.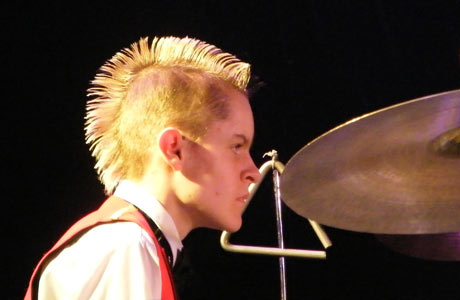 Contest winning haircut? Enderby's young perc player

Enderby not out of the blue
Enderby started their programme with the theme tune from BBC Radio 5 'Sports Report' - the march 'Out of the Blue', which provided a cracking opener and paved the way for a lovely cornet duet in the 'Flower Song' by Delibes. They let their hair down in 'Soul Bosonova' before a composed performance of 'Praise my Soul' and a real old rock and roll run through 'Macarthur Park'.
It was programme of ambition and endeavour all right, and whilst they just tired at the end, it was highly enjoyable and well deserving their third place.
Coleshill's nautical theme
Coleshill Town opted for a themed programme of life at sea on HMS Butlins. This was totally different from anything any other band did, and whilst it would have benefited from the youngsters being miked up, it was a great idea that very nearly came off.
From the opening, 'Beyond the Sea', the euphonium solo, 'We are Sailing' and 'Yellow Submarine' what was noticeable was how much enjoyment the players got out of what they were doing.
This was about entertainment ('Yellow Submarine' arranged in march style for instance), and although they just ran out of steam in '1492 - Conquest of Paradise' the naval hymn, 'O God our Help in Ages Past' showed that here was a band that had the necessary discipline to play the brass band basics very well too.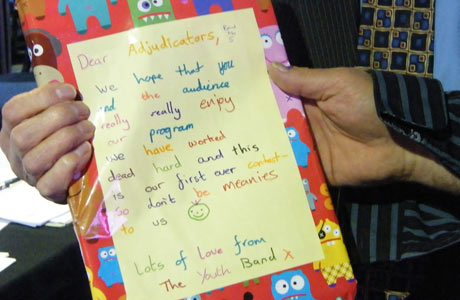 Getting the message! Gresley's cheeky message to the judges

Gresley's debut
Gresley's cheek at asking the adjudicators to be kind wasn't really needed after they produced a great 20 minute programme of entertaining fare.
The opening 'Circus March' was full of energetic fun and games, whilst two cracking soloists gave it their all on 'Georgia on my Mind' and 'I Don't Know How to Love Him' - fantastic efforts.
'Eventide', 'Yesterday' and 'Nine to Five', were all played with a touch of polish and understanding, whilst MD Peter Hyton didn't stop smiling, encouraging, pepping up and generally enjoying himself to the full too. He had plenty to be proud of.
Champion performance
As this was a contest, there had to be a winner, and there was no doubt who that would be after Youth Brass 2000 played.
Anyone that has heard the band of late won't be surprised to learn this was another extremely polished programme fully deserving of the title.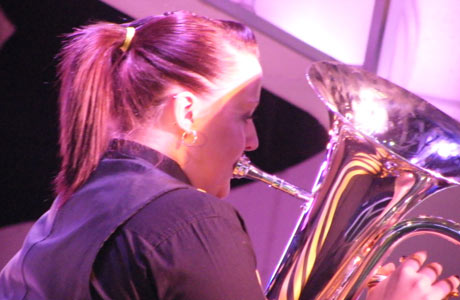 Sarah Lenton adds her quality to Youth Brass 2000

'The Champions' march may have been a touch presumptuous to open, but was played with champion elect intent, whilst Sarah Lenton, the band's principal euphonium produced a cultured account of 'Little Prayer' that showed her maturity as a performer.
The hymn tune 'Crimond' and the 'Elegy' from 'A Download Suite' both produced some excellent controlled playing, before cornet player Matthew Letts took some of the limelight in the up-tempo 'Valero' before Youth Brass closed with the 'Cossack Wedding Dance' from 'Call of the Cossacks'.
Polished, professional, and clear winners: This is some band.
Strength to Strength
Despite the Butlins event being very early in the season, and just a few weeks ahead of the Action Research Championships, there is a feeling that this is a contest that has a very rosy future.
There was a real noticeable difference in the playing of the bands on the day, but not in the commitment and endeavour shown by each and every player who took to the stage. And that is perhaps the contest's strongest asset.
Malcolm Wood