2010 Butlins Mineworkers Championship - Introduction & preview
18-Jan-2010
Never mind the weather and the economic climate, Butlins will once again provide a warm welcome to an ever growing number of bands.
---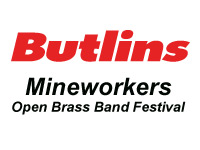 Despite the awful weather that has engulfed the UK in the past few weeks, there is bound to be a warm welcome waiting in Skegness, as the perma-smiling Redcoats don their winter underwear to welcome 87 bands to compete at the Butlins Mineworkers Championships.
Wintry conditions

And despite the wintry economic forecasts, the organisers have bucked the contesting trend once more by attracting so many competing bands – drawn, primarily it must be said by the prospect of bagging some credit crunch busting prize money.
The band that walks away with the Warwick Vase Trophy in the Championship Section will pocket £7,000 with the real possibility of trousering another grand if they can mix and match their test piece skills to their entertainment X Factor.
The bands in the lower sections can also look forward to big paydays too - £2,000 to the various champions and substantial prize money to those who make it into the top four places.
No wonder Skegness in January has appeal.
Excellent trio

The organisation of the contest comes under the wing of the excellent trio of Brian Eggleshaw, Stan Lippeatt and Butlins Music Director Steve Walker, who have tweaked and amended the weekend over the last few years so that it now has an inclusive appeal to players and supporters alike.
Where else will you get to hear the lasses from Boobs & Brass, Fairey's and Redbridge in concert, high-class big band music and Maynard Ferguson tributes well into the small hours? And just when you have had enough of a tipple, even a bespoke taxi service to get you home?
Brian told 4BR: "Even though we don't get it right all the time, we continue to work and go forward together." Steve added: "We thank everyone for their loyalty in supporting us over the years and we hope that they will enjoy a fabulous weekend of banding fun."
They are not wrong.
Traditional format

Many people thought last year's experiment of splitting the First Section was perhaps a step too far, so the organisers have reverted to a traditional format this time around. It was an experiment worth trying out though and it will be interesting to see what the 24 bands think of the end result this year.
There has been no major tweaking with the main Championship Section contest – with a cleverly inspired format that has the scope to reward bands for both their test piece and entertainment skills.
There will also be a great deal of interest at the 'Centre Stage' venue on the Saturday as the 11 bands tackle Paul Lovatt-Cooper's 'Sleepless Cities', a work which has certainly been getting people more than a little hot under the collar.
Has PLC done it again with a test piece that that has elicited more than a few strong opinions? Wait and see.
Busy contesting day

Saturday will be a very busy contesting day: 13 bands will provide a tasty 'Centre Stage' aperitif in the Fourth Section as they battle it out on Leigh Baker's wonderful swords and sandals triple biller, 'Roman Tryptych'.
Meanwhile at the 'Royal Arthur Suite', 15 Third Section bands will be getting to grips with 'Diamonds' by Tom Moss, whilst the Second Section will be held at 'Lakeside', where Keith Wardle's 'Folkmusic' will test the large field of 18 contenders.
Whilst all that is going on a huge line up of 24 First Section outfits will tackle Andrew Duncan's 'A Hebridean Suite' at 'Reds Theatre', whilst the Championship Section outfits put the last minute touches to their PLC performances before they follow on the Fourth Section contest.
All the contests should end in plenty of time to enjoy the Saturday night entertainment, before its all go again on the Sunday.
Youth contest

At 'Reds' Theatre, the Butlins Youth Contest sees six cracking bands provide 20 minute entertainment programmes to see if they can walk away with the £1,000 top prize. Can Youth Brass 2000 retain their title? Make sure you don't miss it.
Meanwhile, back at 'Centre Stage' the fun and games of the Championship Entertainment discipline (or lack of it depending on what you like or don't like) takes place from 9.30am – so beware those who enjoy the Saturday night entertainment a bit too much.
Clear heads will be needed if anyone of the 11 bands really does fancy their chances of ending the day up to £8,000 better off.
4BR will be there as usual enjoying it all, so forget about the weather and the credit crunch and enjoy a weekend of great music and plenty of great entertainment.
Iwan Fox