2010 Butlins Mineworkers Championship - Championship Section preview
18-Jan-2010
Which band can mix and match their test piece to their entertainment skills to claim the Butlins title this year?
---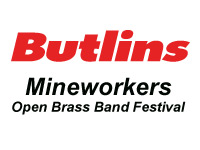 Championship Section:
Venue: Centre Stage, Butlins Skyline Resort
Date: Saturday, 23rd January
Draw: 12.00 noon (Saturday)
Commence: At conclusion of Fourth Section
Test Piece: Sleepless Cities (Paul Lovatt-Cooper)
Adjudicators: Derek Broadbent & Major Peter Parkes
Date: Sunday 24th January
Draw: During Lower Section results on Saturday evening
Commence: 9.30am
Adjudicators: Derek Broadbent & Dr Roy Newsome
Compere: Frank Renton
Prizes:
First Prize: The Warwick Vase Trophy, The Butlins Championship Section Trophy & £7000 and the Champions Banner
Second Prize: £3,000
Third Prize: £2,000
Fourth Prize: £1,000
Butlins Most Entertaining Performance Trophy: £1,000
Highest Placed Mining Band – The William Lippeatt Memorial Trophy
The Geoff Dove Mineworkers Soloists Challenge Shield and £300

To be fair to Butlins, what else can they do to try and attract the so called 'big boys' of banding to their contest?
With £8,000 up for grabs it might only be a select few who can afford to ignore the financial pressures and opt for a concert appearance at the RNCM Festival of Brass, but for other high ranked bands, the balance between artistic integrity and bank balance bunce may be too hard to ignore in future.
That said, there is a pretty good field lining up this year (and a couple of high ranked outfits did pull out), but just three of the competing bands were at the British Open, and whilst the top ranked band is Desford at 10, followed by Hepworth (13), Flowers (22), Virtuosi GUS (26) and Wingates (27) – the rest come in at 39, 41, 77, 78, 80 and 81.
Discussion and opinion

The two legged should however create plenty of discussion and opinion – both before and after the event, with Paul Lovatt-Cooper's test piece at its centre.
As always, PLC has created a piece that will please the audience if not the cognoscenti. It may not be to everyone's taste, but then again, what is? Another pastiche work, or another memorial set of variations?
The source material may well be familiar to those with 'U Tube' connections, but for the vast majority of listeners it will be the first time they will hear 'Sleepless Cities' – and their reaction will tell you whether or not the composer has struck gold once again.
Adjudication panel

The other topic of conversation is the make up of the adjudication panel – with some cynics suggesting that only Methuselah is missing from the team of Derek Broadbent, Peter Parkes and Dr Roy Newsome.
All three know their business though, so bands better beware trying to second guess them – they could be in for a rude awakening.
A new season brings new hopes and aspirations of course, but will some of the competitors fall back on the tried and tested in their entertainment programming, given the loss of rehearsal time due to the weather?
Class

Class should separate the best from the rest on the test piece – there is more than enough in the score to do just that, so much will depend on the Sunday and the entertainment fun and games.
Despite Peter Parkes and David Read asking for innovation a couple of years ago, Bultins hasn't really seen anything brand billy spankers from any band recently – even Redbridge rehashed parts of a Brighouse Brass in Concert programme last year in taking the overall title.
So out of necessity, more Gateshead repeats could be store, although hopefully not the execrable attempts at big band swing and ear splitting Maynard Ferguson trumpet histrionics.
Silent Witness

Desford will need to get their act together then, as they were some way off the playing pace at The Sage, despite some innovative ideas, whilst Flowers exhumed more old decompositional bodies than could be found on an episode of Silent Witness. Both will know that they cannot afford repeat showings.
Meanwhile, reigning champions Redbridge never quite built on last year's success, but Jeremy Wise has a noggin full of ideas that at times can come from left field to intrigue as well as entertain.
Rivals will have to play well if they are to loosen their grasp on the Warwick Vase Trophy.
Fancied

Hepworth (Cookson Homes) should be fancied at the bookies, and will find their technical strengths well suited to the test piece. However, they will have to add a touch of subtlety to their entertainment programme if they are to go one better this time around.
Virtuosi GUS should provide a strong challenge, especially if they can find a touch of pizzazz to their entertainment set, whilst EYMS impressed many last year in coming 5th and with Alan Morrison at the helm could well fancy their chances of pushing closer to the podium prizes.
Return

Woodfalls return under the baton of Gareth Pritchard, and will surely not make the same mistake of relying too heavily on more Paul Lovatt-Cooper compositions to underpin their challenge as they did last year.
Wingates took the £1,000 entertainment prize last year (but still ended up 7th overall) for their blockbuster film inspired set (from Pussy Galore to Titanic in fact) and should be well worth a gander with Philip Harper at the helm, whilst United Co-op Milnrow will know that they will have to up their game considerably from last year's rather undistinguished efforts on both disciplines if they are to challenge for prizes one more.
Tip top form

That just leaves Hatfield Powerfuel and Thoresby, led by the experienced brace of Graham 'O'Connor and Melvin White, and two bands that can mix it in good company if they are playing on tip top form.
It is asking a bit of both though to push for the top prizes (Thoresby were well off the pace last year in coming 12th) and Hatfield are a bit of an unknown quantity when it comes to entertainment programming at this level - but you never know.
As for a winner?
Hard one to call for a variety of reasons – from the amount of rehearsal time bands have been able to put in on the test piece, to personnel changes, early season rustiness and the desire to try something innovative with the entertainment programmes.
If the bands play to form then it could be a battle between Hepworth, Desford, Virtuosi GUS, Wingates, Redbridge and Flowers for the big money prizes, with our dark horse EYMS.
4BR Prediction:

1. Hepworth (Cookson Homes)
2. Desford
3. Virtuosi GUS
4. Wingates
5. Redbridge
6. Flowers
Dark Horse: EYMS