2010 Butlins Mineworkers Championship - First Section preview
18-Jan-2010
Which of the competing bands will be able to capture the musical nuances of the Outer Hebrides to take the First Section title?
---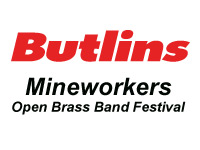 First Section:
Reds
Saturday 23 January
Draw: 9.00am
Commences: 10.00am
Adjudicators: Malcolm Brownbill and Colin Hardy
Test-piece: A Hebridean Suite (Andrew Duncan)
First prize: The Butlins 1st Section Trophy, £2,000 and the 1st Section Champions Banner
Second prize: £1,000
Third prize: £700
Fourth prize: £500
Highest Placed Mining Band: The C.I.S.W.O. Challenge Trophy
Last year's experiment of dividing the competitors into two sections to decide a final six band play-off has been abandoned, after it didn't quite capture the imagination.
Pleasant headache

The organisers are therefore faced with the pleasant headache of having 24 bands battling it out in 'one chance only' mode for glory and the £2,000 top prize.
What they will first have to get to grips with is Andrew Duncan's enjoyable 'Hebridean Suite', which unsurprisingly takes its inspiration from the traditional music found in the communities of the Outer Hebrides of Scotland.
It's a colourful and intelligently written four movement suite; from the sights and sounds of the busy 'Stornoway' capital with its sad flugel Gaelic interlude, through the eerie encounter of 'The Old Shepherdess and the Norse Maiden's Spirit' ('An t-Seann Bhana-Bhuachaille agus Spiorad na Maighdinn Lochlannach', as they say in those parts) and 'Mouth Music' ('Puirt-a-Beul') reel, which features two traditional tunes from the Isle of Lewis.
The piece is rounded off by a 'Ceilidh-Rondo', which although building from a quite start, soon turns into a great old knees up led by the trombones.
More than enough

There is more than enough here to test the bands to the full – in subtle style more than anything else. This isn't a Disneyfied 'Local Hero' bit of writing.
Each of the 24 competitors will want to start 2009 with a positive contesting outing, and its good to report that no less than 17 of last year's contenders return again.
Although there has been something of an enforced break over the Christmas period, there were a number of bands that ended 2009 in decent shape, posting encouraging results to round their contesting season off.
Although the reigning champions Blackburn & Darwen do not return to defend their title (having been promoted to Championship status), the bands that did fill the top six places 12 months ago, certainly do.
One better

Cornerstone Brass will be looking to go one better under the direction of Gavin Lamplough this time around, whilst the ever competitive VBS Poynton returns on the back of a late season runners up spot at the Leamington Spa contest.
Haverhill Silver rounded their year off with a disappointing performance at Pontins where they came 13th, so will be looking for a timely confidence booster, whilst Hebden Bridge who were 4th last year will be hoping to give their new year a kick start too.
The renamed City of Sheffield (Stocksbridge) Band will be looking to up their contesting ante after a top six finish at Pontins, whilst Foresters Brass 2000 will be keen to carry on the decent form that saw them bag a podium finish at Leicester late last year.
Push on

A few bands that did well here last year will be looking to push on too.
Meltham & Meltham Mills and Yorkshire Co-operative will be seeking decent returns, although Co-op will have to up their form after two mediocre late season Leicester contest outings.
Two bands who made it through to Harrogate in September make an appearance after their promotion up from the Second Section.
Shirland Miners Welfare, who put in a decent show at the Leicester Association contest and Yiewsley & West Drayton (who came 12th at Harrogate) will want to make an immediate impression.
Busy

The busy Bedworth Band didn't enjoy Skeggy last year in coming 12th in their split draw, but have since improved to post a decent finish at the West Midlands contest, whilst Carlton Brass will be looking to see if they can push into the top six after a decent showing last year, although they failed to impress at the Leicester Contest where they came 11th.
Meanwhile, Cawston should be on the look out to post a top 10 finish after last year's slightly disappointing return, as will Denham Hendon Brass.
Enderby will be keen to post a better return than the 8th at the Leicester contest, and Egham should be a bit more confident after coming 5th at Leamington Spa late last season.
Back again

It's good to see Foss Dyke back again after a difficult time of it in the past couple of years, whilst Ibstock Brick Brass should be capable of posting a better finish than last year's 13th split draw place.
The solid Jackfield Elcock Reisen rounded off 2009 with decent accounts at Pontins (12th) and Leicester (6th), and the promoted Kippax, who came runner up last year in the Second Section will be keen to make an immediate mark under the baton of the experienced David Lancaster.
Langley return on the back of a fine victory at the Leamington Spa contest, whilst Wigston too will be looking to push on from the well deserved 3rd place at the same event.
Fancied bet

That leaves many people's fancied bet, Yorkshire Imperial, who have knuckled down to life in the First Section with a fine attitude and posted solid returns at both the Leicester Open contest and Wilkinson's late last season, whilst there will be considerable interest in the appearance of Broxburn & Livingston, who will take the stage under the baton of the composer himself.
As for a winner?
A bit of a difficult one this – and for the two judges Malcolm Brownbill and Colin Hardy.
Plenty of well matched bands in the running and plenty who will fancy their chances.
If all goes to form we think Yorkshire Imps may well be in the mix with Cornerstone Brass, Langley, VBS Poynton, Foresters Brass 2000 and Jackfield Elcock Reisen.
Our darkest of dark horses is City of Sheffield (Stocksbridge).
4BR Prediction:
1. Yorkshire Imperial
2. Cornerstone Brass
3. Langley
4. VBS Poynton
5. Foresters Brass
6. Jackfield Elcock Reisen
Dark Horse: City of Sheffield (Stocksbridge)