2010 Butlins Mineworkers Championship - Third Section preview
18-Jan-2010
Which of the bands can unearth a diamond of a performance to take the Third Section title on Saturday.
---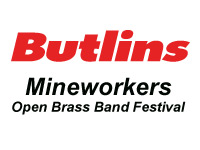 Third Section:

Royal Arthur Suite
Saturday 23 January
Draw: 8.30am
Commences: 11.00am
Adjudicators: Alan Fernie and Chris Davies
Test-piece: Diamonds (Tom Moss)
First prize: The Butlins 3rd Section Trophy, £2,000 and the 3rd Section Champions Banner
Second prize: £1,000
Third prize: £700
Fourth prize: £500
Highest Placed Mining Band: the N.U.M Challenge Trophy
15 will battle it out on Saturday at the Royal Arthur Suite, where there should be plenty of good music and some pretty decent playing to enjoy on an interesting test piece from the pen of Tom Moss entitled, 'Diamonds'.
Youthful inspiration

The work has a youthful inspiration (it was written for the St Helen's Youth Band) and pays tribute to the work, and especially the infectious enthusiasm of conductors, trainers and general behind the scenes helpers and unpaid workers who keep bands going year after year.
As the composer himself writes: "These people are the 'gems' of school music making something which so often goes unrecognised."
Not now they don't.
Mull over

Adjudicator's Alan Fernie and Chris Davies will have plenty to mull over in the box, on what on paper looks like a well matched field of competitors locking horns to take the £2,000 top prize.
Chief amongst them will be last year's victors, Shirebrook MW Unison under the baton of Mark Wilcockson.
Repeat perfromance

They were fine value for that win, and went on to enjoy a pretty decent 2009 season too. They will be keen for a repeat performance, although they are up against rivals who include the bands that filled the top four places twelve months ago.
Stamford Brass under the direction of Robert Prew could be back in the mix come the results if they play as well as they did last year.
They will be keen to go one better this time around, and return to the contest on the back of claiming 4th spot at the Leicestershire contest late last year.
Improving

Meanwhile, Simon Jones and his improving Fulham Brass will also be looking to just up the form that saw them claim the final podium spot 12 months ago. They come to the contest boosted by a neat 5th placed double at the same Leicestershire contest in both the Third and Second Sections.
Hitchin and Craig Patterson will be keen to produce another top six finish at the very least after coming 4th last time around, whilst Pemberton Old DW 'B' who came 6th, is always a band to look out for at this level under the experienced baton of Paul Ashley.
Boost

Wesley Kendrick and Amington come to the contest on the back of a fine second place at the Leamington Spa contest late last season, and Burbage (Buxton) will be hoping for a boost ahead of the forthcoming regionals under the baton of Steve Critchlow, who takes the helm as Alan Wycherley is otherwise engaged in Manchester with Foden's.
Phil Goodwin and Delph can be relied upon to be well prepared and ready for action, especially if they hit top form, although they are prone to a touch of inconsistency now and again, whilst David Klein and Hemel Hempstead could be a bit of a dark horse if they come firing on all cylinders.
Bookies

The Skegness bookies may well be shortening the odds on a win for Hucknall & Linby Brass after their confidence boosting performance in claiming the runners up spot at the Leicestershire contest, and there should be a few backers willing to put a bob or two on Maltby Miners Welfare after a 2009 that saw them make a long awaited return to the National Finals in Harrogate (coming 10th in the Fourth Section).
Whitworth Vale and Healey should draw confidence after their solid showing in coming 10th at Pontins, and Watford will be looking to up their form a tad after coming equal 10th last year although they ended the season with a 7th placed finish at the Leicestershire contest.
Hard working

Finally, two good hard working bands make the move up from the Fourth Section looking to make an immediate impression.
Thoresby Colliery Youth has been maturing very nicely under the thoughtful direction of Christine Gent, whilst Nigel Morgan has been doing the same with Tewkesbury. Both shouldn't be discounted.
As for a winner?
A hard one to call as you would expect, but one or two bands do stand out if they have maintained form over the Christmas break.
Spies in different camps have been leaking rumours that Amington and Shirebrook MW could be bands to listen out for, whilst there are good contesting vibes reported from Hucknall and Stamford too. Fulham could be a band to watch out for, with Delph and Hitchin in with a shout too.
4BR Prediction:
1. Shirebrook MW
2. Amington
3. Fulham
4. Hucknall & Lindby
5. Delph
6. Stamford
Dark Horse: Hitchin