2010 Butlins Mineworkers Championship - Fourth Section preview
18-Jan-2010
A Roman inspiration for glory in the Fourth Section as Leigh Baker's test piece provides the battleground for the 13 gladiator bands.
---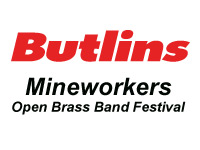 Fourth Section:
Centre Stage
Saturday 23 January
Draw Time: 8.15am
Commence: 10.00am
Adjudicators: Dr. Roy Newsome and Roy Roe
Test-piece: Roman Tryptych (Leigh Baker)
First prize: The Butlins 4th Section Trophy, £2,000 and the 4th Section Champions Banner
Second prize: £1,000
Third prize: £700
Fourth prize: £500
Highest Placed Mining Band – the N.A.C.O.D.S. Challenge Trophy
There will be disappointment that the Fourth Section has only attracted 13 bands this year, but even with £2,000 up for grabs for the winners, the underlying problems of contesting at this level are much deeper and more wide spread than can be found here this weekend.
Numbers in decline

Numbers of competing bands are declining with such rapidity around the country that it may take the implementation of a radical solution to see an increase in competitors here over the coming years.
Butlins has put the money in, but perhaps an 'own choice' or 10 minute programme solution, allied to open adjudication and relaxed player registration may be the way forward.
Having the same prescribed rules and restrictions on bands at this level as those in the Championship Section has long since been a nonsense.
Congratulated

At a time when contesting costs are escalating, all 13 bands should be congratulated for making the effort to compete this weekend.
Adjudicators Roy Newsome and Roy Roe should enjoy the competitive fare, but the whole contest could and should be made more user friendly.
Fine test

A fine test piece does help of course, and Leigh Baker's swords and sandals triptych is as good as it gets – 'Gladiator' meets 'Ben Hur' with a bit of toga tugging love interest in between.
Bands will have enjoyed getting to grips with the work once again (it was used as the Lower Section National Finals test piece a few years back) and although there shouldn't be any cries of '....unleash Hell' from the MDs (they should remember that the initials stand for Musical Director not Russell Crowe's Maximus Decimus) there should be plenty of contesting blood and guts spilt in the cause and one worthy last Gladiator standing to claim the booty.
Returnees

Four 2009 National finalists, and 10 of last year's field return once more, with Ireland Colliery (Chesterfield) under the direction of Ian Knapton, many people's choice to go one better this time around and claim victory.
They come to the contest on the back of a runners-up spot at the Leamington Spa contest late last season, but they know they will have to be on top form if they are to repel the challenge of another fancied outfit, Rivington & Adlington.
Malcolm Wilson's band could only manage joint 9th twelve months ago, but improved so much throughout the season that they went on round off their year with a superb 3rd place at the National Finals and then claim 7th place at the Wilkinson's Contest in the Third Section.
Late season

Another band that enjoyed good late season form was Melton under Graham Sutton. Although they only managed joint 9th here last year, two encouraging performances of late at Leicester (4th) and Leamington Spa (5th) should see them hopeful of being in and around the prizes.
Meanwhile, the experienced John Davis has been building as solid contesting outfit at Dronfield, so there should be little chance of a repeat joint 14th place if they hit form on the weekend, whilst it is good to report that Brian Draper is back at the helm with Bestwood Black Diamonds and looking to push towards the podium places after last year's 6th place.
Good start

One band certainly looking for a good start to the year will be Royston Town under Steve Earley, who came joint 14th last year. They will be looking for a real confidence boost ahead of the Areas.
Two National finalists return in the shape of Thurcroft Welfare, who came joint 9th last year before qualifying for Harrogate, coming 17th, and Whitwell Brass, who came 5th and then went on to book their place at the International Conference Centre, coming 16th.
Kingsway Printers Cleethorpes also bounced back off the disappointment of coming joint 17th last year to qualify for the Finals (coming 19th), so will want to build on that once more, whilst Banovallum Brass under Steve Ingham will be keen to push for a top 10 finish after coming joint 12th twelve months ago.
Trio

That leaves a trio of Greenfield Brass under Stuart Black, Fulbourn & Teversham Royal British Legion, directed by Peter Mackley and Huddersfield & Ripponden conducted by Tony Jaegar-Fozard. All three will want to make an immediate impact on their debuts here.
And as for a potential 2010 champion?
As always at this level it could be a close contest to call before a note is played, but if a few of the fancied bands have been able to carry on the good late season form of 2009 into the New Year, then we think it could well be a battle between Ireland Colliery (Chesterfield), Rivington & Adlington and Dronfield for the podium places, with Melton, Bestwood and Whitwell making up the top six.
Our dark hose on this occasion is Thurcroft Welfare.

4BR Prediction:

1. Ireland Colliery (Chesterfield)
2. Rivington & Adlington
3. Dronfield
4. Melton
5. Bestwood Black Diamonds
6. Whitwell

Dark Horse: Thurcroft Welfare