2010 Butlins Mineworkers Championship - Youth Contest preview
18-Jan-2010
There is sure to be plenty to enjoy at the Youth Championships on Sunday afternoon - with six cracking bands providing the entertainment.
---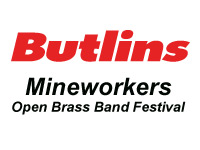 Youth Section
Reds Theatre
Sunday 24 January
Pre-drawn
Commences: 1.00pm
Adjudicators: Major Peter Parkes and Kevin Wadsworth
Programme not to exceed 20 minutes duration, but must include a march and hymn tune.
First prize: The Keith Wardle Memorial Trophy and £1,000
Second prize: The George Rowell Memorial Trophy and £600
Third prize: £200
Fourth prize: £100
All competing bands will also receive a Certificate of Merit
Six bands have been attracted to the developing Butlins Youth Contest, which last year proved to be a real success.
High energy playing

There is sure to be plenty of high energy playing to enjoy once again, with the all conquering Youth Brass 2000 under Chris Jeans looking to retain the title they won in such splendid fashion twelve months ago (although on that occasion they wee directed by Peter Collins).
The band enjoyed a wonderful 2009, (going on to take the Action Research title a couple of weeks later) and will surely be the band to beat, although they could face stiff opposition from a clutch of rivals.
Great deal of promise

Last year's runner up, Shirland Welfare Training showed a great deal of promise with their well chosen programme and with another 12 months of hard work and maturity under their belts will be looking to go one better and take the Keith Wardle Memorial Trophy.
Coleshill Town Youth also produced a highly encouraging performance last year and they too will surely have grown in confidence and maturity.
These three returnees will be hard pushed by the three debutants of Enderby Youth, Gresley Colliery Youth and Lions Youth Brass.

All three are busy bands with plenty of talent in the ranks and will be keen to make a mark as well as push for the £1,000 top prize.
It should prove to be a cracking contest for the audience and adjudicators Peter Parkes and Kevin Wadsworth.