Gizmos & Gadgets - January
9-Jan-2010
4BR looks at some of the post Christams bargains to be had in the January sales...
---
JP 231RATH Bb lacquered Tenor Trombone Bb Lcq
Price: £351.33
John Packer has teamed up with the lads at Rath Trombones to produce this little cracker for players starting out on their trombone careers.
Those 'bone' gurus have produced a medium large bore instrument that is made to the same exacting standards of their bespoke top drawer instruments yet doesn't break the bank.
The instrument is balanced, warmly toned and flexible to play – ideal for an enthusiastic young student, and comes with a lightweight case and mouthpiece.
It has plenty of fans too – from Carol Jarvis who played one on tour with that 'sign you name' pop star Seal, to teachers and band conductors.

Find out more:
http://www.johnpacker.co.uk/Catalogue/Brass-Instruments/Trombone/Tenor-Trombone/Bb-Tenor-Trombone/Student/JP-231RATH-Tenor-Trombone-Bb-Lcq-101521
---
Ev-entz online printed music shop
Those clever lads at Ev-entz don't just know about all things percussion, but they have now turned their considerable skills to the printed music business too.
Over 100,000 titles in fact – so something for everyone, from instrumentalists, singers, teachers, bands, choirs, schools and educational establishments.
There is high quality sheet music, tutors, examination music, educational and printed music books and all music types too – from Classical, Rock and Pop, Jazz, Folk, Country and much more.
From the Foo Fighters to the Flexible Mozart for Brass in fact…
Find out more:
https://www.mailmymusic.com/index.php?store=even02
---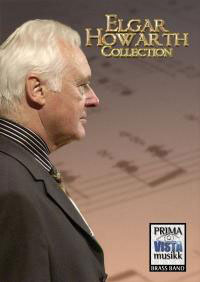 Prima Vista Music
Elgar Howarth Collection
Surely there hasn't been a better original musical thinker for brass than Elgar Howarth – especially when he turned his attention away from his more esoteric ideas and delivered exquisitely worked concert items.
Now Prima Vista has managed to exhume three of his little crackers – 'Four Folk Tunes', 'Hunt the Hare', 'The Old Chalet'.
The first is a clever collection of four popular folk tunes – one each from the USA, England and two parts of Ireland, whilst 'Hunt the Hare' is a witty take on the up tempo Welsh folk song that was first played by Cory and Grimethorpe on their Bicentennial tour to the USA in 1976.
'The Old Chalet' meanwhile is pure Howarth inventive brilliance – inspired by the home town of the wife of Philip Jones – he of the famous Brass ensemble – in Lucerne in Switzerland.

Find out more:
http://www.primavistamusikk.com/index.php?page_id=3&id=11
---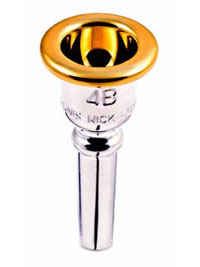 Denis Wick 'Heritage' cornet mouthpiece
Price:
It may be difficult to imagine, but there was a time when not all mouthpieces were the famous Denis Wick design you see on the lips of the vast majority of brass players under the age of 50 in bands all over the world.
That design (as well as the gold plate) revolutionised the mouthpiece market place, but now the time has come to look back to an age when something a little more elegant was in vogue.
Denis Wick has been working on its 'Heritage' range for some time now, and has produced a full range of cornet mouthpieces – from the bucket sized bombers for third cornet blowers all the way up to the sparkling twinklers favoured by the best soprano players.
As you expect from Denis Wick there is gold aplenty, but this is no throwback to the peashooter mouthpieces of Harry Mortimer. This lot benefits from the same internal designs and figurations as the most modern Wick mouthpieces and as a result they not only look great, but play brilliantly too.
Old Harry would have loved to got his mitts on one…

Find out more:
http://www.band-supplies.co.uk/acatalog/DENIS_WICK_HERITAGE_CORNET_MOUTHPIECES.html
---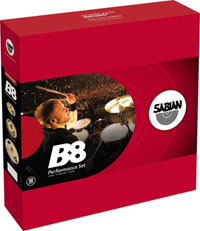 Sabian B8 Performance Cymbal Set
Price: £250.00
Buying cymbals can be a pain in the neck – the endless shapes and sizes, effects and colours.
Drummers love 'em – making a humble drum kit look like a mini flying saucer convention centre if their enthusiasm to try and look like John Bonham of Led Zeppelin is not reigned in.
What is needed therefore is a bespoke set that does the job that was intended, without breaking the bank – and this clever little set from leading makers Sabian is just the thing.
You can get a matched set of cymbals at a discounted price, and each pack contains a 14" set of hi hats, 16" crash and 20" ride.
More than enough in fact to keep a potential Buddy Rich happy as the rest of the band struggle through 'All in the April Evening'.

Find out more:
http://www.dennistoddmusic.com/cymbals.html