4BR Scouting Report - Eoin Tonner - Carnoustie Youth Band
9-Apr-2009
4BR casts its eye on another talented young performer who is making a name for himself in the banding world - Eoin Tonner of Carnoustie Youth Band
---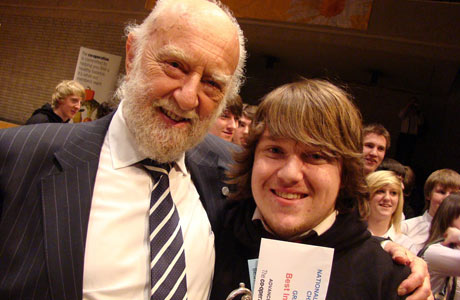 Star performer: Richard Evans meets a star player at the RNCM

Name: Eoin Tonner
Age: 17
Occupation: Student
Instrument: Cornet/Trumpet
Current Band: Arbroath Instrumental; Carnoustie Youth Band

Eoin Tonner is one of the brass band movements rising star performers.
4BR first heard this quite remarkable young man at the Scottish Youth Championships late last year, where he delivered two stunning renditions of 'Slavische Fantasy' within half an hour of each other with the Carnoustie Youth Band – performances that left the audience and the adjudicators full of admiration.
Fulcrum

Then at the National Youth Championships in Manchester last weekend he was the fulcrum around which Carnoustie in the Advanced Section once again shone, and his contribution to the cause won him the prestigious 'Best Instrumentalist' Award.
The very personable 17 year old cornet and trumpet player is without doubt a special musical talent – one that will see him undertake a four year Performance Music Course at the Royal Scottish Academy of Music and Drama in Glasgow in September.
He is currently in his last year at High School where he is taking his 'Highers' in English and Business Studies as well as an Advanced Higher in Music.
Musical family

Brought up in a very musical family - his father John Tonner initially taught him from what he describes as 'a very early age' - he has since become an integral member and principal cornet of both the Arbroath Instrumental Band and the Carnoustie & District Youth Band.
His brother and sister are both very talented young performers on soprano cornet and tenor horn, and although he says there is some rivalry between the siblings, he is very supportive and proud of them too.
Conducting

Eoin is also developing a very promising fledgling conducting career, making his debut with the baton with Dundee Instrumental at the Scottish Regional Championships last year aged just 16.
"I owe a great deal to my father and to Mike Robertson for developing me as a player," he told 4BR.
"My father made sure I was properly taught from the word go and Mike encouraged my development along the right lines as a player from the time I first had lessons from him aged 8. It was Mike who suggested that I go for further lessons at the RSAMD on Saturdays and to join their Junior Brass Band."
Beneficial

That move has proved to be hugely beneficial, and for the past five years he has had weekly lessons with Brian Forshaw, second trumpet and principal cornet with the Royal Scottish National Orchestra, as well as playing with the Academy's Orchestra.
"The experience has been great for me. I have been able to develop my orchestral repertoire and playing by being part of performances of music such as 'The Planets', 'Pictures at an Exhibition' and 'Shostokovich 5' – all of which have demanding trumpet parts."
Future clues

That exposure to the orchestral medium provides a clue to Eoin's future aims and objectives – one that will he hope eventually lead to him being able to become a professional musician.
"I would love to be able to play trumpet in a top class orchestra, but I also know that to do that I will have to work really hard on all aspects of my playing over the next few years. I think I have a decent technique at the moment, but I know I have to work on my stamina and sound as well as the technical aspects such as transposition."
Brass band roots

He is also keen to ensure that even if he does have to move away from Scotland he will never lose contact with his brass band roots.
"Wherever I end up making a living I won't lose touch with my brass banding. I want to continue playing in bands as long as I can and I would jump at the chance to carry on my conducting too. Bands are far too important to me to ever lose contact with them."
Immediate future

And as for this busy and very personable young man's immediate future plans?
"I'm looking forward to playing with Whitburn Band in the Summer, and there are contests to look forward to with Arbroath in Fife and at the Northern Counties Contest. Carnoustie are also playing at the RSAMD Brass Day later in the year and there is plenty for me to carry on practicing with such as the Bohme Concerto, which I have been working on."
It's not often you get to hear a star performer at the beginning of what promises to be a very successful future career in music, but we think 4BR has been lucky to do just that with a young Scotsman with the talent to do whatever he wants.
Iwan Fox