2009 National Youth Championships - Postcard from Manchester
8-Apr-2009
If there is still such as thing as the Manchester Scene then its to be found at the RNCM and not in a football pub on a Saturday afternoon...
---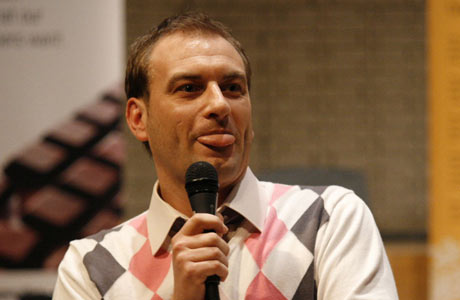 Not just a pretty face: Paul Lovatt-Cooper explains his choice of knitwear to the audience...

If there is such a thing as the 'Manchester Scene' still surviving after all these years of 'regeneration' inspired inner city redevelopment, then perhaps it is to be found in the Footage public house on a Saturday night just down the road from the Royal Northern College of Music.
Faint beating heart

Here there remains the faint beating heart of a city that has seemingly become a mass of soulless studio flat developments, themed pubs, and business parks. Here was the chance to get away from banding for a few hours, and watch a game of football on the big screen amid a true atmosphere of faintly disguised good natured tribal hatred.
Rather surreally, Liverpool's last gasp winner at Fulham coincided with arrival of Roger Webster through the door, so the former Grimethorpe top man was greeted with the type of applause and frenzied back slapping that perhaps he was used to after one of his usual impeccable contest performances over the last few years.
Bonkers

Whilst half the pub went bonkers with the cheers of delirious Scousers, the other half sank into their pints with Mancunian despair (only to lifted 24 hours later when their own team came back from the dead).
Roger looked puzzled for but a moment, smiled and asked how Bradford City had just got on…
It was as far removed from the wonderful scenes the next day at the National Youth Championships than you could ever imagine.
Gurgle or cough

Here, there was no tribalism at all – just bags and bags of brilliant youngsters all trying their best to bring a touch of last minute glory to their bands. Supporters came in the form of mums and dads, the odd granny and the occasional sibling baby who did their best to put off rivals with a well choreographed gurgle, cough or cry.
It was a great atmosphere in fact, all benefiting from the well run organisation of the BFBB, which made sure the whole day ran smoothly in the two main halls.
The BFBB should be congratulated in fact for the way in which they are trying to develop the competition as a whole. The link to the Co-operative as sponsor is proving to be inspired, with their community based ethos linked to green issues and fairtrade having a real resonance with the competing youngsters.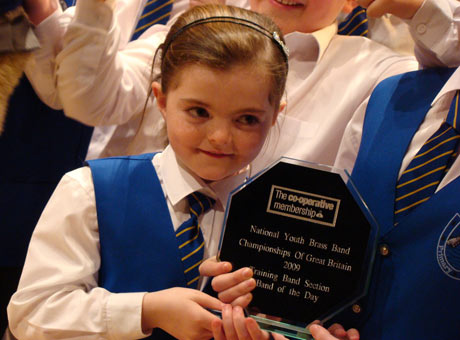 Star of the future - Smithy Primary School celebrate

Goody bags

Giving out goody bags to all involved may seem a touch predictable an idea, but it spoke of understanding and respect – aims and objectives the BFBB has successfully instilled at these championships too.
The tweaks in the criteria for participation seemed to work well (again asking for understanding and respect from participating bands) and the decision to bring in youthful faces on the adjudication panels and to get at least one test piece from a composer whose music the players love to perform was a cracking idea too.
Relate

Having the likes of Katrina Marzella, Michelle Ibbotson, John Doyle, Simone Rebello and Philip Harper to be an integral part of the event gave the performers the opportunity to hear from people they immediately recognize, admire and can relate to.
David Horsfield, Ray Farr and Peter Parkes did a fine job themselves, but this contest is all about youthful endeavour, something that young players aspire too by identifying with such inspirational performers such as Katrina, Michelle and John etc.
They are also more than good enough musicians to be able to make informed musical choices about the music they are being asked to judge on too, and all speak with a clarity and musical intelligence that not for one second patronised even the youngest performer on the day. Book them again.
Cracking test piece

Paul Lovatt Cooper's test piece, 'Skylines' was a cracker, but just as Robert Redhead's 'Quintessence' and Philip Sparke's 'Pioneers' are decent works, young players will surely enjoy more compositions from the new generation of younger composers for brass such as Pete Meechan, Simon Dobson, Gavin Higgins, Tom Davoren, Benjamin Tubb and Lucy Pankhurst to name but a few.
There is a real chance to use these championships as a shop window of talent not just for performers, but composer's too.
Usual mix

Back in the competitions there was the usual mix of the weird and wonderful in terms of youthful style (or is it perhaps that the 4BR Editor is getting a touch long in the tooth), so there were some truly amazing hairstyles, glasses and fashions on show – and it was nice to report that not one conductor fell into the stereotypical Geography teacher's look of sports jacket with leather elbow patches, brown trousers and sensible Hush Puppy shoes!
It all made for that great family orientated atmosphere of vibrant enthusiasm and friendly rivalry and a competition that the BFBB can be proud of.
If only the next chance to enjoy a quiet game of football on the pub television was the same…
Iwan Fox