2009 National Youth Championships - Advanced Section retrospective
8-Apr-2009
Forget the Happy Mondays, it was the Happy Sunday for Sellers International Youth.
---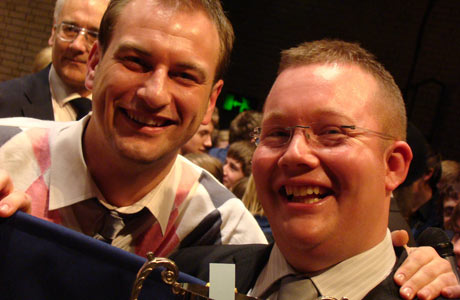 Smiles all round: Mark Bousie and Paul Lovatt-Cooper team up to give us a winning flash

Forget Shaun Ryder and the Happy Mondays, there was only one outfit to listen to in Manchester on the weekend – Mark Bousie and his Sellers International Youth Band, who enjoyed a fantastically 'Happy Sunday'.
Mad for it, as all those sheepskin coated, smiley faced ravers used to say.

Whizz bang fizzer

After a performance of a whiz bang fizzer of a test piece from Paul Lovatt-Cooper that had you wondering whether or not you should go home and get your long lost LP collection of 'Manchester Scene' records out of hibernation again, Sellers won the Advanced Section of the National Youth Band Championships, with a performance worthy of a Brit Award.
The secret to their success came with their adherence to the aims and objectives of the section itself – the class was open to bands 'seeking a greater musical challenge' in their 20 minute programme, whilst, as was clearly stated in the programme notes, this was not 'an entertainment style competition'.
Relaxed

The Scots of Carnoustie & District Youth, conducted by Richard Evans, undoubtedly pushed them hard for the title, but their more relaxed approach, although excellently performed, was perhaps more suited to the environment of the Action Research Youth Entertainment Contest.
That was the difference on the day between two exceptionally good bands.
Determination

Sellers Youth took to the stage with a sense of determination that was immediately apparent from the very first note of the test piece 'Skylines'.
With the cornets and trombones forming an arc behind the band there was purpose to the playing to go with the funky style, captured with a real Liam Gallagher 'Oasis like' swagger that was underpinned by a cracking percussion team.
The four quasi cadenza soloists pinned their ears back to produce cameo performances Bez from 'Black Grape' would have been proud of - the trombone, flugel, euphonium and cornet quartet were cracking, all backed by an ensemble that was razor sharp in precision – especially the young lady on bass trombone.
You could tell everyone enjoyed it – from the MD almost (and we say, almost) letting himself go native, to the players and even the audience all bobbing and foot tapping as if they were having a night out in the old Hacienda nightclub. It was great stuff.
In contrast came a controlled performance of 'Prelude to the 49th Parallel' by Vaughn Williams, whilst they rounded of their set (an appropriate description given the test piece start) with a very polished rendition of Peter Graham's 'Dimensions'.
It was Gold standard playing that was rewarded with a Gold Standard prize – and the National title.
Highly enjoyable

If Carnoustie had perhaps opted for a little more contrast in their highly enjoyable programme, then it could well have been the Scots that headed home with the title and £350 first prize.
Some of the playing was jaw droppingly good – especially the solo contributions, and the stunning performance of Eoin Tonner on principal cornet/trumpet in particular. He deservedly took the 'Best Instrumentalist' Award with a contribution that revealed a precocious talent.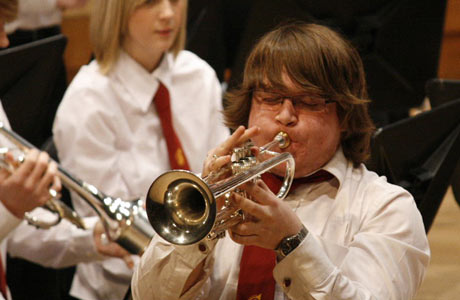 Top Tonner: Eoin Tonner takes the Best Instrumentalist Award

The opening 'Summon the Heroes' was tremendous stuff – bold, confident, balanced, upbeat and polished, whilst the following Cole Porter standard 'Anything Goes' had a fine lightness of touch, even when the whole of the large ensemble was playing.
Richard Evans had certainly come determined to show his Scottish ancestry (although we wonder what tartan he was actually wearing in his strides), but the choice of 'Bare Necessities' was strangely out of place, with the audience perhaps not quite conditioned after listening to three previous performances of serious pieces, for the humour and antics that followed.
Some very fine tuba/Sousaphone playing from Ross McKnight was certainly apparent, but given that the test piece was to come, each of the four works all seemed to be cut from the same stylistic cloth.
With Richard Evans donning sunglasses before the opening of 'Skylines' that sense of seriousness that was shown so vividly by Sellers was lost, and the band never quite found that funky groove to their playing either.
It was perhaps their weakest contribution and meant that they had to be content with a Gold Award and second place – a fine return for a fine band. Next year they will return with a slightly more serious intent we are sure.
Cracker

These two bands were a margin and a half ahead of the rest of the field, although each of the remaining four bands produced performances of rich merit, especially with the test piece.
Paul Lovatt-Cooper's 'Skylines' was a cracker and found real resonance with the players. The complex, funky rhythms were handled with frightening facility (perfectly pitched in terms of technicality), whilst the inclusion of the multiple choice solo element enabled bands to showcase their best players (all of whom performed admirably).
We therefore got a quartet mix that ranged from soprano to flugel horn, euphonium to horn, cornet to Eb tuba, all backed by writing for the ensemble that tested but never asked too much of those in the wings, from 3rd cornet to Bb bass.
PLC is certainly being asked to write a great deal at present, but if he keeps coming up with works of this innovative quality then there will be no complaints (although his Question of Sport sweater needs to be dropped sharpish)
Top judges

A quick word for the judges too – Simone Rebello and John Doyle. Both were immaculately turned out of course, but they also spoke with a clarity and understanding, without ever patronising their audience of performers that was as refreshing as the playing we heard on stage. Both should not be short of adjudication employment in future.
Purposeful

Third place and Silver Award was taken by Stockport Schools Senior Band, who opened the contest under conductor Phil Pavey with performances of the test piece and 'Laudate Dominum' that were purposeful and committed.
There were scrappy moments in both, but there was also a great deal of quality too (especially the percussion team and the quartet of featured soloists) in the test piece, which was played with real brio and vibrancy.
It just got a little tired with the ambitious Gregson to close, but there was more than enough evidence to suggest that this maturing band will return even stronger next year.
Johan Neeskens

So too Dawsons Berkshire Youth Band under the direction of John Watts (who looked uncannily like Johan Neeskens, the 1970's Dutch footballer), who took a Silver Award for their efforts.
Just 26 players and percussion in number, the MD used a great deal of musical intelligence in his programming – opening with 'A Little Prayer' by Evelyn Glennie, before moving to a solid performance of the set work, a cultured performance by the euphonium soloist in 'Benedictus' from 'The Armed Man', and closing with Queen's 'Fat Bottomed Girls'.
Certainly different, and certainly a band that holds a great deal of promise in what is sometimes disparagingly referred to as the brass band desert south of the M62.
Bronze Awards

The two Bronze Awards were taken by West Glamorgan Youth conducted by Jeff Pearce and Bolton Youth Band directed by Helen Minshall.
The Welsh outfit topped and tailed their programme with two PLC works – 'Horizons' and 'Skylines' with Goff Richard's bucolic 'Country Scene' sandwiched in between.
What the band lacked in polish and that extra touch of stylistic finesse, they more than made up for in commitment and endeavour, and whilst there were struggles in each of the works, there was also much to enjoy too – from confident soloists to some well balanced ensemble playing.
Enthusiasm

The same could also be said of Bolton Youth too – bags of enthusiasm, endeavour and vibrancy about their playing, but just a little bit scrappy and at times untuneful too.
Simon Minshall was a polished bass trombone soloist in 'Hall of the Mountain King', whilst the opening 'Knight Templar' march was played with a sense of commitment that very nearly shook your fillings out.
The 54 players (with the vast majority it seemed well below the 19 years of age limit) in the ranks all played their hearts out, and whilst the tuning in 'Amazing Grace' was perhaps a touch bag pipe inspired at times, the band got back on track with a rousing performance of the test piece to close. Another very promising band in the making.
As for promise fulfilled however, Sellers International Youth have that and more it seems. Excellently led by Mark Bousie, they headed for their Easter trip to Belgium buoyed by success. It was going to be a happy week for a very happy band.
Iwan Fox