2009 National Youth Championships - Junior Section retrospective
8-Apr-2009
A cracking contest with plenty of cracking playing - no wonder everyone went away happy.
---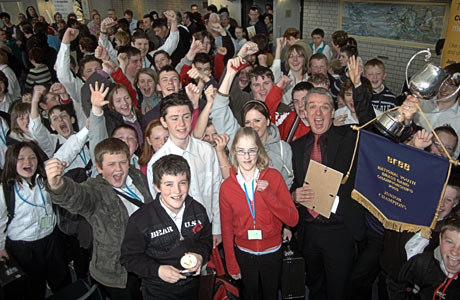 Time to celebrate: Gwynedd Mon Juniors get ready to explode!
Picture: John Stirzaker

A couple of years ago Geoffrey Whitham was judging at the National Youth Championships and he made the point that listening to young people make music was a wonderful way to spend a Sunday morning.
Here, the emphasis is on real enjoyment with no set work in the 15 minutes of playing, although at least one piece had to be included that had been written for brass band.
Uplifting comments
The Junior Section in the Bruntwood Theatre may have only contained four bands but it proved to be a real joy to sit back and listen to some fabulous playing.
The players enjoyed themselves along with the audience, and so did adjudicators Katrina Marzella and Michelle Ibbotson, who were simply blown away at the talent that was unfolding before them. Their uplifting speeches will surely inspire the players on to greater things.
Doing the basics
In congratulating the players for their efforts, Katrina highlighted the point that they were impressed by the bands who got the basics right. Michelle echoed Katrina's comment's admitting she was 'humbled' at seeing what the brass band world will gain in the coming years.
Cwmtawe's Silver
It was Cwmtawe Training Band, led by Wayne Pedrick who got the contest underway with the first movement of Simon Dobson's 'Lydian Pictures' which was played extremely well with attention to the dynamics.
Following on, two of the bands basses had plenty of fun in a confident reading of 'Bass in the Ballroom' before they rounded off an excellent performance with the theme tune from 'Pirates of the Caribbean'. It was all good stuff and they fully deserved their Silver Certificate.
Gwynedd's Gold
Gwynedd Mon Junior Band and John Glyn Jones were declared runners-up in this section a year ago and this year they went one better by taking the title.
They played confidently throughout with the MD making sure everything was in place and nothing was overdone. 'The Eagle Ascending' by Simon Kerwin was impressive, whilst lots of fun was had in the appropriately named march, 'Fun Fever'.
The fun didn't stop there, with thoughts of warmer climates in 'Fiesta', whilst there was much to enjoy in the calming 'Irish Blessing' where the quartet playing and dynamics stood out. The band rounded off its Gold winning performance with 'I Will Follow Him' from Sister Act.
Leeds enjoyment
City of Leeds Schools returned this year under a slightly different name, but under Gordon Eddison produced another fine performance with special mention going to the drummer whose contribution was first class from first to last.
The first piece was a confident 'Intrada' by Jock McKenzie closely followed by some of the band's cornet players standing at the side of the stage in 'Muss i denn'. Bruce Fraser's 'Grand Pavane' was nicely controlled and the band certainly had loads of fun in the final couple of items, 'All Tchaiked Off' featuring music of Tchaikovsky and the traditional American 'Shakers Song'.
Sargeant Daniel shines
Finally, Stockport Schools Intermediate Band and James Holt, who produced a fine performance of 'Slaidburn' to open before flugel player, Daniel Sargeant, produced a wonderful performance of 'Concerto D'Aranajeuz' that gave him the award as 'Best Instrumentalist'.
'Mid All the Traffic' was neatly shaped before closing with music from Simon Dobson - this time the closing 'Folk Song' from 'Lydian Pictures'.
It rounded off a great contest with plenty of fabulous playing, and an event that was enjoyed by all.
Malcolm Wood