2009 Australian Band Championships - Introduction & Schedule
7-Apr-2009
9-13 April
Seymour Centre
University of Sydney
Sydney, Australia
---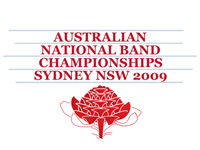 Thrity seven brass bands and twenty nine concert bands take part in this years Australian Band Championships.
The number of participating bands is significantly down on previous years - 48 bands in 2008, 60 bands took to the stage in Ivanhoe in 2007, and 44 in Brisbane in 2006.
The reason for the decline is most likely due to a number of contributing factors. The New Zealand Championships are this year being held the week after Easter which has meant there is not the usual Kiwi presence as in previous years.
Many bands have been feeling the effects of the current economic climate and combined with the associated expense of the competition being held in the centre of Sydney, have simply decided not to come due to financial reasons.
Of particular interest is the A Grade section. The Championship is wide open this year, with the absence of high profile band, Brisbane Excelsior. XLCR has decided not to compete in the Nationals this year following its history breaking record of 4 National A Grade titles in a row. The band has been invited to compete in the British Open in September and is concentrating its fund raising efforts towards this goal.
Saturday will prove an interesting and challenging day when bands need to negotiate their journey to the Sydney Royal Easter Show for the marching event - participation is compulsory. Already there has been controversy surrounding this aspect of the contest with possibly much more to come.
Certainly the presence of Professor David King and James Curnow as Chief Adjudicators gives this years competition a major boost. As well as adjudicating duties, Professor King leads the Gala Concert Production as the Director of the newly formed National Australia Brass. The 40+ strong force of some of Australia's best brass musicians will combine to give what is sure to be one of the highest quality brass band performances the nation has heard.
The brilliance and uniqueness of International Tenor Soloist, Sheona White is an added drawcard which this year, gives the Nationals Gala Concert a real touch of class - something that has been perhaps lacking somewhat in previous years.
Also in the Gala line-up is the Australian Army Band Sydney, and one of the most successful Junior Bands in the history of banding in Australia - the Gunnedah Juniors.
The weather looks like being a very mild, pleasant Autumn weekend with day temperatures around 22 degrees and evenings down to 18 degrees, with the odd chance of a shower.
Additional comments and thoughts on our Twitter site will be posted throughout the competition.

http:/­/­twitter.com/­4barsrest
---
THE SCHEDULE
Thursday 9 April
ALL Solo and Party events (Both Brass and Concert)

Friday 10 April
8.30am Open Grade Brass Hymn and Test
Hall One - D Grade (5 ) then A Grade (14)
Hall Two - B Grade (9) then C Grade (6)

Saturday 11 April
8.30am Hall One - Open C Grade Concert Bands (4)
9.00am Hall Two - Open B Grade (6) and then A Grade Concert Bands (4)
Open Brass Street March (Sydney Royal Easter Show)
2.00pm Hall One - Junior Grade Brass Bands (3)
8.00pm Gala Concert

Sunday 12 April
8.30am Open Grade Brass Own Choice and Stage March
Hall One - D Grade then A Grade
Hall Two - B Grade then C Grade
Monday 13 April
8.30am Junior Grade Concert Bands