Gizmos & Gadgets - April
1-Apr-2009
4BR looks at some of the must have deals around for April...
---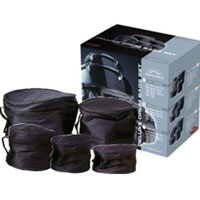 Stagg Deluxe PBS-1
5 piece drum bag set
Price: £91.60 (inc VAT)
Just what any budding young tub-thumper needs – or his mother anyway: Something neat and tidy to put away those crash, bang, wallop drums after a hard nights bashing to the sound of AC/DC or the latest from Paul Lovatt-Cooper.
These are a 5 piece high quality, heavy duty set from Stagg, made out of reinforced nylon, with thick velvet lining and foam backing – lightweight yet durable say the makers.
Mam can tidy up the 12" tom, 13" tom, 14" snare, 16" floor tom and 22" bass drum in plenty of time for little Cozy Powell to put on his pyjamas and jump into bed.
That's nice then…..
---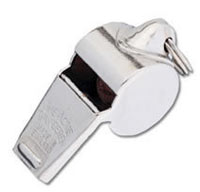 Thunderer
Official Referee Whistle
Price: £4.35 (inc VAT)

Just brilliant. For those moments in life when you either need to get control of errant schoolkids in a jiffy or have to try and impersonate a 1953 Great Western Railway Platform Guard at the beginning of a performance of 'Coronation Scot'.
Even the name conjures up a world of Brylcream, Stanley Matthews winning the FA Cup and sadistic PE teachers in school making you take a freezing cold shower after a cross country run.
Also comes in handy of course for the occasional comedy percussion moment or test piece by some obscure Lithuanian composer with a penchant for Dukla Prague FC folk songs.
Easy to blow very loudly and even has a pea that is water resistant. Wow.
---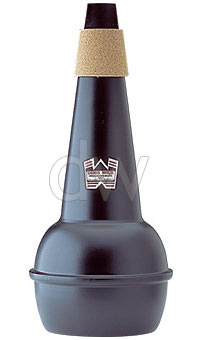 Denis Wick - Bass Trombone Practice Mute
Price: £35.00 (inc VAT)
For more than a quarter of a century, Denis Wick mutes have set standards of excellence that have made them the choice of the world's finest brass players – and now they make them for bass trombone players too.
Why it has taken so long for this life saving device to reach the shelves we shall never know, but now that it is here, every band secretary should make funds available forthwith to ensure one is bought for you star bass trom player.
The makers insist it allows for perfect 'painless' practice (for the player and listener we presume) and doesn't distort the sound as it enables the player to use the entire vital capacity as a vibrating air column by opening the throat spaces through playing loudly in the low register.
They also say it is an ideal 'hotel mute' for those bass trombone players who take their instrument on holidays with the wife and kids to Disneyland to practice.
As if…
---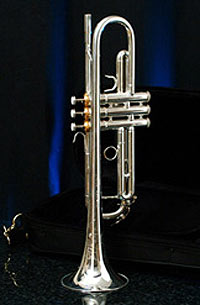 Geneva Alpha Trumpet
Price: £395 (inc VAT)
Students are always looking to be a little different (just look at the haircuts) and this instrument will give them the perfect opportunity to be 'individual' – and at a great price.
This medium large bore student trumpet is made to very high specification and is available through Tim Oldroyd's Geneva Company.

It's an instrument that features first and third finger rings, monel valves and high quality lacquer normally only found on professional instruments.
A quality trumpet without the high price tag the makers say and by all accounts it sounds pretty good too. All that and it means cash to spare for an extra half pint of Snakebite down the Student Union bar after practice.

Now that should please every credit crunch conscious student out there.

Find out more...
---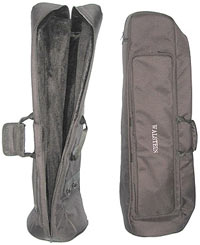 Walstein Tenor Trombone Gig Bag
Price: £19.09 (inc VAT)
Another bright idea and from Walstein for those who prefer something a little less taxing on the back.
This well padded trombone gig bag with rucksack straps or shoulder strap is just the job for those long trips to band practice.
Made from black heavy duty cordura material, with a reinforced bell section and internal slide housing to help protect the slide, the large external pocket will take accessories (music, slide grease, 4 cans of Stella Artois etc)
Great price and by using the shoulder straps it leaves two hands free for a bag of chips too.
Genius.