4BR Dinner Guests - Richard Evans gives us his ultimate dinner guest list
26-Mar-2009
Richard Evans tells 4BR just who he would have around his dinner table for a good night out and chin wag...
---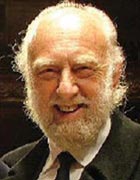 Given the opportunity, the wish list, the ability to mess about with the Space-Time Continuam like Doctor Who, and the skill to cook like Heston Blumenthal, who would you like to invite around to your place to enjoy a meal and chin wag with?

4BR started it all off a few days before Christmas 2007 with our 10 dinner guests, so we thought we had better ask a few more brass band personalities who would be on their all time dinner list too...
This time it's Richard Evans - perhaps the ideal man to throw a bash for friends and collegues.

Richard told 4BR: "It's been very hard to pick just the ten to enjoy a great night out - I could have filled a circus tent with the people I would love ask around for a great time!"
Just the ten though - Good news for Richard as the budget for the meal and drinks comes out of the hosts own pockets.
---
1. Harry Mortimer
My number one has to be the great man who was my mentor. I first met him in 1952 in Reading when I was leader of the National Youth Band of GB, and he guided my musical life from then on.
His conversation and great anecdotes, plus his very funny jokes, would keep you interested for hours. I miss him even now.
2. Maurice Murphy
Knowing Maurice is the nearest I have been to having a brother. In our early 20s we spent so much time together. His great career as the best trumpet player in the world is so interesting to hear about, especially as he is so amazingly humble. One of the nicest men I know.
3. Geoffrey Whitham
This man is, and always will be, larger than life. Never scared to speak his mind and never afraid to tell you to your face if he thought you needed his advice.
A lovely friend, as honest as the day is long, and so full of great stories.
4. Neil Cross
My great friend from The National Youth Brass Band of Scotland. His belief, wisdom, integrity and sheer hard work has turned NYBBS into a national treasure of Scotland. He also has a unique style in entertaining people! A friend for life.
5. Frank Renton
A very dear friend and colleague. His military career has been an example to all aspiring young musicians and when he tells a group of listeners some of the fascinating stories of his life, I love to be there, listening.
6. Markus Theinert
I first met Markus in the early 80s when Leyland Vehicles were touring Europe. He was an 18-year-old hungry for knowledge of the UK brass band scene. He went on to study under the famous maestro Celibidache citing him as his great influence.
Markus went on to play tuba in the Berlin Philharmonic Orchestra and work with Leonard Bernstein. He has become a much sought-after director all over the world and in fact assisted me in the preparation of Salamander for the 1994 British Open, which we won!!
I had the great honour of being his best man when he married Kari in Syracuse, USA. He is the most complete musician I have ever met.
7. Major George Willcocks
Although I only spent two years with Black Dyke, I was fortunate enough to be in the band when the Major directed us. Without hesitation, he was the finest conductor I have ever had the good fortune to know.
His marvellous stories of his service days in the Irish Guards plus his incredible private life would keep us interested for hours.
8. Pierre Monteux
In the early 60s I witnessed a closed rehearsal in Manchester Town Hall of Brahms 2nd Symphony undertaken by this man. Pierre Monteux actually played in a quintet with Johannes Brahms and that day I was in his company!
This is the man Stravinsky gave the manuscript score and orchestra parts to 'The Rite of Spring' and asked him to rehearse the Paris Orchestra for a first performance of it!!
What a task, and that was in 1912. I just want to talk to him about his incredible talent in the field of conducting.
9. Sir Peter Ustinov
From the first time I heard Sir Peter broadcast I was under his spell. He once sang three songs he had written, supposedly Russian, of a peasant mourning the failure of his tractor to start.
Then I heard part of a recording of a Mozart opera where he sang all the parts! For me, this man is the wittiest, cleverest and most intelligent man I have ever heard, to speak to him would be heaven.
10. Wolfgang Amadeus Mozart
To be in his company would be my greatest wish.
---
Previous dinner guest lists:
Previous guests have included the 4BR selection; Chris Wormald; David Read; Pete Meechan; Alan Jenkins; Derek Broadbent; Philip Harper; Peter Roberts; Frank Renton; James Shepherd; Dr Roy Newsome; Paul Lovatt-Cooper; Bramwell Tovey; Kevin Crockford; Morvern Gilchrist and Lesley Howie.