2009 National Youth Championships - Skylines review
30-Mar-2009
Paul Lovatt-Cooper gives us the lowdown on his new test piece in the Advanced Section.
---
Skylines
For the National Youth Brass Band Championships of Great Britain 2009 with funds provided by Lancashire Contests.
---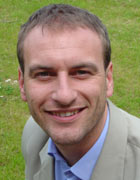 About the piece
At the time of writing this piece, the majority of my compositions have featured, as their inspiration - various countries, places and images from around the world, animals, major events, disasters and matters of both fiction and reality.
This is the first musical opportunity I have had to visit my roots in Lancashire and thanks to Lancashire Contests, who have commissioned me to write this piece I am able to paint my own personal portrait of this great county.
Lancashire boasts hundreds of fantastic places to go and visit, great celebrities and personalities but in particular the way the music scene has developed has made a real mark for me.

From The Beatles to Take That there have been some amazing bands from Lancashire to hit the music world. Great concert venues such as the Bridgewater Hall, the MEN arena, Preston's Guild Hall and Winter Gardens Blackpool to name a few have hosted an amazing array of musical talent that have travelled to Lancashire to perform.
Famous places and events

Famous places and events in Lancashire have made their mark in musical history, including concerts and live events at the Reebok Stadium, Old Trafford and the City of Manchester Stadium. Also, Manchester's famous Hacienda Night Club and the world famous Wigan Jazz Festival have shaped Lancashire's musical input and output.
The vision I had when composing Skylines was of looking out, at dusk over the various skylines that Lancashire has to offer and imagining hearing music from the various events mentioned above. Of course if you heard every sound at the same time it would just be chaos, so for this particular piece I've opted for music heard at events like the Wigan Jazz Festival and at various jazz and blues clubs around Lancashire.

Skylines is composed in a funk style with a rigid bass line allowing various soloists to shine. It is composed in a style that for many traditionalists isn't a stereotypical brass band test piece, that doesn't mean it won't challenge the youth bands who attempt to perform it though.
Skylines will test all of the sections of the band and will provide a great opportunity for ensembles to develop their rhythmic playing, soloistic style and general ensemble skills. It is fresh and different and I hope that both bands and audiences enjoy each performance.
Performance Notes
The piece is in a funk style and shouldn't be rushed, bands should stay within the tempo markings ( q = 106-114 ) for their performances. There are obvious cues within the parts where performers can play certain notes or group of notes either an octave higher or lower.

Also in some of the tutti sections where there quite difficult running semi-quaver lines some of the parts are marked optional for players who may struggle with those lines and wish to omit them.
Solo Passages
In the middle of this piece is a great opportunity for bands to show off their talented soloists, this starts at rehearsal letter J. This section from J to N gives the opportunity for the conductors and bands to choose four different soloists to play the solos marked.
Here in the music are four 8-bar solos at J, K, L and M. The solo's are cued on all the parts apart from the B flat bass who along with the drum kit and other E flat bass players play the rhythmic pulse indicated.

It is at the conductor's discretion who they want to play each solo but it must be only one player each time and they must stand at the front of the band (as they would when performing as a soloist) each in turn to play their solo and return to their seat at the end of their solo.
Combination

Bands can have any combination of soloists for example Euphonium then Trombone then Horn then finally Soprano Cornet. Or they may want to play E flat Bass then Repiano Cornet then Flugal then Solo Cornet. Each solo must be played by a different player each time and one player cannot play two solos during this section.
After the solo's, the parts then return back to their normal scoring which takes us to a new section at rehearsal figure N. This section is lead by a solo cornet duet played with harmon mutes. The duettists like the previous soloists must stand out at the front during their solo and return to their seats at the end of their solo where marked at P.

The solo players at rehearsal figure N are allowed to play this section even if they played one of the previous solos between J and M.
Set Up
Finally, the bands can either perform this piece in their normal band formation or if they wish may opt for a 'big band' set up to suit the style of the music.