Herbert Howells - A man out of his time
26-Mar-2009
Paul Hindmarsh reflects on the life and work of the composer of Pageantry and Three Figures.
---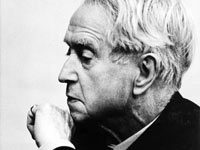 Herbert Howells (1892 – 1983) was one of the quiet men of the renaissance in British composition of the 29th century.

Unlike his great friend and mentor Ralph Vaughan Williams, he was happiest out of the limelight.

Bread and butter

As he observed in an interview published in Christopher Palmer's Herbert Howells – A Study (1977): 'I earn my bread and butter as a teacher, not as a composer; composition isn't for me a "material necessity" in the financial sense. I can't write for a living. I've never wanted to be in the public eye...One or two works have brought me some acclaim and have gone the rounds, but in general I've always written first and foremost because wanted and needed to write; performance, publication and the rest tend, rightly or wrongly, to leave to others.'
This modesty, humility one might almost say, is admirable, but it was undoubtedly contributed to the lack of public profile he achieved certainly in the first half of his career.

Attention

Of the works from this time that achieved a degree of attention one was a setting of Walter de la Mare, and one of his finest miniatures, the song King David and the other was the brass band suite Pageantry, which is arguably one of the most public works to have been created by this intensely private man.

Commission

By the time Howells received the commission from John Henry Iles, early in 1934, Howells was 14 years into his 60 year teaching career at the Royal College of Music (RCM) in London. (As a Saturday morning student at the RCM Junior school in the mid-1960s, it was a thrill occasionally to have my trombone lesson in the room with the label Dr. Herbert Howells on the door!).

Celebrated

Iles had already changed the 'currency' of the brass band test piece by securing the services of two of the most celebrated English composers of the day – Holst (1928) and Elgar (1930) – and had also had also been fortunate that John Ireland, who like Howells was not a household name, produced two works (Comedy and Downland Suite) that stand alongside Holst's Moorside Suite and Pageantry as the creative high water mark of the era, in brass band terms.

Pupil

Born in the Gloucestershire town of Lydney, Howells was the youngest of six children. His father was a keen amateur organist, a talent which his youngest son also shared. When he left school at 14, Howells was accepted as an articled pupil of Dr. Herbert Brewer, organist and choirmaster of Gloucester Cathedral.

His fellow pupils were David Ivor Davies (1893 – 1951), who as Ivor Novello went on to have a stellar career in the musical theatre as composer, singer and actor, and the composer and poet Ivor Gurney (1890 – 1937). Howells and Gurney became very close friends.

Strange new work

In September 1910 they sat together at the Three Choirs Festival premiere performance of Vaughan Williams' Fantasia on a theme of Thomas Tallis, It was regarded then as a rather strange new work, but it was an inspiration to the young men.

Following the score on that occasion and then being joined by the composer afterwards as the audience went on to enjoy Elgar's The Dream of Gerontius, was a seminal moment in Howell's life. His Mass in the Dorian Mode (1912) was composed as a direct outcome of hearing the Tallis Fantasia and is replete with the sounds of Tudor England. It was as if Howells had 'come home' in creative terms.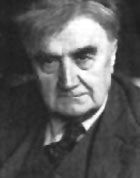 Looking back

Looking back on his life in that 1977 interview, the 85 year old Howells commented: 'All through my life I've had this strange feeling that I belonged somehow to the Tudor period – not only musically but in every way.' Vaughan Williams (right) even had a theory that Howells was the reincarnation of one of the lesser Tudor luminaries.

In February 1912 Howells followed Ivor Gurney to the Royal College of Music in London. Both of them won open scholarships and became the favourite pupil of that great teacher Sir Charles Stanford. Howells was the favourite pupil of Stanford's last years as a teacher, as Frank Bridge (1879 – 1941) had been 10 years earlier. The often irascible Stanford described Howells as 'my son in music'.

Phenomenal

Right from these earliest years, Howells was blessed with a phenomenally fluent technique, a precise inner ear, and great powers of concentration. He was able, Mozart-like, to compose in all situations.

For example, he wrote one his most beautiful carols – A Spotless Rose – while watching some shunting from a window of a cottage owned by the Midland Railway and he sketched the haunting prelude to his masterpiece Hymnus Paradisi (1938) in the crowded lounge of a Gloucester hotel.

Near fatal attack

In 1917, as part of his long convalescence following a near fatal attack of Graves disease (an acute hyperthyroid condition), Howells made a serious study of the church music Tudor times, working alongside Dr. R.R.Terry, organist and choir master at Westminster Cathedral, who was editing and reviving much of this music.

It is not surprising therefore, that much of Howells' mature music is steeped in English modality. Like Vaughan Wiliams and Holst, Howells used the old modes (or scales) in place of the major and minor scale. These modes were the bedrock of the music composed during the Tudor dynasty - composers like Thomas Tallis, William Byrd, John Bull and Orlando Gibbons.

Impulse to his music

But there was a strong contemporary impulse to his music as well. In the 1920s he worked on a number of orchestral works where his love of old-English modality and counterpoint was tempered by an evocative, often sensual approach to harmony, drawn to some extent from his admiration for the fluid, impressionistic sweep of the music of Frederick Delius (1862 – 1934).

His orchestral music was beginning to be heard in London during the 1920s, championed by Thomas Beecham. Howells' Paradise Rondel (1925) and Pastoral Rhapsody (1920) are evocative musical landscapes, which embrace ancient and modern in a highly personal and at time complex web of harmony, counterpoint and modal melody.

Hitting the buffers

However, Howell's developing career 'hit the buffers' in the mid-1920s, when a grittier side of musical personality was revealed in a Second Piano Concerto (1925), which received a mauling from the musical press. Ever sensitive to the slightest criticism, Howells immediately withdrew the work and all but withdrew from composition, certainly on a large scale, for eight years.

When he emerged from this self-imposed fallow period, the tougher voice was still there. Two works announced this new resolute Howells – a substantial Organ Sonata (1933) and Pageantry.

Urgency

There is a rhythmic urgency and harmonic vitality about both these works and also to a Fantasia for Cello and Orchestra that followed in 1936 that point to the impact hearing (and presumably studying) the newly published work of William Walton seems to have had on Howells' own voice – works like Belshazzar's Feast and the Viola Concerto.

All of those ingredients are present to a greater or lesser extent in the three movements of Pageantry. The fanfare motifs and syncopated pulse around which much of the outer movements revolve are Walton- like inspirations, but the preponderance of consecutive triads set within a modal frame gives the music a much more 'antique' flavour than Walton could ever have imagined.

Kings Herald

As the musical paragraphs of King's Herald unfold, Howells infuses his triadic harmony, based on Bflat, with the more affirmative tonality of a major scale and then adds another layer of complexity, in the more sustained central 'development' section, with some polytonal interest on the three horns.

This he then emphasises right at the end of the movement by lifting the perfect fourth in the basses (the interval that forms the basis of the main heraldic theme) by a semi-tone to form a Lydian fourth – an interval beloved of many brass band composers in the early 21st century.

Cortege

The second movement, Cortège, (which incidentally was omitted when the work was first heard at the Belle Vue Pleasure Gardens at the 1934 'Open') is the heart of the work. Howells transforms his fanfare fourths into stately chords, heard first on the baritones and trombones, and extends his brief melodic threads into simple, but evocatively sustained melodies.

Jousts

In Jousts, the gauntlet is laid down by a solo cornet with a theme that embraces elements of fanfare, simple modal melody and the more dramatic fourths, but all contained within a pentatonic frame. Jousts is a kind of rondo. It is the most straightforward in construction and includes at its climax an exuberant reprise of the principal 'fourths' theme of the first movement.

However, it is probably not the fluency and integrity of the musical material which has made Pageantry one of Herbert Howells' most frequently performed instrumental works, so much as the way in which he has 'voiced' his complex contrapuntal and colourful textures on the band.

Symphonic approach

Howells' approach was far more symphonic or orchestral than was the norm in the brass band world of the 1930s. It is far more adventurous in is exposure of individual voices and colours than Severn Suite, Comedy or Downland, where the traditional blended homogeneity is the norm.

We know that these fine works were not scored by the composers but by their skilled editors, who knew what the expectations of the brass band musicians was. Could it be that Howells scored Pageantry himself or was the arranger someone fresh like Frank Wright, whose scoring of Howells' second brass band work Three Figures (1960) bears comparison in its detailed and layered approach to the brass band score.

Musical challenges

The exposed and rhythmically subtle solos in the second movement still present technical as well as musical challenges to the finest modern brass band. No score of its time was alive with so many nuances of articulation (accents, tenuto marks, staccatos, martellatos etc), dynamic and phrasing detail.

Howells was a meticulous craftsman down to the last detail. But one detail which I have never found convincing is the 'spare' side drum semi-quaver that is placed after everyone else has played the off-beat chord at the end of King's Herald. Could this be a misprint?

When Howells prepared his much elaborated orchestral version of this movement for the Coronation of George VI, the side drum rhythm matches the rest.

Musical progress

One last thought: I wonder how much the musical processes, particularly the structures and colours of Pageantry influenced two later composers in their equally admired and adventurous works – Wilfred Heaton when he sketched the original version of Contest Music in the 1950s and Gilbert Vinter when he set to work on Salute to Youth in 1961?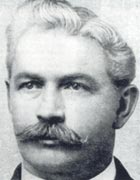 Three Figures

There is even more musical and technical detail in Three Figures. Like many a Tudor composer, Howells liked to personalise his music on occasion. His two volumes of keyboard miniatures, Howells' Clavichord (1941 and 1961) are inscribed to his musical friends.

The three figures here are all luminaries of the brass band world of the first half of the 20th Century.

Samuel Cope (1856 – 1947), editor of the British Bandsman, John Henry Iles (1871 – 1936), erstwhile owner and promoter of the two British championships, and the great cornet player, conductor and composer of marches William Rimmer (right) (1962 – 1936). However, it is arguable how much of their character is enshrined in Cope's Challenge, Iles's Interlude and Rimmer's Race, since Three Figures is essentially abstract music.

Different composer

Howells was a very different composer when he was commissioned to write for a work for the 'Centenary of the National brass band contest in London', as stated on the score.

The early death of his young son Michael in 1936 cast long shadows over his creativity. Much of his personal grief was expressed in his Hymnus Paradisi – a Requiem in all but name. From the 1940s to the end of his life, choral and church music was to dominate his creativity.

Diminished output

The number of purely instrumental works diminished to a trickle, Three Figures and a Partita for organ (1971) being the only one of any substance.

In both works the old contrapuntal fluency and rhythmic energy seems rather hard won. He relies much more on rhetorical gesture to provide moments of drama. Where he does write extended lyrical paragraphs, like the middle section of the first movement or in the all too brief Interlude, his harmonic language retains all it old fluency.

Insight

The intertwining strands of counterpoint result in moments of sensual, close harmony.

Finding the musical line through this work and lifting it 'off the page' requires a great deal of musical insight from the conductor and understanding from the players. It is much more elusive, though by no means less rewarding when played effectively, than its more familiar companion.
Paul Hindmarsh