4BR Time Team - A Fairey Tale
26-Mar-2009
Tim Mutum looks back at the 66 year sponsorship of the Fairey Band - the last of its type in a banding world now gone...
---
The ending of the sponsorship of the Fairey Band in January 2003 after 66 years brought to a close one of the longer partnerships between an industrial business and a works brass band.
There are, however, plenty of bands that can boast much bigger ties than that. It is likely that, as in so many things, Black Dyke would claim top spot, for it was in 1855 that John Foster took charge of the then Queenshead Band and thus began an association that lasted until the 1990s.
Unbeaten record

Such a record will not now be equalled let alone beaten. Other lengthy band partnerships with industry that spring to mind are Fodens, CWS (Manchester) - both over 80 years - and the many colliery bands plus, of course, Munn and Felton's.
There were also high profile, short-lived ventures in the 50's and 60's with Crossley Carpet Works, Ferodo Works and Cammell Laird to name but three.
Significant

However, the end for Fairey's was significant as it was surely the closing of an era with the large industrial type sponsors that were a feature of the 20th Century.
Fairey's was probably the last sponsored works band of that period even if at the end less than a handful of the band were employed by the sponsoring company.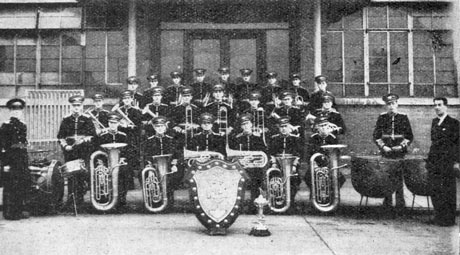 Open winners: The Fairey Band of 1943

Interesting argument

Dave Russell puts forward an interesting argument about the reasons for the relationship between bands and industry in a chapter of Trevor Herbert's book 'The British Brass Band - A Musical and Social History'.
"Most of the works bands founded in the period up to about 1930 were either the products of individual paternalistic employers, such as John Foster of Black Dyke Mills, men with a particular love of music who wished to add the 'sacred art' to wider schemes of social welfare, or of limited liability companies with a pronounced interest in social welfare."
Russell goes onto argue that from the late 1930s, but even more markedly from the early 1950s, there was more of a commercial element or spirit in business support of brass bands.
Infusion of capital

The result was an infusion of capital, a swift rise to the top and an even quicker and spectacular fall as money was guzzled and the social and economic return diminished.
The aforementioned Ferodo Works and Crossley Carpets fall into this category alongside other luminaries such as Clayton Aniline and John White Footwear.

The birth of Fairey

Given this scenario how did the famous Fairey Band of Heaton Chapel, Stockport, Cheshire come to be?
Well, it was all down to a chance remark. In 1937 Frank Smith was unemployed and at that time was conductor of the Mossley Borough Band. During a rehearsal he heard a band member remark that at Fairey's there was every kind of sports club but no brass band. However, at least 14 bandsmen worked at the factory.
Smith visited the works at Heaton Chapel and was ushered into the office of the Personnel Manager, Mr W Hume, who was later to become the band manager. When Frank Smith told Mr Hume he wanted to form a brass band his response was too hilarious to describe.
Lunch

Fortunately, Frank Smith was also offered lunch in the works canteen and found himself seated next to the General Manager, Major Barlow, who was very interested in the idea and would put it to Richard Fairey.
To cut a long story short Frank Smith was given a job and a month to prepare a 30-minute programme with the 14 musicians who had expressed to him that a band was 'a wonderful idea'.
The concert was given to the Board of Directors and ended in total silence. It was the wife of Major Barlow who broke the ice and suggested that if the company assisted with music and instruments, and the number of players could be raised, then the band could be a means of entertaining the workers in the canteen.
Full band

A full band, to be known as 'The Fairey Aviation Works Band', soon followed, as did the short concerts in the lunch hour for the workers, which were well received.
Thus, despite the arguments put forward by Dave Russell, in the case of Fairey's it was all down to a chance remark in a band room and the courage of Major Barlow's wife to give her support.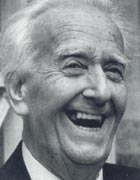 Harry Mortimer

The Band's high aims were quickly apparent when Harry Mortimer (right) became involved in 1938.
He tells how his linking with the band had a humorous side to it. In a 50th anniversary booklet he recalls receiving a letter signed by 'Frank Smith - Trumpet and Sax (Bandmaster)' inviting him to become the Musical Director of a recently formed band at Heaton Chapel, Stockport.
"It bore the name of Fairey - and in my ignorance I erroneously assumed that the factory at which it operated was concerned with the manufacture of a popular child's bicycle at that time - the Fairy Cycle."
Open success

There followed considerable, but not amazing, success in the September Belle Vue contest during the war years - with victories in 1941, 1942, 1944 and 1945 (and later 1947,1949,1950 and 1956 all under HM).
The reason for the caveat is that during the war many bands were decimated but Fairey's were a reserved occupation making planes for the Fleet Air Arm.
Entertaining the troops

Serious contest rehearsals were sandwiched between lunchtime concerts in the works canteen. Tom Fielding (trombone) played with them from March 1938 to March 1971 - winning 12 Opens on the way - and remarked "During the war we played for the troops billeted all over England".
In 1991 veteran repiano player, Tommy Fielding, told Brass Band World magazine that as well as being able to retain all its players in the war, the band had two special qualities. "One quality was rhythm and the other was Harry Mortimer. He used to look at a test piece, think about it and say something to the band that captured our imagination."
Nevertheless the Fairey record at the Open is formidable with 16 wins including a hat trick in 1961/62/63 under Leonard Lamb. And between 1941 and 1950 they never came lower than second.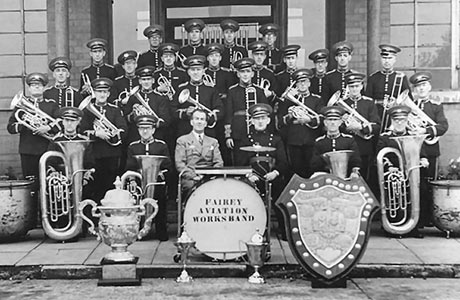 Double winners: Fairey and Harry Mortimer in 1956

Historic win

One of these wins - 1950 - is talked about in the same breath as the Dyke National victory of 1959 and that of CWS (Manchester) at the same event in 1962.
In 1950 the test piece was Eric Ball's 'Resurgam' and Bram Gay describes it as "Harry's greatest contesting achievement without any doubt", adding that the composer, who was also conducting that day, "gave up any hope of winning about two minutes into Harry's performance".
Tommy Fielding remarked that Harry Mortimer looked up at the band room ceiling and said, 'I see stained glass windows there.' Tommy added, "It all figured to us. We played reverently and we were marvellous."
The Nationals

At the National Brass Band Championships of Great Britain Fairey have notched up nine wins.
There have been numerous other contest successes, too many to list here and many famous banding names have led them both on the contest field and in concert work - Major George Willcocks, Walter Hargreaves, Geoffrey Brand, Roy Newsome and Major Peter Parkes are just a few that spring to mind.

Directors interest

Through the years of sponsorship the band received more than passing interest from the Directors of the company. Indeed, one story is that after the draw at the big contests management would gather with band to discuss tactics.
That was all very well but as former band manager, Andy Gillooly once dryly told me, "The trouble was, they would also turn up at the next rehearsal and want to know why we hadn't won!"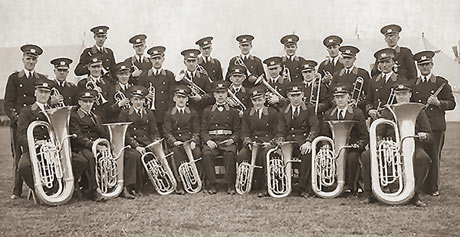 Early days: Fairey on early parade

Benefactor

In 1987 Williams Holdings acquired the Fairey Engineering Company. Fortunately, this did not spell doom and gloom because of the man at the helm of the acquiring company - Sir Nigel Rudd.
He effectively became the benefactor of the band and for 15 years until January 2003, all was well.
Former Assistant Band Manager Nigel Beasley takes up the story. "In 2001 Williams, who were behind Williams Fairey, ceased to exist and split into two companies called Kidde Group and Chubb. It was decided at directorship level that Fairey would go with Kidde Group.
Reduced financial commitment

Since then, Kidde Group has looked at its acquisitions in a new light and steadily, but considerably, reduced financial commitment to the band. As of January 2003, it was decided that the company would no longer provide funding".
Name changes

Throughout its 72 years the name Fairey has always appeared in the band's title, whether it be 'Fairey Aviation Works Band', 'Fairey Aviation Band', 'Fairey Engineering Works Band', 'Williams Fairey Engineering Band', 'Williams Fairey Band' or just plain 'Fairey Band'.
Even when Williams Holdings wanted it to be named just that, 'Williams Holdings Band', the players soon persuaded the company that to drop the name 'Fairey' would be disastrous.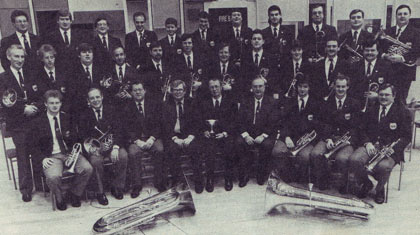 Fairey in 1988: Still in black and white though...

Tough times

Like other bands Fairey's has found recent times tough and a challenge.
Links

Remarkably, the band still has links with its origins as it still rehearses on the same site in Heaton Chapel as it always has. Today, though, the players don't come from a factory that used to make Fairey's famous aircraft – the Firefly, the Fulmar, the Swordfish and the Barracuda.
The players reflect the current trend of many a top band – a mixture of loyal stalwarts such as Brian Taylor, Gary Parker and Jimmy Leggett, talented students and experienced recruits like Mark Bousie and Lisa Sarasini.
As this group of musicians, led by former cornet player Phil Chalk, continues to keep this great name alive, all of us will be grateful that Frank Smith overheard that comment in the Mossley Borough Band rehearsal and took up the offer of lunch in the Fairey's works canteen.
Tim Mutum