4BR Interview - Torstein Aagaard-Nilsen
26-Mar-2009
4BR's Chris Thomas talks to one of the most influential and innovative compositional voices in brass banding - Torstein Aagaard-Nilsen.
---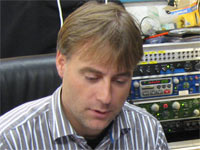 In many ways composer, teacher and conductor Torstein Aagaard-Nilsen symbolises everything that is progressive and innovative about brass banding in Norway.

With major works for band such as Riffs and Interludes, Aubade-Dawn Songs of the Fabulous Birds and Cantigas, the adventurous yet often eclectic spirit and language of his music has dared to push boundaries whilst providing bands with music that has the ability to challenge, stimulate and reward in equal measure.
Serious attention

Having grown up in a remote part of the country, he was subsequently to move to Manger and come into contact with such figures as Michael Antrobus and Tom Brevik, culminating in a highly influential period as a member of the cornet section of Manger Musikklag. It was whilst with Manger that his work, both as composer and arranger, first started to attract serious attention and his music was soon to be heard on both the concert and contest stage.
Increasing demands

Although his association with brass and wind bands remains very strong, his music extends well beyond the confines of the brass world, to orchestral and chamber music, electronics and educational music. Despite his increasing demands as a composer he remains active around Bergen where he now lives, as a teacher, brass tutor and educator with a particular interest in developing a thriving contemporary music scene amongst young and amateur musicians.
New recording

4BR's Chris Thomas caught up with the composer in the wake of the release of Manger Musikklag's new recording of his thirty five minute work for cornet, trombone, tuba, marimba and brass band, Dynamis (Missa Sophia), originally commissioned for Eikanger-Bjørsvik by Elgar Howarth.
---
Chris Thomas: You were brought up in the island archipelago of Lofoten, a remote but clearly beautiful location lying within the Arctic Circle. What were your early musical experiences and has your environment come to have a significant influence on your work and musical thinking?
Torstein Aagaard-Nilsen: At the age of ten I used to take part in Salvation Army ceremonies because they needed guitar-players! At the same time I joined the local school wind band and got a cornet. No real formal training happened before I met Michael Antrobus, Tom Brevik and others after a 1500km journey south to Manger.
I formed a rock band with some friends and at the same time I started to write music...pop songs (I was 14). I also started to write for wind band but without any real success. I knew what I wanted but I didn´t know how to score it to make it sound right and nobody could tell me neither.
My father bought an LP record player and stereo equipment when I was 15 and all of a sudden a new world was opened up to me; Haydn, Vivaldi and (believe it or not!) James Last. I still remember my first strong listening experience. I borrowed a recording of Schubert's Unfinished Symphony and it really grabbed my heart. I think my musical orientation turned 180 degrees that evening from rock, pop and easy-listening James Last type stuff towards the real thing.
Having said this, I am still not sure why I write the music I write from a "where I grew up" point of view. The music I want to write is miles away from the music I grew up with. I did not hear any contemporary music before the age of 19, but even when I first attempted to compose for winds I was looking for special harmonies etc. It has always been like that.
Chris Thomas: Having been a member of Manger Musikklag, brass and wind bands have obviously become very important to you as a composer as well as a player. How did those early days in the school wind band help you to develop and shape your future interests?
Torstein Aagaard-Nilsen: I was never trained in the true sense of the word as no brass teacher ever visited the Lofoten Islands when I was young. After a one year beginner's course at the age of ten, me and my friends joined the band and had to figure out how to play ourselves, with some help from elder players. And yes, it sounded terrible!

I had to pick up something here and something there. I remember learning how to double and triple tongue from a quite drunk baritone player at a band festival when I was seventeen. I had never heard anybody fast tongue in my life. I was amazed and I just had to ask him how he did it. At the age of 16 a clarinet player told me to buy Arban´s Cornet Method!
I had my first trumpet lesson after attending Manger Folk High School. I was nearly twenty years of age and it was a bit too late to become a trumpet player, I´m afraid. Two years later I qualified to study at the Bergen Music Conservatoire, now called the Grieg Academy, to become a music teacher with trumpet as my main instrument.

The Conservatory did not have a composition department although the Grieg Academy now has. I never became a trumpet player, but at least I know how to play a brass instrument.
In my class at the conservatory I met others that shared my interest in composition. We started to work together and invited composers to come to Bergen to show us and tell us how they did things. We travelled to meet other young composers at contemporary music festivals and joined several master classes etc.
Chris Thomas: You now live on the island of Radøy, another beautiful location but this time closer to the cultural and spiritual centre of Bergen, birthplace of Edvard Grieg. Is there a thriving musical culture and life in Bergen?
Torstein Aagaard-Nilsen: Bergen is the second biggest city in Norway so you get everything there, the whole spectrum of professional activities from classical to contemporary music.

The Bergen Philharmonic Orchestra has played an important role in developing the musical life in Bergen since 1765 and it still does. Peterson, Winter and Withington, all trumpet players in the orchestra, are very important conductors of bands with fantastic merits. And then you have the bands; one professional wind band (the Military Band of Bergen), top section wind bands and brass bands like Eikanger and Manger.

Chris Thomas: Norwegian brass bands at the highest level have become synonymous not just with technical excellence but for an innovative and progressive approach to programming and contemporary repertoire. Do you feel that the British band scene suffers from the weight of tradition on its shoulders in this respect and do you feel there is anything we can learn in Britain from the Norwegian banding model?
Torstein Aagaard-Nilsen: I guess we can all learn from each other. Norwegian bands learnt how to play classical brass band music from your bands...and they still do! However, we have not only been influenced by the British bands but also by jazz, rock and contemporary music. These influences help us to play different styles in the right way. The top Norwegian bands do this quite well!
Another point is that we don´t have the same long tradition in music as you have. You can look back on a millennium of music making; composers, various consorts, orchestras, kings and queens and an aristocracy that used to be interested in art and music. And of course the industrial revolution that in the end made brass bands happen.
In Norway it seems like everything began with Ole Bull in the early nineteenth century and really made quick progress with composers like Grieg in the area around Bergen. They went to Germany to study. The rest of us were fishermen and peasants either living in hidden valleys or somewhere far up the harsh coastline playing the Hardanger fiddle.
After the second world-war Norway developed a well-functioning funding system for the arts. Amongst several things, it gave us the opportunity to commission music without having to think of any commercial effect. It meant we could have new thoughts on what a brass band could do without taking big risks.

We have to make brass bands become a part of modern cultural life and because we do this, brass bands have become more and more accepted as high quality ensembles in the general musical life of Norway.
I think the British band scene carries a heavy weight called tradition and heritage, but our experience is that you all do that with proudness! That really is something to learn from! However, all the competitions take too much focus I think, although this is not a particularly English problem.

For me it is a love hate relationship. On the one hand, everybody needs intensive training to get better. Competitions make bands and each member practice more. On the other hand you can get competition music that does not deserve all the hours of practising.

The music is simply not good enough. There is not enough music in it, so to speak. It might be a good test but that does not automatically make it a good piece of music. Original thoughts should be more appreciated!
Chris Thomas: Turning to your own work, your music sometimes contains influences or references, one interesting reference being to Wilfred Heaton in the opening movement of Riffs and Interludes. Are there any specific composers that you feel to have been a particular influence on you over the years and in what way?
Torstein Aagaard-Nilsen: I admire Heaton's work but his music has not been a main influence to me. No brass band composer has. In Riffs and Interludes I quote the opening motive of Contest Music for musical reasons because I wanted to compose a musical book of memories.

I wanted to put lots of references in the piece to make my artistic idea work. I even created "Torstein goes Ted Huggens" (Henk van Lijnschooten) in the second movement to form a picture of my time in the local wind band I used to play in. I did not dare to add the drum kit part though!
Important composers for me are Bartók, Schoenberg, Lutoslawski, Ligeti, Messiaen, Birtwistle (all fantastic composers!) Magnus Lindberg (from Finland) and others to numerous to mention.
Chris Thomas: And rock music, in particular funk, has also been an influence and found its way into your music?
Torstein Aagaard-Nilsen: Yes, I am still fascinated by the rhythm, drive and energy in groovy music although it does not always have to be funk music. Lately I´ve been listening to a British band called Gorillaz. Their music has nothing to do with funk but it is refreshing, interesting and original. I like that too!
I don´t always put rhythmical influences into my music in a direct way as in the first movement of Riffs and Interludes. Most of the time I try to find other ways of doing things. But I guess you´ll hear it more often in my brass band music than in my orchestral or chamber music. Arctic Funk is a quite well known example.
Chris Thomas: So how have you attempted to unite such eclectic and wide ranging musical influences in your work?
Torstein Aagaard-Nilsen: I don´t do this very often. I write music all the time and not one piece over the last ten years or so sounds like Riffs and Interludes. Every composer I know is a sum of influences and I am too. Influences like modern poetry, mythology, modern arts and landscape play an important role in my life.

In the end I hope that all the different sources of inspiration are mixed together somewhere inside me and come out as original and interesting music!
Chris Thomas: In recent years, you have explored the use of computer programmes in your music to create more complex harmonic structures. Could you explain something of your working methods in this respect?
Torstein Aagaard-Nilsen: A cell (or germ) often containing six to eight notes are put into a "chord-fabric" I have made by use of a program from IRCAM called Open Music. I don´t do this with every piece I write, but sometimes and often when I am going to compose larger pieces, I work with the computer at an early stage of the process, even before I know what to compose.

The computer can give me a lot of answers in a short time. My job is then to control every chord and every note, throw away most of it and make use of the structures that suit the purpose best. I don´t think that my harmonies have become more complex than you´ll find in the second movement of Riffs and Interludes. I am actually searching for a way to control these harmonies and combine them in logical ways.
Chris Thomas: Your Euphonium Concerto "Pierrot's Lament" seems to mark a change in your musical language in this respect. Was there a particular moment in your creative life when you decided that your musical language needed to expand or change?
Torstein Aagaard-Nilsen: Not a particular moment, rather a process that started in 1992. After having composed several major pieces for wind and brass band, four Concertos and a cycle of works for Sinfonietta, I felt that I had to invent some new ideas to get further.

Then Steven Mead phoned me to commission a piece for solo euphonium and orchestra. It was the just at the right moment. With the commission and the fact that I had just started to explore new ways to create large structures of harmonies with a substantial inner coherence, I felt I could really go for a journey.
When I first was introduced to the chamber piece Pierrot Lunaire by Arnold Schoenberg, I was stunned. It is based on poems written in the late 19th century by Albert Giraud and tells about this puzzled person, the puppet Pierrot, who is moon-sick.

In the Concerto I wanted to try to picture the inner life, his thoughts. It became a concerto that is incredibly hard to play (I still owe Steve a couple of beers for his fantastic playing and hard work!) But it just had to be that way to make the listener really feel the drama and expression of fear, hate, illness, love, atrocity and psychological terror.

If you listen to Ewartung, also by Schoenberg, you´ll find a kind of main influence to my Concerto, even though my music sounds very different compared to that.

Chris Thomas: Are you a composer who works obsession ally through the night when inspiration presents itself or do you try to work to a routine in your daily life?
Torstein Aagaard-Nilsen: I would love to have some interesting anecdotes to tell you about my creativity, but I am sorry to admit that I don´t have any. I have to work through the daytime, so I walk down the stairs to my little office when everybody else has to leave the house.
Chris Thomas: Where do you find that your musical inspiration comes from? Are your initial ideas often drawn from extra–musical events or landscapes or is the first idea usually an abstract or purely musical one?
Torstein Aagaard-Nilsen: Definitely the first aspect of inspiration you mention. I can be fascinated by an abstract musical idea but I always try to find a landscape to put it in.
Chris Thomas: One example of extra-musical inspiration is to be found in Aubade –Dawn Song of the Fabulous Birds, which takes you back to the Lofoten Islands of your youth. Could you explain how your experiences found their way into your music in this work?
Torstein Aagaard-Nilsen: Actually, I used the Seagull's breeding season as an example or picture of the kind of experiences you could get in the Lofoten Islands. I also used this story as an excuse when people asked me "how on earth could you come up with something like that??"

The fact is that I was more inspired by mythological creatures than real ones because nobody actually knows what cries they made or how they actually sounded. Even J K Rowling doesn´t know (I´ve read all her books about Harry Potter).

So I wanted to invent a kind of fantasy world to use any sound or combination of sounds I wanted. I really wanted to explore the brass band in what was for me, a new way and maybe develop as a composer at the same time. In a commercial world this is not a smart thing to do.
Chris Thomas: Of your substantial volume of works for brass band to date, which do you hold in the highest esteem?
Torstein Aagaard-Nilsen: I am quite proud of my major works for brass band. If I have to pick one, I will mention an almost (so far) unknown piece called Dynamis. I have just received a copy of a new CD made by Manger Musikklag conducted by Bjørn Sagstad which contains three pieces of mine.

The last piece Dynamis (Missa Sophia) is in six movements. It was composed just after the first performance of Riffs and Interludes. Elgar Howarth, who happened to be in Grieghallen, came straight down to me and gave some very generous comments on Riffs. The day after he commissioned a piece from me for Eikanger-Bjørsvik Musikklag.

What he wanted was a large scale work in the form of a concerto grosso. What he got was a half hour piece for brass band, solo cornet, trombone, Eb tuba and marimba but I think the piece is much more than that and I still am quite happy with it.
Chris Thomas: Could you tell us of the highlights of your time with Manger Musikklag and did playing in the band help you to develop as a composer?
Torstein Aagaard-Nilsen: There were lots of highlights with Michael Antrobus and MML. He always chose music that nobody had heard before and for me that was a fantastic way of learning about the brass band, new colours and new sounds.

Here´s a list:

1) Contest Music and Michael's fantastic arrangement of the Presto from the Shostakovich 10th Symphony, the two first very demanding pieces I had to learn after moving to the Bergen area in the autumn of 1983.
2) Refrains and Cadenzas by Thomas Wilson, the test-piece for the European in 1984. An underestimated piece of music.
3) Playing Bourgeois. Blitz, the Concerto No. 1 for Brass Band and the Concerto for Brass Quintet and Brass Band (with the Philip Jones Brass Ensemble as soloists).
4) Playing Aubade by Michael Blake-Watkins
5) Playing The Trumpets by Gilbert Vinter.

My interest in contemporary music grew fast but to develop as a composer I am sorry to say that I had to quit playing.

I remember a competition (SIDDIS Brass) in the late 1980´s. Tom Brevik had commissioned an opening piece from me (Introduction) and ended the program with Circius. A fantastic thing to be a part of! I have worked with MML on several projects since then including the CD´s Circius, The Binding of the Wolf, Graffiti, Tribute and Dynamis (2009).
MML also started to commission music from me and played my music in competitions and concerts. These are all highlights to me. The last major event happened in 2006 when they played Cantigas (with Bob Childs conducting) as their own-choice for the Norwegian National Championship.

I also have to mention David King for bringing my first pieces to England and recording them and Eikanger-Bjørsvik and Stavanger Brass Band for their interest in my music. Actually Stavanger did the first whole recording of my music, with James Gourlay conducting in 1999.

The Norwegian bands are very open minded and I could have mentioned several bands that have done important things to bring my music out. Norwegian conductors like Bjørn Sagstad and Bjørn Breistein have been good ambassadors for my works over the past few years.
Chris Thomas: Teaching is an important part of your life and in particular you work a good deal with young children and amateur musicians. Do you see a composer as having an important part to play in the local community?
Torstein Aagaard-Nilsen: Definitely! The great problem with contemporary music is that nobody knows how to deal with it, nobody understands it. Why? Because every child interested in music gets the same kind of education. In schools you learn almost nothing about art or music. They learn how to play and play old-fashioned music or commercial music all the time.
So what can we do about it? The children that love to play an instrument deserve well qualified conductors and tutors. They also deserve good, high quality music. I like to open their eyes, to stimulate their curiosity. Some of the music they play has to be non-commercial. Young people need to explore new fields of making sounds and colours within the band. I have done several new music projects with school bands.
I also find it interesting and refreshing to work with amateur musicians that love to play and love music, but still need to be told how to make a good sound, nice balance, improve their own playing etc. From time to time they ask for new music that they can cope with because they like to have this kind of off road biking experience! Actually, in Norway we need more "non easy listening music" for dedicated amateurs.
Chris Thomas: And you also conduct a number of orchestras, bands and amateur ensembles?
Torstein Aagaard-Nilsen: I'm not too experienced with orchestras but I like to conduct and I use every opportunity to do that. I conduct in competitions with youth bands and amateur bands.
Chris Thomas: Your catalogue of compositions is expanding rapidly but what are your future musical ambitions and aspirations and is it your intention to add further to your list of major works for brass band?
Torstein Aagaard-Nilsen: Most of the time the basic idea for a new piece, like instrumentation, occasion, duration, etc. is well defined because it´s a commission. I am not in the position to write a large piece for symphony orchestra, and then make a phone call to have it played the coming season. Actually very few composers in the world can do that.
My list of future projects is quite long but many of them do not have a financial arrangement in place yet. In reality I am never 100% sure what is going to happen but this year I am going to write a new Euphonium Concerto with brass band for David Thornton.
Generally, I hope to do what I have done for the first twenty years of my career and write music within a broad field of styles and types of ensemble whilst still having time to do music for lower section bands and school bands.
In a day dream that occurs from time to time I see a new orchestral piece coming up, but when I open my eyes it disappears. Time will tell. That´s the exciting and stimulating part of working as a freelance composer and band conductor.
Chris Thomas: Many thanks for taking the time to talk to us.