2009 Scottish Regional Championship - First Section - retrospective
26-Mar-2009
A fantastic advert for Scottish First Section banding was won by a fantastic performance from Kirkintilloch Kelvin.
---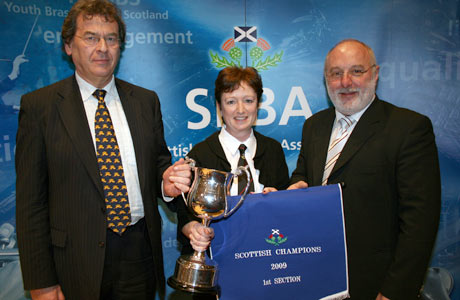 Kirkintilloch take the First Section title in style...
www.brassbandphotography.com

There are always comparisons of sections around the country, but it has to be said that the standard of play in the First Section in Dundee was incredibly high.
Impressive

This is even more impressive due to the ferocity of the score, which features many parts that would trouble players in top championship bands. Graham Cole's 'Pentacle' is a very difficult piece, with technical and musical demands that many feel are too hard for bands at this level. The ten bands that took to the stage here proved the doubters wrong.
The high standard made for an extremely enjoyable morning (and afternoon) of listening, with every contender giving it their all. Of course, some succeeded more than others, but each band had lots to offer.
Hammering

Kirkintilloch Kelvin Brass gave a veritable hammering to the opposition, with an amazing 5-point winning margin over the second placed band (points are still given in Scotland). From the very start of the performance it was clear that this was going to be a band to beat.
Conductor Charles Keenan made sure everything was in its right place, and the band's sound was different from the other competitors, having a light and transparent feel to it which allowed the technical detail to shine through.
The balance of the sections was just right and the band's soloists shined, especially Murdo Campbell on euphonium, who despite playing at the highest level for many years had never actually competed in a solo chair until this weekend.
The Eb bass solo by Adam Wilson was wonderfully played, and cornet soloist Lorne Cowieson and solo baritone Claire Baillie gave great technical contributions at the start of the fifth movement. In the end the overall quality bowled the judges over and KKB took a well-deserved victory - the first regional victory (despite winning the Third Section Nationals in 2000) since the band was formed in 1995.
Compliments must also be given to Kelvin's trombone section, who were the best instrumental section 4BR heard over the entire weekend, and to the band's solo horn player, Rachel Baxter, who was the worthy winner of the 'Best Horn' prize on the day.
KKB will travel to Harrogate with some confidence after this victory.
Full blooded

4BR thought the title would be a toss-up between KKB and Newtongrange come results time.
Both performances were very different, with Newtongrange producing a more full-blooded account of 'Pentacle' compared to KKB's reading, which had a few more subtle touches and lighter moments.
Excellent playing was heard from all around the stands, and the powerful moments in the piece really saw the band giving 110%.
The euphonium, soprano and flugel players were all outstanding, and the ending of the band's reading was very exciting. The 'damped' timpani effect towards the end was also the most effective of the entire day.
After not competing in 2007, Newtongrange seem to have reversed their fortunes, and now have a band that could easily have competed in the Championship Section. 4BR had Newtongrange and KKB just about neck and neck at the end of play, and second place will send a band who are very much on the up to Harrogate.
Excellent dynamics

Third place was awarded to Newmilns and Galston, who had some excellent dynamic contrasts throughout their performance and some notable soloists, particularly flugel and trombone, whose section was also very good indeed.
However, there were moments of unease in the tuning, and some sections that should have had crisp rhythmic detail were rather sloppy. In addition, some parts cried out for more excitement, as although the playing was good, most parts sounded rather safe to the ears, needing a bit more risk-taking to raise the interest levels of the listeners.
Confident

One of the youngest bands on the Scottish scene is Campbeltown Brass, but age is no indication of playing ability. Under MD Craig Anderson, they gave an extremely confident account of themselves that belied the fact that most of the players are still in high school.
The technical elements were all there, and the MD shaped the slower sections of the piece beautifully, allowing the players to shine.
What a bunch of soloists this group has too, with a lovely sounding euphonium player (who seemed to be enjoying himself!), excellent soprano and very solid bass end. Youthful enthusiasm never resulted in overblowing, and the band will be absolutely delighted with their 4th place and a continuing march up the rankings.
Fans in the crowd

Lochgelly Band had a lot of fans in the crowd, and the reception they gave to the band at the end of its reading of 'Pentacle' was not totally unjustified.
A very brisk opening led to a lot of secure playing, with some nice detail on show but also a few scratchy moments, particularly in some of the more exposed solo passages.
This was a decent showing on the whole, but 4BR's crib note comments during the contest read '…a good one but not enough polish to challenge', which is exactly what transpired come results time. 5th place was a decent return for their efforts.
High class contest

Drawn number one, Broxburn and Livingstone gave an early indication that this was going to be a high-class contest. The band paid lots of attention to dynamics, maybe too much, as a lot of their quiet playing was simply lost in the acoustic. However, the sound the band created was excellent, and most of the technical challenges of the piece were met with ease.
Broxburn had some very good soloists on show, with euphonium and flugel impressing (even if the accompaniment to the flugel solo was a touch loud). The middle band gave warm sounds when needed, and this was a very good show. Just a bit more polish in solo and ensemble lines could have resulted in a higher placing than 6th.
Not too happy

Raymond Tennant has enjoyed much success with bands over the years in Scotland, so he would not have been too happy with Johnstone Silver's 7th placing. Unfortunately the band did not have too much to complain about, as although it was mainly secure from a technical point of view, there never seemed to be much passion jumping off the stage.
The level of musical emotion did increase as the performance drew to a close, with the flugel soloist in particular standing out, but even a highly-charged romp to the end could not mask the fact that the listener was left wanting something more.
Technically assured

Bathgate Band's performance was not as technically assured as many of the others, so 8th place came as no surprise. The band started with some excellent playing in the muted cornets, but unfortunately things went slightly awry, with ensemble and soloists sometimes suffering.
Bathgate did have an excellent euphonium soloist and a secure soprano, and their performance was not a bad effort at all. But when you are up against a field of bands in which most are playing very well you need something a bit special, and Bathgate did not quite have that on this occasion.
Hard done by

Barrhead Burgh Band can feel incredibly hard done by in finishing in 9th place. Martyn Ramsey is a very talented young conductor, and has been doing great work with Barrhead since taking over the helm. Lots of detail was brought out of the score, and there was some fine playing from all the band's soloists, especially the solo horn and euphonium players.
The band made a very balanced sound which allowed the important technicalities to come through, but there were a few scrappy moments and some musical directions could have been moulded to make more of an impact – the pesante being a prime example as it sounded rather tired and sloppy.
Maybe not enough to challenge the top two, but at the end of the day 4BR had Barrhead somewhere around third – a result they would have been undoubtedly much happier with.
No complaints

Someone has to finish last, and it was St. Ronan's Silver this time around.
However, the band cannot really have any complaints, as they were possibly the one band that was unable to meet the technical requirements of the piece to produce cohesive musical statements.
The euphonium and cornet soloists did a good job of keeping things on track, but this piece tested the band a little too much. On such a difficult piece it is no shame for any band to struggle, but 10th place was unfortunately bang on the mark.
Once again, the standard of contest here was very high, with one seasoned observer remarking it was much better than had been heard in Yorkshire a couple of weeks previously.
Scotland will send two determined competitors to Harrogate, and Kirkintilloch Kelvin Brass especially will be a band to watch out for on this sparkling form.
Robert Richardson