2009 Scottish Regional Championship - Second Section - retrospective
26-Mar-2009
Plenty to enjoy in the Second Section as Arbroath and Annan Town gained their own 'A' grade marks to head to Harrogate.
---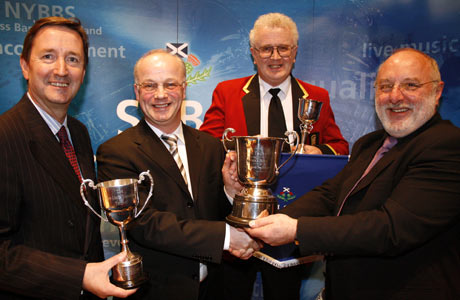 Handing the silverware over - Arbroath take the Second Section title
www.brassbandphotography.com

Like in so many other regions this year, the 2nd Section in Scotland delivered an immensely enjoyable contest on New World Sketches by Dan Price.

Adjudicators, Kevin Wadsworth and Lt. Col. Graham Jones MBE, made it clear at the draw that what they were looking for was all on the score, with the hope that some bands would produce the indefinable X-factor that would mark them out from the rest.

Didn't wait long

Well they didn't have long to wait, as band number one, Arbroath Instrumental conducted by Mike Robertson, gave a performance that not only laid down an excellent marker, but one that was still to be on top at the end of the day.

A band with a high contingent of young players form the Carnoustie area, Arbroath also has a remarkable amount of truly outstanding soloists for a lower section band, and every one of them delivered the goods in New World Sketches.

The band has a great leader too in Mike Robertson, who shaped the music beautifully all the way (the bluesy cornet solo from Eoin Tonner was just terrific), but it was in the Deep South movement that the true quality came to the surface, making the judges' job as easy as it could ever be at this level. Look out for this band at Harrogate.

Grew in stature

Taking 2nd place, Annan Town and David Shanks will join Arbroath in Harrogate, courtesy of a performance that grew in stature as it went on.

Some early tuning and balance problems didn't put the band off at all and Rodeo gave it a chance to show its strengths. There may have been some flaws, but there was also much to commend here.

Disappointed

Tullis Russell Mills and John Hinckley would have been disappointed with third place and with John Miller on third man and Jim Gourlay on BBb bass (!), it got of to a cracking start, with loads of colours and stylish solo playing.

The Deep South lacked a bit of style, but the train section got it back on track. Rodeo seemed a bit lightweight dynamically and but it wasn't all clear and third place was ultimately as high as Tullis could have expected.

Marred by clips

Granite City and David Ashworth got off to a nice leisurely opening, which was just marred by some clips.

The classy cornet soloist showed how it could be done in the bluesy section and a good Deep South showed that style was high on the agenda. Rodeo was fairly steady, but it all seemed to be going in. We had it challenging for second overall, so fourth will be a disappointment.

Enjoyed

We also enjoyed the performance of City of Discovery (Bruce Fraser), although the garish red shirts threaten to drown out the band. It really cracked along in Movement 1, although the cornet solo was superb in the blues section.

There was a nice relaxed style in Deep South and the train section had an authentic feel about it. Although Rodeo was in a hurry, but the cowboys managed to stay astride the bucking bronco in an excellent reading from the MD that we would have had a couple of places higher than the fifth it got.

Lacked clarity

Shotts St. Patrick's and Gavin Lindsay took sixth with a performance that just lacked clarity in too many places. Although the style was very appealing, too many slips along the road proved costly in the end.

Dalkeith and Monktonhall (James Chamberlain) was one that caught the audience's imagination, although the judges seemed to like it less, giving it seventh place.

There were some tuning issues and it occasionally seemed a bit rigid in style in the slow sections, but although the conductor did a decent job on it, the band didn't always deliver.

Varied standard

Below these seven, the standard varied somewhat, but Croy will rue the high error count that saw it pulled down to eighth, Jedforest Instrumental suffered from too many unscheduled accidents, Selkirk found it hard to deliver with clarity (in spite of one of the most stylish cornet players we've heard on this piece) and Perthshire just found the going a bit hard on this one.

A great contest, though, and Arbroath will head to Harrogate with a real chance of delivering a long-awaited National title for Scotland.