2009 London & Southern Counties Regional Championship - First Section - retrospective
26-Mar-2009
There was a common denominator in the First Section - a ferocious test piece and some great efforts to overcome it to get to Harrogate.
---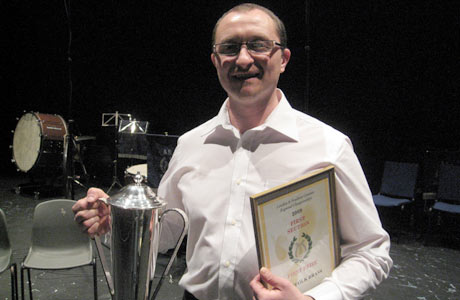 Refreshed and rejuvenated: Norfolk Brass take the First Section title

Looking back over the First Section contests around the regions over the last few weeks, there is no doubt that the challenges of Graham Cole's 'Pentacle' have clearly divided the competing bands in both technical and musical terms.
Common denominator

If there has been a common denominator running through the various First Section contests, it has been the fact that only a very select group of bands have come close to fully mastering what has proved to be an exceptionally stern test.
When it comes to close finishes however, the Stevenage Arts and Leisure Centre might just have seen the closest scrap of all the regions, as a handful of bands battled to take the second qualification spot for Harrogate in the autumn.
No doubt

We say the second spot as of the winner though there was absolutely no doubt.
A confident and inspired Norfolk Brass under the experienced direction of David Stowell, took to the stage as the penultimate band of the day and immediately swept into an unassailable position with a performance that was head and shoulders above the rest of the field.
For a band that had been forced to withdraw from the contest in 2005, with middle order positions in the following three years culminating in 4th place in 2008, victory was the icing on the cake after a long period of rebuilding.
On this evidence, Norfolk Brass is a band refreshed and rejuvenated….and there wasn't a turkey in sight.
Nervy start

Events had got off to somewhat nervy start as Northfleet Brass never really got to grips with the detail and intricacies of the score. Although there was an effort to inject spirit into 'Quintessence', the insecurity of the early movements had already put paid to any chance of qualification with the result being 10th.
Real marker

The pre-contest favourites Friary Guildford threw down the first real marker, with a performance that we liked through to the end, ultimately earning them 5th.
Guildford was one of five bands that for us put up a real challenge for the second qualification place with momentum in 'Earth', a raging 'Fire' and a good attempt to capture the flow of 'Wind' and 'Water'. Quieter dynamics were just a touch heavy at times and odd lapses in ensemble might have pushed them down for adjudicator Paul Cosh.
Promising start

Cawston was another band that got off to a promising start, although inconsistency in the slow movements, individual slips and a 'Fire' that seemed to flicker rather than rage saw the band finish in 8th as one of numerous performances that failed to sustain its initial promise.
Same fate

Fourth drawn Egham suffered much the same fate and although there were passages of quality, there were also costly lapses that saw the band end up in 12th, a step in the wrong direction after 5th place last year.
Welwyn Garden City was another of the bands in our group of qualification challengers and 6th will have been a disappointment for a performance that we felt had real presence.
Marked by a big band sound, a palpable sense of atmosphere in the slow movements and well shaped melodic lines, we had Welwyn in our top three, but in the event, it was not to be for one of the bands that had dropped down from the Championship Section in 2008.
Heavy opening

Having won the First Section at only its second attempt in 2008, Jersey Premier Brass were our pre-contest prediction for second place and captured the style of 'Earth' well, despite a rather dynamically heavy opening.
'Wind' got off to a nervy start though and whilst it settled down to some degree with some exciting touches in 'Fire' and 'Quintessence', there were ultimately too many slips to see it rise above 7th place.
Impressive direction

Back to our group of challengers, and Regent Brass benefited from the impressively musical direction of Alan Duguid to finish 3rd (we had them 4th) and just miss out on a place in Harrogate.
It was a performance marked by well judged tempos, careful attention to the detail of the score and one of the very best opening movements of the day. In the final analysis it was the tally of individual slips that cost a qualification spot although after a disappointing 11th last year, the result was a major step in the right direction for the band.
Pretty tough

Denham Hendon, Horsham Borough and Grimsdyke all found the going to be pretty tough and for Grimsdyke in particular, it was something of a baptism of fire after promotion from the Second Section last year. For Denham Hendon an initially clean opening got progressively scrappier and 11th, 14th and 16th were the respective results for the three bands that all struggled somewhat with the piece.
Exciting

As the contest progressed through its second half, St. Albans turned in what for us was a very creditable performance, with one of the most musical presentations of 'Wind' heard throughout the day and controlled yet exciting sounds in 'Quintessence' to finish.
The performance did sag to some degree in 'Fire', which might have cost it a higher position with Paul Cosh, but a final position of 13th seemed harsh for us in what was possibly the one real conundrum of the final results table.
Daunting

For Epsom and Ewell, another First Section debutante, 'Pentacle' must have seemed a daunting prospect and on the day it was simply too big an obstacle for the band to overcome with 15th being the final position.
Meanwhile, Haverhill got off to a shaky start in the back row cornets but recovered quickly to produce some exciting sounds in 'Earth', well balanced by slow movements that flowed well and were shaped with considerable style by both players and conductor.
Although dynamic, for us it lost some precision in 'Quintessence', but 4th place was a suitable reward.
Up for grabs

With the contest still up for grabs, it was Ian McElligott and Sandhurst Silver that initially took the hall by storm with a performance of real authority - taking clear risks with dynamics that came off with aplomb.
Sandhurst's was the only performance (at draw 14) to this point in which the inner parts and detail of the faster movements were clearly audible, being contrasted with controlled, genuine pianissimos in 'Wind' and 'Earth'. Add a final movement of both drama and power and this was a reading of some stature that most in the audience had marked out as the winner.
Scruff of the neck

Any prediction of a win for Sandhurst did not last for long however as Norfolk Brass took the piece by the scruff of its neck with a performance that took no prisoners as it commenced with one of the briskest opening movements of the day.
The quality of the band sound was immediately obvious, although it was the detail and assuredness of the playing that impressed the most, allied with confident accompaniment in the slow movements, an area where many bands had struggled earlier in the day.
Dave Stowell will also have been delighted with his soloists, all of whom performed with a confidence that matched the ensemble sound. If Norfolk Brass can recreate the kind of form it found in Stevenage come Harrogate, they will be a very convincing representative for London and the Southern Counties indeed.
Tall order

Following in the footsteps of Norfolk and taking to the stage as the last band of the day, it would have been a tall order for Soham Comrades to have knocked the top bands of their perches, and so it proved as it turned in a rather mixed affair that was to finish the day in 9th place.
Quality and stature

The winning performance might have come late in the day then, but for us its quality and stature were never in doubt as Norfolk Brass took the title by a margin as convincing as any at this year's First Section Regional contests.
Beyond the winner though we had every sympathy with Paul Cosh's comment that he had real difficulty in sorting out the ensuing few places in what was a real scrap…..frankly so did we.
Few though will argue with his ultimate choice of Sandhurst Silver as runner up and against the challenges of a seriously difficult test piece, it is two worthy qualifiers that will take their places in Harrogate later in the year.
Christopher Thomas