2009 North of England Regional Championship - Championship Section - retrospective
24-Mar-2009
Sometimes a bit of copying can come in very handy at a brass band contest - just ask EYMS, who won their first Area title for over a decade.
---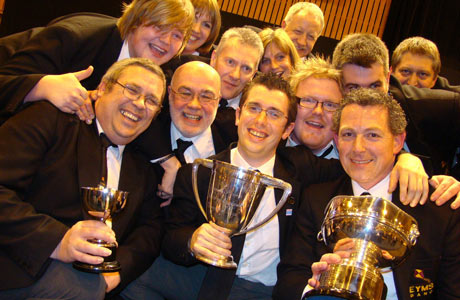 Gather round: EYMS players celebrate their victory on Sunday night

Plagiarism may well be a cardinal sin in the examination world of academia, but it doesn't half come in handy on a test piece at a Regional Championship contest.
Four students (two of them Doctors) certainly indulged in the practice at the Dolphin Centre on the Sunday afternoon too. Messer's Childs, Childs, Cutt and Roberts, all took the opportunity to put their personal musical photocopier to work in passing off existing interpretations under new banding identities to try and claim a place with fellow qualifying alumni at the Royal Albert Hall.
And why not?
Carbon copy

Given that two of them had already found success with their dissertations at Blackpool, Swansea and Torquay, whilst the others had made slightly lesser impressions with invigilators in the box at Bradford, the intriguing prospect arose of whether a carbon copy re-write would win the day here or not.
Add an adjudicator in the box who has already given very clear views to what ticks the right marking boxes on 'Salute to Youth' at an Area in which you have already conducted, and it would take a Musical Director of considerable stupidity (or misplaced egotism) not to plagiarise for his band's benefit.
Anything different

And given David Read had already told Robert Childs that his take on Gilbert Vinter's work was perhaps one of the finest he had ever heard in Wales just seven days previously, the conductor of Cory wasn't ever going to do anything different with East Yorkshire Motor Services (EYMS) was he now?
That said, you still have to play the piece – and on a day when it was perfectly clear that 'Salute' still held too many inherent problems that couldn't be overcome by a number of rivals, EYMS produced an impressive reworking of the MDs original interpretation to take the North of England Regional title for the first time since 1998.
Before the announcement of the results David Read had spoken succinctly (no Blackpool forensic approach here) to make the telling points about just what he thought and what he wanted to hear.
Transparency

The transparency of the writing was important he said, whilst he also highlighted the need for a free flowing feel to the final 'Relaxation', technical proficiency in the opening 'Resilience' and a sense of emotion in the 'Romance'.
He did feel a number of euphonium players performed well (on a day when many buckled), but it was the standard of the principal cornet playing that impressed him most. He also added the little barb that he had no doubt about the musical performances of the two bands and their MDs who went through to London, but he also felt that some bands, and even some conductors, didn't fully understand the piece.
EYMS's day

It was EYMS's day – from the opening fanfare played with confident precision, through the tricky technical motifs performed with dextrous facility, warm lyrical emotiveness in the 'Romance' and a final free flowing 'Relaxation' which contained a lovely interlude of classy euphonium and cornet duet work.
By the time they romped through the reprise, they knew they couldn't have played better, and even though there were one or two blemishes on the musical carbon paper, it was still a very impressive account.
Following on from their fine performance at Butlins earlier in the season, they are a band building up a considerable head of contesting steam. Their victory was clear cut and well deserved, aided by the prize winning contributions of soprano John Belton and the bass team, as well as Neil Day on principal cornet, who was a fulcrum of excellence.
Pickle

Robert Childs should now do a Damien Hirst and pickle his interpretation in formaldehyde – only to reopened on anniversaries of his victories both here and at Swansea, or allowed out under license to MDs in need of a contest winning take on the piece in the years to come.
Number up

Reg Vardy's number was up just about from the very start – so no title number 8.
Sloppy errors in each of the three movements tarnished Nicholas Childs' very deliberate, individual interpretation – one it must be said that has not found ultimate favour in its original (and by far the best) format in Bradford, or the facsimiles at Torquay and here.
Despite lovely moments when the shape of the music captured each of the individual traits of the composer's intentions, having the solo cornet try and mimic a soprano not once, but twice, in the 'Romance', was too obvious a camouflage job to get away with at this level, whilst the accumulated errors mounted up too far to be discounted.
They could have no cause for complaint. On this occasion they were well beaten by a better band.
Close run

Behind the qualifying pair (both of whom will have to be fronted by new MDs come the Finals), the battle for the final podium place was a close run thing between a handful of performances, none of which really had enough about them to really push for an Albert Hall berth.
In the end it was NASUWT Riverside who found favour in the tent – although it must have been a close decision for David Read to pick out the best from some pretty inconsistent renditions.
Ian Robinson's reading (an original this) was very persuasive and at times really brought the music to life. Tina Mortimer on principal cornet was the pick of his soloists (and took the coveted 'Best Cornet Player' award ahead of her male counterparts) and whilst there wasn't the same degree of artistry shown in other leading lines, the compact ensemble more than made up for the more obvious fragilities.
Overall it was a decent account, no more, but one that held rich promise for the rest of the season if the band could just up that level of stage consistency to match the intuitive musical approach of their MD.
Not quite

Garry Cutt couldn't make it 3 Area titles out of 4 with Fishburn.
His usual meticulous approach to doing things as requested by the score (his musical photocopier doesn't leave many smudges even on its fourth print run) was unfortunately undermined by unforced individual errors and sloppy ensemble.
And whilst there were extended periods when it all came together with a sense of stylish vibrancy, those clips and some pretty basic structural errors robbed them of the opportunity to give the man from Marple a Regional 'Triple Crown'. Two victories ain't bad though.
Fell foul

Felling may have fallen foul of David Read's bete-noir - rhythmic accuracy (from the second bar onwards in fact).
It says much for their efforts that they still ended in 5th place as the variance in execution of the triplet quaver/semi quaver motif in the opening movement was as consistent as the meat filling in the lasagne the 4BR Editor had for lunch – all over the place.
Graham Tindall did get things back on track in the final 'Relaxation' but by then their chance of qualification was long gone, although the band once again showed that they are not out of place at this championship level.
Hard working student

The last performance to get to grips with the piece was Lockwood in 6th place.
John Roberts once again showed himself to be a hard working student on the Vinter test paper with a reprised interpretation that suited the lighter sound of his band.
It was confident and solid in the opening 'Resilience', warm and lyrical (if not always secure) in the 'Romance', but just when they were in touching distance of a podium finish their stamina deserted them. Despite some fine percussion work (which gave the three young lads the 'Best Percussion' prize), a very tired sounding band rather limped to an untuneful last bar.
It was a pity as if they could have just maintained form it could have perhaps pushed for that 3rd place finish.

Bottom three

The bottom three bands struggled to make any impression on the test piece – three performances which in fact were not of questionable Championship Section standard.
Easington Colliery's performance held the promise of developing into a rendition of notable merit, but despite an authentically lyrical approach by Ray Farr, the execution never matched the musical intent from the man in the middle.
Too many nasty errors, insecure ensemble, fragile exposed playing and a lack of stamina all played their part in consigning them to 7th place.
Much the same

It was much the same story with Kirkbymoorside Town and Westoe Brass, both of whom produced brave but blunted renditions that never overcame the technical and musical hurdles found in the 48 year old score.
Opening the contest, Kirkbymoorside tried manfully at times, but at this level effort alone does not bring success, and 8th place was a fair reflection on a performance that started well enough but faded as it went on.
So too Westoe, who will reflect on this as a hard lesson learnt on the realities of top section banding life. After an initial decent opening and brave 'Romance' which contained some fine playing from the soprano and solo cornet, it fell away badly to finish somewhat forlornly in 9th place.
French author

For Robert Childs though, perhaps the words of the French author Michel Eyquen de Montaigne on plagiarism rang true on the weekend in Darlington: "Amongst so many borrowed things, I am glad if I can steal one, disguising and altering it for some new service."
Forget academia, for EYMS that's all that mattered in the service of winning a North of England Regional Championship for the first time in over a decade.
Iwan Fox