2009 North of England Regional Championship - First Section - retrospective
24-Mar-2009
There may have been a great atmosphere outside the hall on Saturday, but inside it was much harder work as GT Group Peterlee gave it high fives to take the title on 'Pentacle'.
---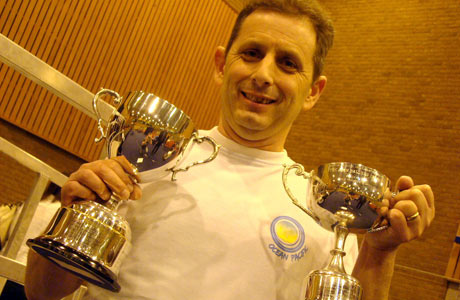 Two cups to fill for GT Group Peterlee after their win on the weekend

There was a lovely atmosphere both outside and inside the Dolphin Centre on Saturday lunchtime, as the North of England Regional Championships got underway with eight bands battling it out in the First Section.
Outside the bustling farmer's market was doing a roaring trade, whilst inside there was the usual mix of players and supporters mingling with Darlington's fitness fanatics and parents spending the morning in the swimming pool with their kids.
Old battle

And a real old battle it was too, as Graham Cole's 'Pentacle' once again proved to be one heck of test for the competitors. In the end David Read sent GT Group Peterlee and Barton Town through to Harrogate, with a commendable mention for third placed Shepherd Building Group.
These were the only bands to come close to providing true competency on a work that highlighted the fact that as with other regions, the First Section here has lost its purpose.
No business

This contest was made up with too many bands that in reality had no business being here (through no fault of their own), but through a combination of small contest numbers and an inflexible grading system are one step away from Championship banding.
David Read's analysis of what he had heard at the end of the contest made for sobering listening (and you could have sobered up an inebriated skunk, as he took 14 minutes to talk his way through the piece).
It was worth the wait though (the stage microphone packed up, so after a 20 break looking for a replacement, and the audience asked to move to the front of the hall, David finally gave his address rather like an old Methodist minister at a chapel lectern).
Uncomfortable truth

Although not quite fire and brimstone preaching, it nevertheless told the uncomfortable truth: three bands could just about play it, the rest were nowhere near. The number of small, but significant musical and technical points David raised, told its own story – it was a list as long as the drop from the bungee jump that was being used outside the hall to provide a quick adrenaline rush for Darlington's thrill seekers.
Rumours that a few MDs were to be found trying to put the bungee rope around their necks and jump out of the crane after they had played may not have been too far off the truth.
Good value

The winners GT Group Peterlee were good value for their victory (although we just felt Barton may have pipped them for the honours).
Steve Malcolm's experience as resident MD at Reg Vardy came in excellent use, as he fully understood the complexities of the score, bringing out important detail and subtle colour textures – something that really impressed David Read when we spoke to him after the results.
Not everything quite came off at times, but there was solidity about the soloists and ensemble, and the little hidden motifs in the technical sections were illuminated with subtle clarity (the trombones and cracking 'Best Percussion' team especially).
It was bold and bravura when required, lyrical and delicate when demanded, and by its end it was a league apart from the rest of the field - with the exception of Barton.
Peterlee are a true First Section band with bags of long term potential (they came 3rd here last year) – and that could be realised at Harrogate.
Just missing out

So too Barton Town, who continued their remarkable run of success at these championships by just missing out on their fourth successive regional title.
Richard Evans has been overseeing the bands musical development now for the past couple of years and it was clear that his input has paid rich dividends – for this was confident, colourful, vibrant playing from start to finish.
It may not have had the same attention to detail as Peterlee, but it was persuasively styled and shaped, although there were a number of unforced solo errors (although not with ex Grimey tuba Shaun Crowther who helped his team to the 'Best Basses' award) and occasional sloppiness in the ensemble.
What you did hear though (as with the winners) was a true appreciation of how to play rhythmically – especially the groups of quintuplets and triplets, the latter played so often as a quaver and two semi quavers. The blame falls on the shoulders of both players and MDs who can't sort such simplicities out – and plenty, depressingly for bands at this level, couldn't.
Overcame

The one other band that very nearly overcame the technical and musical hurdles of the test piece was Shepherd Building Group under Tim Oldroyd.
Their performance featured notable contributions from the solo cornet, soprano and flugel, and just a tendency to get a touch over excited in the louder passages and some rhythmic waywardness may have cost the point or two that separated them from a trip to Harrogate. It was a close to being a qualifying one though.
These three bands were some way ahead of their rivals on the day – considerably so in some cases.
Appropriate

It was perhaps appropriate that the contest should open with a band with one of the Pentacle elements in its title – Northumbrian Water Ellington Colliery, under Ray Farr.
However, it was a performance that never came close to mastering earth, wind, fire and quintessence, let alone the liquidity of the piece. Ray tried every trick in the book to emphasise strengths rather than weaknesses, by applying more camouflaging make up than can be found in Joan Collins cosmetic bag. But as hard and as bravely as he and his band tried, there was no escaping the fact that this was not a good one. 8th place was fully justified.
Things didn't really improve with Murton Colliery who followed, with a performance that unfortunately showed that the piece was far outside their current comfort zone of technical and musical ability.
There were brave contributions from the flugel and euphonium in particular, but on such a demanding ensemble work as this, the inherent structural weaknesses were too clearly defined, and they would have had no complaints at coming 7th.
Messy

Wansbeck's Ashington was undermined by a poor start to the piece, and an opening movement that was messy and error strewn.
It did recover bravely thereafter with some delightful touches from the flugel, solid soprano and solo cornet, but just when they were starting to find form, the final two movements lost focus and the sloppiness returned. 4th place was gained on a performance of what ifs and maybes, as there seemed to be well shaped reading hiding in there amid the scrappy exterior.
Rebuilding

Meanwhile Harrogate also sounded like a band that had been in the process of putting up the rebuilding scaffolding of late, with a performance that was undermined by a lack of consistency.
Occasionally that recent Championship experience and quality shone through, but they were glimpses only, as too often a litany of unforced errors, rhythmic imprecision and ensemble fragility saw them struggle to make musical headway to come 5th.
Oliver Twist

Just behind them came Broughton's Brass conducted by Alan Exley, who did a passable impression of Oliver Twist considering the number of times he implored his players for more with a left hand that shock with trembling fingers usually seen on hardened cider drinkers with the DTs.
His players gave their all it must be said (a fine lad on sop and great timpani player especially), but as with the other bands at the wrong end of the results table, this was performance that never overcame the technical or musical problems posed by the score. That it came 6th told you a great deal.
Tell us a great deal

How both GT Group Peterlee and Barton will do at Harrogate in September will also tell us a great deal too.
These are two solid First Section outfits, with the potential to become strong contenders at this level in the years to come. What they need though is time to progress unhindered by promotion to a level that at present would be nothing but detrimental to them both.

Whether or not the current rules here allow them to be able to do that is another matter though.
Iwan Fox