2009 North of England Regional Championship - Second Section - retrospective
24-Mar-2009
Short and sweet - and a class apart as Flookburgh took the Second Section title in considerable style on Sunday afternoon.
---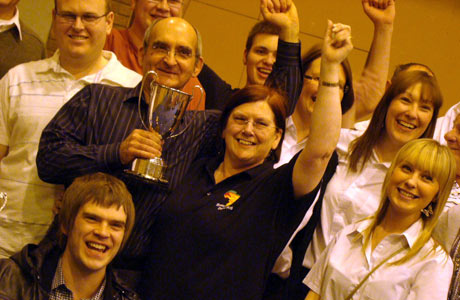 Class apart: Flookbugh make it three wins in a row at Darlington

With just the six bands in the Second Section, it was a short and sweet contest that provided the musical aperitif before the main Championship event on the Sunday afternoon.
Short and sweet?

Short and sweet it may have been in duration, but it was still a contest that in many ways took a long time to get going after some pretty bitter tasting efforts from some of the competitors on Dan Price's 'New World Sketches'.
Adjudicator Richard Evans must have been hoping that he was finally going to get a performance worthy of taking the title in some style.
The final results table made for intriguing reading – the bands gradually getter better in draw order in his opinion as the contest progressed, until he was able to sit back and enjoy a thoroughly entertaining high quality account from Flookburgh as the sixth and last band to play. They were a class apart.
Mediocrity

Until then the progression in technical competency and musical style had been gradual – clear enough to mark out the bands, but still all within a level of performance that was in a broad strata of mediocrity.
It gave Flookburgh its third straight North of England title, following their successes in the Fourth and Third Sections in the past two years.
Richard described what he had heard as, 'six interesting performances' adding that he felt most bands had struggled in capturing the differing styles required in each of the three movements. Quoting his time spent with the Syd Lawrence Orchestra he then did a passable impression of Cleo Laine scat singing just to show the audience what he was talking about. The man knows his musical business.
Politically correct

He is also a man who doesn't much enjoy the preposterous nature of the politically correct world around us today. His point about the need to portray the melancholic unhappiness of a black salve chained by the leg to pick cotton was as neat a bit of musical portrait painting without causing offence to even the most ardent Guardian reading organic save the whale pinko liberal you could imagine.
By the time he had finished, everyone knew what he was talking about and what he had been looking for – and as a result they would have found it hard to disagree with his findings.
Route 66

Given the Americana inspired nature of the test piece, Flookburgh won by the length of Route 66.
Conducted with great control and appreciation of style by the MD, they produced a warm, bass led sound (remarkable given they only had three blokes pumping it out), which gave them the 'Best Bass Section' Award, all topped by a cracking soprano player, who also picked up the 'Best Sop' award.
The ensemble playing wasn't without error, each movement had blips and clips, but the sense of appreciation of style aided by a super percussion section and solid contributions from all around that stand, made them stand out as clear a winner as Tiger Woods in a pitch and putt competition.

Gradual build up

The gradual build up in quality from a fairly average base level had seen York Railway Institute open the contest with a performance that never came to stylistic life.
The opening movement lacked wit and a sense of jazz inspired sleaziness when required (although they had an excellent tuned percussion player), whilst the middle movement certainly didn't evoke a sense of melancholic depression either.
By the time they had tried to inspire a bit of Rodeo fun and games it was too little too late and whilst the solo cornet player certainly played his part to the full, overall it lacked that essential frontier spirit to make it all come to life.
Al Capone

So too Durham Constabulary who followed with a performance that rather sounded as if they were raiding the jazz club looking for illegal hooch and Al Capone rather than sitting back and enjoying something more cool and sleazy.

The middle section also failed to see the band really lock into the sense of melancholy (despite some fine percussion work) whilst the final movement was a bit reminiscent of coppers on horses at football games – slowly making their way through the trouble spots, without a smile on the faces.
That it came one place higher than York was about right, but this too was a performance that struggled from the word go.
Upped the ante

Cockerton followed and just upped the ante – a little.
They too found the technicalities of the opening movement difficult to project without sounding as if it was hard graft, although there was a solid contribution from the solo cornet and some neat horn work.
It was the second movement that again caused havoc – nothing seemed to fit coherently, whilst the untidy phrasing meant that any sense of deep seated melancholy was replaced by deep seated depression over the number of unforced errors that were displayed.
The recovery in a spirited third movement, full of the necessary vibrant feel came too late to push them any further up the results table.
Style

In terms of style Dearham was perhaps the best band on the day – especially in the first movement where we at last found ourselves deep in the dark recesses of a Chicago nightclub listening to the type of jazz inspired sleazy cornet work that gave Bix Biederbecke a bad name.
The 4th man down was splendid (and stood up too), and whilst there were unforced errors galore all around the rest of the ensemble, it was the appreciation of the musical intent that stood out from both players and MD.
What stopped Dearham from perhaps gaining the second qualification place was the mounting list of nasty little slips that just took the gloss off an enjoyable interpretation. The middle movement was the same; whilst the exciting third just saw a few too many cowboys pick a bullet wound up as they tried to shoot their way to Harrogate glory. It was nearly there though.
Health & Safety

Houghton Brass will be delighted with their performance that just had the edge over Dearhan in terms of technical security if not style.
They also had a fine euphonium player who really was a rock of solidity throughout and who deservedly took the 'Best Euphonium' prize for his sterling contribution.
A neat opening movement may have lacked that smoky atmosphere of a true dank and dark jazz club, but even the musical health & safety approach meant that the band didn't get themselves into any unwarranted trouble either.
A second movement that perhaps lacked a depth of emotion followed, but crucially it was played with admirable efficiency and solidity by all concerned, whilst the final section finally saw the band put on it Stetson's and Cuban heeled boots and get into the spirit of the music.
Class apart

On a day when only one band really played the piece both technically and musically Houghton's more conservative approach had much to commend – it was a contest performance with a very specific purpose – qualification. And that was what it deserved.
Flookburgh though was a class apart – Harrogate can't come soon enough on this form.
Iwan Fox