2009 North of England Regional Championship - Third Section - retrospective
24-Mar-2009
A musical coronation for South Milford, but still no sign of Brenda and her jug eared son on Sunday morning...
---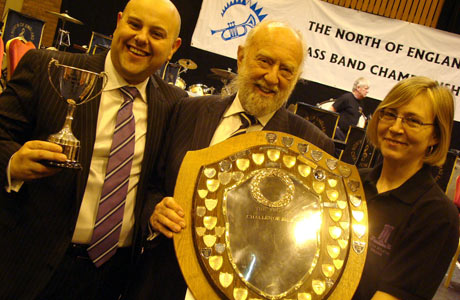 Happy trio: South Milfod and Richard Evans have plenty to smile about

The 10.00am start may have caught a few supporters out – we counted a hardy 43 souls in the hall to stand for 'The Queen' (and no, she wasn't one of them either), but by the time the contest had ended there was pretty decent sized audience enjoying the performances from the band's on 'The Once and Future King' – and old jug eared Charlie boy wasn't there either.
Popular

Much of that had to do with the test piece, which proved to be popular as well as just the right side of challenging for the bands and conductors – all of whom delivered performances of merit.
There was no doubt that adjudicator Richard Evans certainly enjoyed what he had heard, commending as well as playfully chastising in his familiar way with his on stage remarks before the announcement of the results.
Happy knack

His happy knack of telling the plain truth in a manner that players understand and appreciate means he can get away with more than most – the pointed remark that 'everyone found it quite difficult' was delivered so that it just didn't sound like a well worked bon mot, as was the more familiar line about taking up fishing if players were worried about contests stage nerves.
It was an accurate assessment of Andrew Baker's programmatic test piece that saw Richard have the fairly easy task of picking out the two qualifying bands. Both South Milford and North Skelton were well worth their trip to Harrogate in September after delivering thoroughly convincing performances of colour, style and technical security.
Robust rendition

South Milford took the title by rounding off the contest with a robust rendition that benefited greatly from the conducting of Richard Wilton that brought style and shape to each of the three movements without ever opting for the easy get out clause of increased volume or speed.
There were notable contributions from all the main soloists (especially soon to be pensioner Richard Robinson on soprano, who was the outstanding player of the contest) and the security of the ensemble, balance and tuning was first class.
Clear cut

It was a clear cut winner for a band who last year took the Fourth Section title in equally fine style. They will be a band to fear come the finals on this form - as will the health and well being of their delightful band rep who very nearly wet herself in the excitement of racing onto the stage to pick up the winners shield!.
Rejuvenated

Joining them there will be the rejuvenated and revitalised North Skelton, who produced a thoughtful and well balanced account at the halfway point of the contest that was a clear class above what had gone before, and very nearly everything that was to come.
Tim Oldroyd set out a clearly defined musical portrait that had subtle tone colours and style, and although there wasn't the same degree of technical solidity about their playing, the main soloists all performed with admirable style and purpose. They still sound a band that is a work in progress, but one that has a great deal of as yet, untapped potential.
Enjoyable

With these two bands by a margin ahead of the rest of the field, it was Marske Brass that claimed the final podium finishing spot.
This was an enjoyable performance full of colour and style, but one that had just a few too many inherent structural problems for it to grasp a Harrogate finish. There were extended periods when all seem to be going so well (and another fine soprano), but occasional lapses in concentration and some nasty tuning just undermined their chances.
Empty seats

Ferryhill Town were the band that had opened the contest amid the sea of empty red seats at the stroke of 10.00am, and despite the obvious lack of atmosphere in the hall they settled into producing a worthy effort.
Some neat playing in the first two sections seemed to be setting them up to provide a stern marker, but the final movement ran out of steam and despite a late rally to the cause, it all ended a touch lamely to consign them to 4th place.
Bold

Billingham Silver suffered much the same fate – a bold opening really did promise a great deal, with a super percussion team really adding colour and effect without drowning the brass ensemble (they deservedly took the 'Best Percussion' prize).
The middle section killed off their chances though with poor internal balances, tuning issues and some fragility in the solo lines. The return to good form in the final section just underlined that if they could have just upped the consistency level then they would have been in the hunt for a place at Harrogate.
Consistency

Consistency was the key for Ripon City and East Riding of Yorkshire – or lack of it to be precise.
Ripon's bold account at times really held your attention, but just when you thought it might blossom, poor execution, sloppy ensemble tuning and clumsy phrasing saw their chances shrivel away to 6th place. When it all came together though it was a persuasive and atmospheric reading of the score by the MD.
So too East Riding, who started off in such impressive manner – full of bold lines, secure ensemble and soloists of style. Then the wheels rather fell off, with a casual sense of style in the middle section that seemed at odds with the desire to show atmosphere, and an over excited finale. 7th could have been so much higher if they had played a little more with their heads rather than their hearts.
Emerged with credit

That left the two bands at the bottom of the table, and although both Stape Silver in 8th and Dunston Silver in 9th both struggled to meet the full technical and musical demands of the piece, both emerged in credit for their efforts – both well directed from the middle.
Stape did feature a fine solo cornet and brave soprano, but it was more structural problems with the general ensemble that caused them problems.
Meanwhile, Dunston's performance also contained some notable contributions from the euphonium and trombones, but it too was undermined by basic troubles in the ensemble that caused tuning anxieties and balance issues just when they didn't need it.
Horizon

Both will know however that they were some way off the pace on this occasion – but the promise of better times isn't too far over the musical horizon.
It's the Harrogate horizon that beckons for both South Milford and North Skelton however, and two bands that may well fancy their chances of doing well if they can keep improving. Both have the real potential to do just that by September.
Iwan Fox