2009 West of England Regional Championship - Championship Section - retrospective
19-Mar-2009
The curse continues for another year, but Camborne won't be worrying about that after their victory on Salute to Youth...
---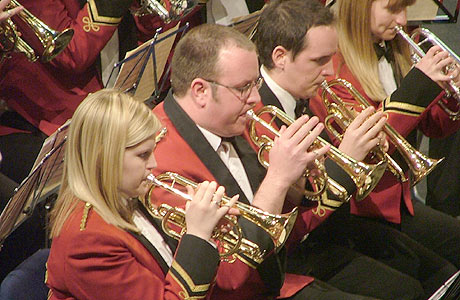 Camborne head for London: The winners produce the goods at Torquay

Garry Cutt's smile said it all – then the words to the jubilant Camborne supporters: "You know that flight I have booked at 6.30am in the morning - don't worry about it..."
And Camborne had plenty to celebrate. It's the first time they have won the title here since 2003 and they'll return to London for the first time since 2006. For Garry Cutt, it's his second regional victory in three weekends, and for those wondering what his secret formula is, it's simple – play what's in the score.
High quality

'Salute to Youth' sorted the bands out and once again and there was some high quality performances but also some indifferent ones too. Those who decided to utilise some artistic musical license by adding additional bits to the score saw their chances evaporate.
In Bradford, adjudicator Nigel Boddice gave a firm indication of what would tick the right boxes for him and some conductors had taken note. Those that stayed faithful to the score got reward, although some stayed faithful from an interpretation perspective but came unstuck courtesy of unforced errors and ill chosen tempo's - none more so than in the final movement.

Also in Bradford, Boddice's co-adjudicator, Steve Sykes highlighted the point that perhaps bands had underestimated the 'Romance' Section with so much attention to detail being paid to the closing 'Relaxation'.
Romancing

Here, quite a number of conductor's showed that they've done their fair bit of romancing in their time, although one or two gave an indication that those days were a distant memory.
Adjudicator Alan Fernie (two in the box here) said that two performances had stood out, and at times they'd heard something a bit special in the first movement only for that excellence to be diluted by sloppiness in the second or third. Sometimes it was the other way around.

Underway

It was St Dennis and Brian Minnear who got the contest underway with a performance that had much to admire but was a bit too much rough and ready round the edges. When the quality appeared, they showed what they could achieve, but they surely came a cropper in the final section where they wanted to cruise at 100 mph only to find they couldn't go much quicker than 70 mph.
Not enough

Champions Mount Charles produced a performance off the number two draw that didn't quite do enough when it counted to retain its title.
It was faithful to the score, featured fine soloists and well chosen tempo's but the sound seemed a touch forced and overdone at times when it just needed that extra bit of refinement. In the end it was it was a close call to get to Kensington but they must have known they left the door open – and three rivals walked straight through it to beat them
Proud

Debutants Helston should be duly proud of their performance. John Hitchens had clearly done his homework and he directed an interpretation that remained faithful to the score.
The ensemble playing was good and the 'Romance' was from the Leslie Phillips School of bedding a beauty – smooth as silk. The final movement caused their downfall though as detail and clarity was lost as they ran out of steam. But for the final section, they very nearly posted a real contender, but 8th was still a fine effort.
St Keverne was outstanding last year, but sadly, this time they struggled to overcome the technical and musical challenges they were set. John Maines kept things sensible and within their comfort zone, but on this occasion it was a performance that never quite mastered the score.
Nostalgia

Flowers and Dr Roy Newsome blossomed on a musical journey that was a bit of a nostalgic trip down memory lane - but such a rewarding one.
This was Vinter for the purist – a performance of authentic style and substance. The ensemble was excellent, the soloists top notch and you got a romantic middle section complete with a masterful bass section that not even Mills and Boon could have bettered.
The closing 'Relaxation' was a band in cruise control and by its close both the MD, the players and the audience in the hall knew it was on its way to London. No wonder Mike James, their hard grafting band secretary was chuffed to bits when they were announced in second place.
Didn't happen

For the second year in a row, it just didn't happen for Bournemouth led by Jonathon Camps. The reading had plenty of merit, but it was too scratchy in execution especially when they pressed on the accelerator pedal. Relegation beckons we understand, but on this evidence they are more than capable of bouncing back.
Yeovil and Dave Barringer didn't always convey the cleanest of musical pictures but their safety first approach paid dividends. The basics were done well and the overall sound was effective, and whilst the 'Romance' was tender it was in the closing section where the musical handbrake was very firmly in effect. The tempo's were sensible and the MD made sure that nothing went over the top and out of control and 7th place was a fair return.
Heavyweights

Band contests always have a habit of pitting a couple of heavyweights side by side, and so it was here with Camborne and SWT Woodfalls.
With Flowers and Mount Charles leading the field, Camborne needed to deliver - and they delivered the goods courtesy of a real crackerjack of a performance.
Garry Cutt as always stayed faithful to the score and he allowing the band and its soloists time to shine. It was razor sharp and tidy. He did nothing fancy and nothing over the top, but it was the middle movement full of musical seduction that left you drooling, courtesy of some exemplary cornet work from principal cornet Kayleigh Rowe that gave the band the edge.
It was top class playing that fully deserved its reward, even if we did have it in second place behind Flowers.
Exciting

SWT Woodfalls produced an exciting offering that won many admirers in the hall but not in the box.
It was a typical Dr Nicholas Childs performance in fact – full of excellent ensemble and confident solo lines, although there were times when the band just got a little over excited and the sound became ripe and a touch harsh. That may have just been the reason why it didn't resonate as much in the box – Mr Boddice for a second weekend in a row, didn't quite like it as much as others.

Twist

The audience may have thought they had their final top four but there was still a twist in the tail.
Aldbourne had finished last twelve months, so they had nothing to lose by going for it full tilt under Melvin White – and they certainly did that and more to bag 6th place.
It wasn't in the league of the qualifiers for certain, but there was something very persuasive about the interpretation and the playing nonetheless.
Talking point

The main talking point came with Lydbrook. After coming 5th last year, they posted a podium finish courtesy of a very mature reading from Steve Sykes, who obviously knew what Nigel Bodice required, but still had to get his band to play very well.
They did – with great attention to the sound of the band, dynamics and the tempo's, and with just minor detracting slips theirs was a performance that made you sit up and think – for all the right reasons.
Deliberations

So that was that - the audience deliberated and argued around the Riviera Centre whilst the judges went to their quiet zone to make their decision.
Aldbourne got the nod of approval in 6th, whilst SWT Woodfalls in 5th drew a sharp intake of breath and almost disbelief in the hall. Disappointment for Mount Charles and a few misplaced cynical sighs for Lydbrook in third meant Flowers in second and Camborne, with shouts for Garry Cutt to run out of the bar, as the victors.
Another West of England contest had come to a close with the Championship Section curse still in place. Camborne won't worry about that for now as both they and Flowers head for Kensington. Next year seems along way away.
Malcolm Wood