2009 West of England Regional Championship - First Section - retrospective
19-Mar-2009
Some things didn't work well on the weekend here in the First Section, but for the winners Poole it certainly did.
---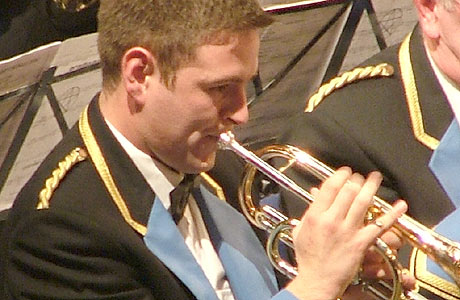 Heading for a Harrogate dip in the Poole: The winners show their class on Pentacle

With the on-stage microphone deciding not to work, Nigel Boddice quipped that the microphone has been 'Pentacled', before giving an excellent appraisal of what was required on one heck of a difficult test piece.
He told things as they were. The players had endured a tough day and so had the audience, but they were comforted to hear that the judges had had a difficult day too. Nigel pinpointed his findings and opinions with such clarity that no one would have left wondering why both he and Alan Fernie had come to the decisions they had.
Tough contest

It was a tough contest to play in and a tough contest to judge because the test piece was simply just too far out of the 'comfort zone', as Nigel described it, for them to perform with a real degree of musical authority. Both Nigel and Alan were complimentary about the performances they had heard, but realistic too.
Having listened to the stage analysis, it was fairly clear as to which bands would go through – although at least one band would have been very disappointed.
Disappointed

That was surely St Austell and Gareth Pritchard, who produced a cracker and being announced 3rd must have been a real disappointment. This was quality stuff with attention to the detail, a persuasive musical style and dynamic variances all delivered. At any other area it would have qualified in comfort – even perhaps as a winner.
Portishead Town under Ian Dickinson drew second and courtesy of a solid and well thought out performance fully deserved a place in the top four. They survived some uncomfortable moments and brought out the musicality from the score when it counted.
Two down and if the standard continued like this, it was going to be a cracker.
Commendable

Michelmarsh Silver and Chalford followed and both gave commendable performances for midfield when the results were announced. Melvin White drew on all his years of experience with Michelmarsh and his approach was terrific, although the intricacies of the piece tested them to their limits. It was a performance of character although they looked as though everybody was glad when it was over and the bar beckoned.
The same applied to Steve Tubb and Chalford. They started off well but an uncomfortable couple of sections pushed them off track and it meant it took a while to re-focus. When they did there was plenty of quality to admire, but their qualification chances were gone.
Valient efforts

Soundhouse Brass and Woodfalls Concert Brass finished in the bottom two places but deserve praise for valiant efforts.
Soundhouse Brass found that the piece on this occasion was just a bit too much for them. They never really and they will have known it was a hard days contesting graft.
Woodfalls Concert Brass meanwhile took to the stage minus a bass player and percussion and accordingly they never really had a chance. Sadly, we don't know the reasons why but with no percussion their fate was sealed, but the band deserve the plaudits for not taking the easy option out by withdrawing.
Didn't resonate

Otterbourne Brass and Lt Col Chris Davis OBE were looking to repeat their qualification success of twelve months ago and as the final band before the judge's comfort break they gave a fine account that found appreciation in the hall but not in the box to come 10th. The approach to style and tempo from the MD was highly commendable, but somehow it didn't resonate in the box.
After the break Hyde provided a purposeful reading that was full of style and character that gained a deserved place in the top six. Again, the MD, Ivan Hutchinson should be commended for his approach, because when he had to steady the tempo markings to allow the detail to shine, he did so to fine effect.
Promoted Ocean Brass did well last year, but 12 months on this piece was just too much for them and their form and stamina disappeared long before the end. Fortunately, Nigel Grace was aware of this and his intelligent approach meant they got to the end without any major mishaps or calamities.
Pick me up

The contest was in need of a pick me up at this point, and on walked Poole Borough and Phil Randall to give it.
This was a performance full of confidence, musicality and a terrific approach from the MD, with all the facets Nigel Boddice had spoken about shown in full. The blips were minimal and the ensemble playing was solid and strong.

High quality performances of 'Pentacle' have been in short supply but this was most definitely one that stands out for sure. If they can maintain this level of performance of the rest of the year, they'll be strong contenders in Harrogate.
Strong contender

Lanner and District started off well and there was another feeling of a very strong contender in the making, but it just tailed off towards the end although it still had enough quality within the ensemble to finish in 6th place. But for that lack of stamina it could have been even higher from a performance of real credit.
Lympstone and Swindon Concert Brass were two bands outside of their musical comfort zone, but had enough about them to produce commendable performances.
Lympstone took time to get going and it was only by the third movement that they started pegging the points back that they'd lost to finish 8th. Swindon meanwhile also took longer than they would have liked to find their feet but when they did it was too late for them to end up anywhere else than towards the bottom of the results table.
Experience

That just left Sherbourne Town and Paul Cosh. In many respects, it was a mirror image of how the contest had started with St Austell, with a very solid musical interpretation in a performance of considerable note. Paul Cosh used his experience and let the music flow and by its end you sensed they were going to be right in the hunt for a qualification spot.
There wasn't an awful lot to choose between St Austell and Sherbourne but one had to miss out, and by the narrowest of margins Sherbourne got the nod. It was very, very close though.
Both qualifiers will head for Harrogate confident in their abilities and with some justification. 'Pentacle' may have been a very tough test, but thee two (and St Austell in third) showed that quality shines through. They will hope it does the same in September.
Malcolm Wood