2009 West of England Regional Championship - Second Section - retrospective
19-Mar-2009
There was a performance to savour in the Second Section, as Camborne B delivered an A+ victory on the weekend.
---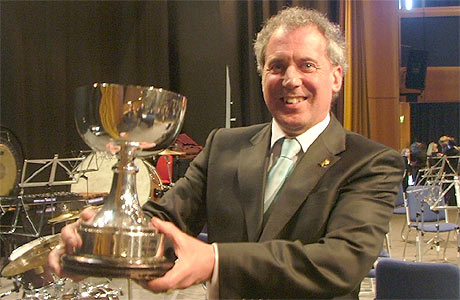 Camborne's Cup: Alan Pope gets his hands on another bit of silverware

Every now and again, you'll hear a winning performance that can soon become forgettable. Every now and again though you'll hear a musical performance that will stay in the memory banks for a very long time indeed.
Camborne 'B' produced one of those performances on Saturday in the Second Section.

Play back

Nigel Boddice and Alan Fernie were in the box, and it was Alan who spoke in extensive detail about the piece and what they were looking for. They should have recorded Camborne's performance and perhaps just played it back to the audience before the results.
Firstly, Alan reiterated the point that the piece looks easier than it is on paper, but is full of detail with loads of traps for the unwary to fall into. He talked about the perils of the first bar and with good humour told the stewards to drag all the Bass Trombone players away from the bar as he wanted to explain where Db is exactly played! It was a very good bit of analysis, delivered in a manner that made its point without offence.
Style and character

The bands that did well on the day were organized in their approach and delivered performances full of style and character. It was no coincidence that the better bands looked as if they were enjoying the music.
Forest of Dean drew number one for the second successive year and although they looked a touch crest fallen as they walked onto stage they produced a solid rendition that although not always stylistically on the button had excellent ensemble and good soloists.
South Molton Town meanwhile never got into any gear and only gave a few glimpses of their true form. It never quite sounded relaxed and as a result it took away any impact it could have made on the judges.
Up a notch

With St Pinnock, the performance level went up a significant notch with a nice jaunty opening and good soloists around the stand. There were a few nerves though but they really had a good crack in the final section and a midfield finish was a worthy return.
Dramatic

The standard improved dramatically with the arrival of Verwood Concert Brass.
This was the performance that really kick-started the contest - cracking stuff, with a great opening movement, so much attention to detail and all done in the right style. The soloists were excellent (special mention to flugel and trombone) and by the 'Rodeo' it was a performance that had Harrogate stamped all over it.
Verwood won the Fourth Section here in 2006 and they have progressed through the ranks with such aplomb, that you feel they could make a real mark come those finals.
Solid

Heyl and David Johnston produced a fine performance of solid competency where particular attention had been paid to the style of the piece, aided by excellent contributions all round the stand. There was just the odd moment was it was a touch edgy in places though which meant they had to settle for 4th place overall, but at some areas this would have been close to being a clear winner.
City of Bristol with Ceri Thomas at the helm drew six and finished 6th courtesy of a solid account with mature and confident playing. It was a touch nervy in the opening of 'Deep South' and the 'Rodeo' but by its end the band was playing with a real degree of enjoyable authority.
Experience

Dave Lea's experience certainly lifted Cinderford during their performance. Unfortunately though, there were nerves around the stand in the ensemble playing at times, and whilst the solo playing was commendable it was the tightness in the ensemble that proved costly and they had to be content with 10th place.
Lack of confidence

Gillingham just lacked confidence in their performance and with plenty of nervousness on show, it became an error-strewn offering that left you frustrated, as it was clear if it had all gelled together, it could have been a totally different story. 12th place was a par result, but there were glimpses of better days ahead on display.
Filton meanwhile delivered a very solid affair, full of confidence, character and lots of self-belief that rarely got into musical difficulties. Some nasty slips though at times meant it wasn't going to challenge for a top two berth but they more than enough about them to feature in the prizes and 5thh was fine reward for a very competent show.
Off beam

Not so though Solent who struggled to get to grips with the piece. Stylistically at times it was a long way off beam, which was a real pity as at times it gelled well and there was a solid performance in the making.
Phoenix Brass (Crewkwerne) was fairly typical of a lot of performances. It had lots of potential but the lack of overall consistency was its undoing, despite the fine efforts of the flugel and the MD to keep the music flowing. 7th place was a solid enough return, but there was potential there for so much more.
Just missing out

The weekend previous, Stan Lippeatt crafted a performance from Kippax that just missed out on a place at Harrogate. Six days later, lightening struck twice as he once again delivered the goods with Shrewton Silver only to finish in 3rd place.
This was high quality stuff though, with tight ensemble playing and great solo work, all very sensitively done when it needed to be. Just a few unforced slips perhaps proved the difference between a September weekend in Harrogate and one back home in Shrewton. Close though.
Top drawer playing

Camborne 'B' drew number 13, but there was nothing unlucky about their performance.
This was top draw playing and the best performance this reviewer has heard of 'New World Sketches' at the Regionals so far. This young band (with an average age of around 15) revelled in the music, with an ensemble that was so tight and precise, and soloists nothing short of inspired (Rosie Langley was just stunning in the jazzy trombone solo). It was jaw-dropping stuff.
Alan Pope's direction was first class and there was little you could say that even came close to losing them points. It was quite outstanding playing and fully deserved the plaudits and the victory.
Touch harsh

Bristol East and Kingswood were drawn to play last but one of the pre contest favourites couldn't quite up their form to match what had gone before – despite some fine solo playing and very precise ensemble work. 9th place was a touch harsh maybe, but they knew they were not in the hunt on the day.
It was certainly Camborne's day though without a doubt, and along with Verwood Concert Brass, the region will send two of the most competitive bands to the finals that anyone could care to wish for. The rest of the UK has been warned.
Malcolm Wood