2009 Welsh Regional Championship - Postcard from Swansea
18-Mar-2009
There is always a welcome in the hillsides in Wales - although not always for their own brethren...
---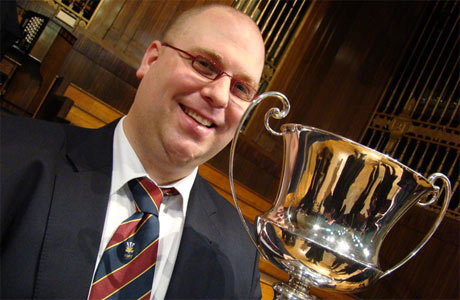 As Welsh as they come... Bert Van Thienen celbrates his first Welsh victory

The Welsh has a long and proud tradition of welcoming outsiders into the warm clasp of its ample bosom.
For Bert Van Thienen, the experience of his first Welsh Regional Championship confirmed that.
Playing with the current European and British Open champion does make things a little easier, although the Willebroek soprano star made sure that he was wearing craftily chosen Cymru red glasses to fit in even better in his Cory surroundings. His accent is not unlike that found in the darker recesses of Abercorki either.
Model

In many ways Bert is the very model of the modern brass player – a United Nations soprano task force, ready and willing to go into battle in banding trouble spots throughout the world.
If a band in the Congo was in urgent need of help at a local contest, you can be sure Kofi Annan would be on the blower to Belgium to get him in a blue helmet ad matching monkey jacket to play.
He is a great bloke and a great player – and Cory was very lucky to have his services on tap on the weekend.
Spaniels

Elsewhere Wales also opened its arms to welcome those with equally as tenuous ties to the homeland – Alan Hope getting a warm round of applause with the announcement of the impending birth of a litter of Welsh Springer Spaniels to the family fold, whilst David Read made sure that he reminded the audience that he originally hailed from just up the A465 at Senghennydd.
If Bert returns next year to play with Cory you suspect he may be extolling the virtues of eating the local delicacy of lava bread and sporting a Red Dragon tattoo on his arm.
Meanwhile, even that most English of musicians, Paul Lovatt- Cooper (a Bolton man through and through) has been rumoured to have changed his middle name to include an extra 'L' to make him fit in with the North Walian players at Royal Buckley by the time they get to Harrogate. He may have to work on his accent a bit more though.
Misprint

Strangely there was the odd misprint in the programme that stated that 'Salute to Youth' was written by Gilert Vinter – perhaps the North Wales half brother of the Lincolnshire born composer?

A little closer to home two real old stalwarts of the banding movement received 'Rolls of Honour' for their lifetime support and active participation in banding in the Principality. It was a real delight to see both James Williams and Graham Hedditch receive them to warm and generous applause on the Brangwyn Hall stage.
As for the contest weekend itself?
Black Bible

Just 39 bands made it to the stage this year, with rumours that it may be even less next time around. There are some well known bands in trouble, and with a poor choice of test piece, especially in the Fourth Section things are looking as black as the black cover on a Welsh bible in some parts of the nation.
Philip Morris has two hats to wear in Wales, and with his Welsh Regional Secretary one on his head he will know that something needs to be done to get the grass roots bands back to some sort of healthy shape here pretty sharpish.
When he puts on his Kapitol Promotions one he will also know that perhaps the ideal way to do it is to open up the Fourth Section, not only here, but all around the country too. A lot of people were trying to tell him to do that on the weekend. He is a clever enough guy to realise when the writing is on the wall – even when written in Welsh.
Grumbles

As always, there are still grumbles that this contest needs to be moved to a more central venue to help bands from all corners of the Principality out more, but that remains something of a red herring.
What is needed is some sort of financial support system to be put in place to help subsidise the bands from the extremities of the nation to travel here each year without them being crippled by the cost.
Luckily the Welsh Regional Committee has a good deal struck with the City of Swansea for the hire of the Brangwyn Hall, and with ticket prices not overly expensive, perhaps there could be some way for a levy to be placed on bands from South and West Wales to help the cost of their North Walian brethren?
You can hear the sharp intake of breath already.
Welcoming strangers is one thing, doing a good turn for members of the Welsh banding family, quite another. Wales is not always quite as warm hearted as it may at first appear.
Iwan Fox