2009 Welsh Regional Championship - Championship Section - retrospective
18-Mar-2009
It was all about reaching the 8th step in Swansea on the weekend - and for David Read, only Cory managed to make it...
---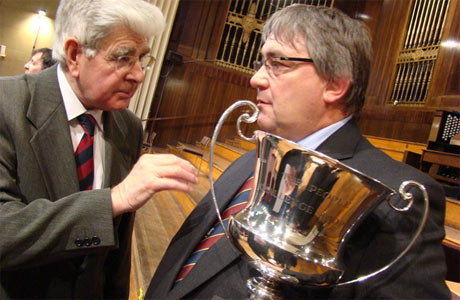 Just how Gilbert liked it: David Read takes take to explain to Bob Childs just how much he liked their winning performance too.

Like recovering alcoholics and Buddhist monks, it seems there are a number of steps to climb in top section brass band contests before you achieve both enlightenment and ultimate success.
It would also be rather unfair to describe David Read as some 'new age' guru expounding the virtues of leading such an approach to winning a Championship Section contest, but the thought did cross the mind in Swansea, as our most experienced of adjudicators spoke of '… 8 steps in quality' between those bands who merely compete at this level and those who are able to win with a performances that he felt was, '…one of the best he had ever heard.'
No higher compliment

Cory regained the Welsh Regional Championship title, because he felt they had produced a performance of 'Salute to Youth' that brought him to pen, "Gilbert (Vinter) would have liked this. I can pay you no higher compliment!"
In terms contesting enlightenment, he felt Cory had reached step number 8 – where only the very best bands can play on their very best of days. However, on this occasion, if ever there were a ninth step, in his opinion, they wouldn't have been too far off that either.
Circumspect

As for the rest of the 9 bands at Brangwyn Hall, he was a little more circumspect, talking of the need for accuracy first, interpretation second. That was more like he was expounding the virtues of Maslow's famous pyramid of the hierarchy of needs rather than a self-help 8-step guide to winning a place at the Royal Albert Hall.
Cory did everything that the adjudicator has been searching for (somewhat in vain it must be said before now) on Vinter's work this year.
At Blackpool he was forensically scathing at times in his pre results analysis - and so too here. Once again he took the opportunity to illuminate his desire to hear bands get both accuracy and interpretation right from the very start of the work – the tied triplet quaver and semi quaver motif in the second bar in fact, which has become something of a bête noire for bands wishing to impress him in the box.
Literal

It was the very literal approach to the score that worked in Cory's and Bob Childs' favour on the day.
Everything was laid out with trademark attention to detail, allied to lyrical musicality – none more so than in the contributions of David Childs, who won the 'Best Instrumentalist' prize, and Willebroek's Bert Van Thienen, who performed with a rare degree of composure on a day when outstanding soprano contributions were few and far between.
Despite their recent unprecedented run of success here, the Welsh Regional does not always find Cory at its most comfortable – a combination of expectation and intense local rivalry brings a sense of unexpected fragility about their playing at times.
Risks

Here the conductor took risks in asking his players to deliver in such a literal manner (and the hall has a very clear acoustic resonance).
The variances in dynamics were huge, the precise nature of the rhythmic under currents brought forward in even the most densely written parts of the score, the soloists allowed time to add personal nuance.
He asked a great deal of his players and they responded in kind (although there were a few minor fragilities).
A slightly more conservative approach may have only registered a 7.5 on David Read's scale of musical satisfaction, but as he made clear at the conclusion of the contest, he was immensely musically satisfied by what he had heard.
Seventh heaven?

So much so that he felt it a clear winner from reigning champion Tredegar in second place, who many (including 4BR) felt had possibly done enough to retain their title and book their automatic place as Welsh representatives at the European Championships in Austria in 2010.
Not so the adjudicator, and although he spoke in very complimentary terms about the quality of what he had heard from them off the number 2 draw, he felt that theirs was a seventh level of contesting winning performance – although not one that would have led them to an ultimate seventh heaven victory.
Their 'Salute' was rich in emotion, style, and at times, speed – a high class rendition from deep in the heart of Ian Porthouse and his band that at times thrilled, but also had the odd slip and slightly edgy sense of adventure.
It was a class apart from the rest of the field (with a fine piece of euphonium playing from Darren Morris a feature), but for the man in the box, it was a performance that couldn't match what came when Cory rounded off the contest as the last band on the day.
Step down

A further step or even two behind came a delighted Northop, who claimed their first trip back to the Albert Hall since 1996, courtesy of a lighter, respectful reading under Thomas Wyss, that may have lacked the real depth of sound that the two heavyweight bands were able to produce when required, but had a fine sense of style.
There were moments of fragility about the playing (although not so the excellent young girl on soprano), but in terms of consistency it certainly deserved its final placing on a day when more fancied rivals rather fell on their own swords.
Out of luck

One of those was Jason Katsikaris, who would have known his regional luck was out again – and after his disappointment with Leyland at Blackpool, a series of accumulated errors in the first two movements cost BTM any hope of returning to London for a third successive year.
After a fine opening statement things went awry in usually two of the most consistent sources of excellence in the band – soprano and solo cornet. By the time it recovered after musical 'Romance', even a splendid final section wasn't enough to gain back the lost ground, and although David Read felt it was very close between them and Northop, he felt the overall consistency of the North Walians just gave them the edge.
With these two performances in the 6- 6.5 step area, to use David Read's descriptive analogy, the rest found it hard to gain a 5 or above.
Standard fell away

The standard of the remaining contenders really did fall away, at times, appreciably, and this quartet of performances was the only ones to really deliver on a work that David Read accurately described as '…still a very good test'.
It was disappointing to hear so many unforced errors, poorly defined dynamics and badly chosen tempos, in a contest that clearly showed that Wales may boast outstanding quality at its top end of championship banding but has a fair amount of mediocrity below too.
Of those it was a toss up between Beaumaris in 5th and Newbridge in 6th – although both will have known that they were some way off challenging the top four on the day.
Nerves

Beaumaris was undone by nerves – some fine ensemble playing was never going to be enough when the fragilities in leading lines were exposed as their were from the word go.
For young players, the stage at the Brangwyn Hall offers no hiding place, and despite the obvious disappointment on this occasion for Gwyn Evans and his band, he will know that the experience will have done his players a huge amount of good.
They are not too far away from posting a challenge here (and there were plenty extended periods when things went very well), but 5th was more an indication of the weaknesses of the bands that finished below them.
Unforced errors

It was much the same story with Newbridge (Celynen), with a performance littered with unforced errors and a tendency for harsh overblowing through a lack of subtle dynamic variance.
Much of the good solo work and ensemble solidity was lost in the miasma of blandness, and as hard as MD Paul Holland tried, he could not draw from his players that step up in class to enhance the quality for it to come any higher than it eventually did.
Quartet

For the remaining quartet of Cwmaman, Wrexham, Burry Port and Penclawdd, these were performances that lacked true Championship Section quality.
Riddled with solo and ensemble insecurities, poor tuning, lacking internal balances, harsh tonal qualities and even a preponderance of wrong notes, it was somewhat depressing fare.
Cwmaman will have known that they had given it their best, but the technicalities of the work were never overcome, there were too many solo fragilities. As a result Graham O'Connor had to use all his experience to ensure that the inherent weaknesses were not over exposed too often.
Brave effort

So too with Wrexham Brass, although their brave effort (they were short on numbers) was balanced and well shaped by Wayne Ruston with an appreciation of the obvious shortcomings he had to work with. Some crafty division of labour and the ability to keep decent form right through to the taxing close meant that they deservedly took a couple of scalps on the day, although they will also know that this wasn't a performance of true top section level.
Burry Port had opened the contest in deliberate style under Craig Roberts, but as hard as they tried (and there was a top notch bit of euph playing from Ceri John) the inherent ensemble weaknesses were there for all to hear. The last movement contained some of their best playing, but as stamina waned so did the overall quality of sound and a tired end sealed their fate.
Broken bones

That just left Penclawdd and a performance that Tony Small will have known was not of a standard that would have got them any higher than their eventually 10th place.
It was a brave effort though (with some neat sop work from Gurnos Rees) with their young percussionist playing through the pain of a broken collar bone, but it was also one from a band that should have been playing in the First Section on the weekend.
Steps

A contest of steps then – some of which a number of bands fell down in the process of trying to make the most of 'Salute to Youth' - although no recovering alcoholics or monks were hurt in the process..
Not so Cory, and their success here was born of a determination to stamp their authority back on the Welsh banding scene in a manner that left David Read perhaps wondering if he could have added a few more levels to his guru's guide to winning a brass band contest.
Iwan Fox