2009 Welsh Regional Championship - First Section - retrospective
18-Mar-2009
Never has a pack of Paracetemol been used to better effect here on the weekend - for celebrating bands with bad heads to helping with quintuplet rhythms...
---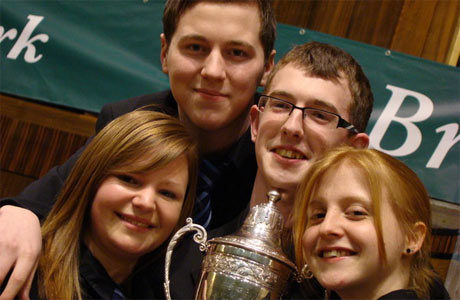 Four points of success: Point of Ayr get set to start celebrating in some style in Swansea

As has been the case up and down the country this year, 'Pentacle' proved itself to be a stern test of musical as well as technical character for the six competing bands on Saturday afternoon.
And as has been the case around the country, only a minority of them managed to play it with true authority too.
Good news

The good news for Welsh banding is that the two bands that will represent the Principality at Harrogate will do so confident of putting in a very strong challenge for the National title itself. The bad news is that it will perpetuate the belief that Wales has a First Section that is fit for purpose – it isn't.
However, for the winners, Point of Ayr, the purpose of their return to the banding scene has been more than justified.
Last year they won the Second Section here in some style and went on to take the National title. On this form they won't be too far away doing the same either in the First Section.
Direct and clear

David Read was very direct and clear in his remarks before the announcement of the results. He told the audience that this was music that bands found was not in their 'comfort zone'. The rhythmic patterns and the episodes of intended 'chaos' linked to strong lyrical passages tested the bands – in fact, 'stretched them to the very limit', as he said.
It was a 'very difficult work', but one he felt all the bands emerged with credit at times (the emphasis was on the 'at' though), although he was also clear in his belief that the two qualifying bands had produced, what he described as , '…quite outstanding performances', as good as any he felt would be produced anywhere in the country during the regionals.
No doubt

There was little doubt who he was talking about.
After three hard working, but very average performances had come and gone from Markham, Pontardulais and RAF St Athan, Point of Ayr produced an authentic rendition that met both the technical and musical demands of Graham Cole's work to the full.
What was most noticeable however was the overall quality of the ensemble sound – full, warm and balanced, with an excellent bass end backed by a quite outstanding percussion section (timps in particular) that brought rhythmic drive allied to subtle colour and effect when required.
Intelligent direction

John Hinckley's intelligent direction allowed the band to just deliver the opening sections with a touch more poise than their rivals, whilst the security of the solo cornet and soprano playing and the ability to bring inner detail of the middle of the band through in the lyrical passages marked them out.
It was a fine performance in anyone's book. Next stop, Harrogate – but not before the lads and lasses were going to enjoy a night out on the tiles of Swansea. There will have been a few sore heads in the B&B hotel on Sunday morning.
Never will Paracetemol have been used more for its medicinal purposes rather than as a musical aid to help play groups of quintuplet rhythms.
Resplendent

On another day Tongwynlais Temperance could well have won.
Resplendent in their new uniforms (a real old retro monkey jacket and red cumber band look too) theirs was a very polished, detailed and slightly more aggressive performance under the baton of Philip Harper (kitted out in suave burgundy shirt)
They too met the technical demands of the piece with real accomplishment, with notable contributions from the solo cornet, a tremendous percussion team and a very classy flugel horn in David James, who took the 'Best Instrumentalist' prize for his excellent ensemble and solo playing.
Vibrancy

Not everything they tried came off, but the sense of vibrancy and rhythmic clarity (so many bands couldn't play the fives accurately let alone triplets in the 5/4 time) was so defined. It just got a little overcooked in places as Philip racked up the intensity, but by its close it was a performance of high merit.
We had it as our winner, but David Read felt that that extra poise of the North Walians was enough to give them the title. It was very close though.
Behind the qualifiers, and by some margin came the rest, and despite some brave old efforts from all concerned it was clear that none of them could overcome both the technical and musical hurdles with sufficient consistency to come close to upsetting the top two bands on the day.
Great heart

Abergavenny will have taken great heart from their performance however.
In the last year or so, Gareth Ritter has really rebuilt this proud band and despite the more obvious difficulties they encountered in both solo and ensemble lines it was a performance of rich encouragement and endeavour.
On this occasion that was never going to be enough on a piece that tested them to its very limits, but a fine solo cornet, trombone and euphonium contribution added to some splendid percussion from the girls at the back of the band gave them more plus points than minus ones for them to emerge with merit and deserved 3rd place.
Librarians cupboard

Talking to some of the players of Markham after the results, many of them were glad that they didn't have to play the piece again.
Despite the excellent direction from Nigel Seaman in the middle, it was a performance that was always on the very edge of comfort. The more lyrical sections did provide the opportunity to shine (a fine sop and flugel in particular) but it was the extensive technical demands of the ensemble that saw them struggle. A 4th place was never harder won.
Intellect

So too 5th placed Pontardulais, conducted with a great degree of musical intellect by Paul Jenkins.
Knowing the limitations of his band he took pace and dynamic away to ensure a degree of clarity in exposed lines and balance in ensemble.
Whilst the technical demands proved to be at the very limit of the bands abilities, the approach gave the players the chance to show their strengths both as soloists (a fine solo cornet and brave sop) and as an ensemble, rather than highlight too many obvious weaknesses.
Not a great overall performance perhaps in relative terms, but one that showed a great degree of forethought.
Wise

That too went for RAF St Athan in 6th place.
Alan Bourne knew his band were going to be up against it with this piece, so a wise approach to the technical demands saw the stronger players highlighted to good effect (an excellent effort from the principal cornet and trombones in particular).
There was also some neat camouflage work on display too (the boffins at the RAF camp will have been pleased with that – although they couldn't cover up the amazing red mohican hairdo of the baritone player) so even though you knew there was a bit of smoke and mirrors going on it was done with a very specific purpose in mind.
Two out of six

Overall though it was a contest that mirrored much that has been heard around the country at this level. Two quality performances out of six may seem a good return on a difficult piece, but the difference between these two and the rest was unhealthy for the future of Welsh banding at this level.
Point and Tongwynlais head for Harrogate and possibly further glory, the rest head for home to put this piece in the librarian's cupboard for all eternity.
Iwan Fox