2009 Welsh Regional Championship - Second Section - retrospective
18-Mar-2009
From Cardiff to Harrogate via America - a good job some Welsh bands are good travellers then...
---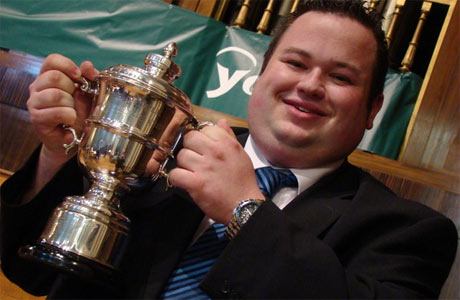 Smiles all round: City of Cardiff MD, Gareth Ritter enjoys the taste of success

The Welsh are rumoured not to be the greatest travellers – as the current national rugby team showed to fine effect on the weekend in Rome.
Still, there is a well founded rumour that it is after a native of the Principality that America is named (honest), so the 10 bands should have felt a little bit at home on Saturday afternoon.
Good news

The good news is that the majority did – despite a few suffering a bit of musical travel sickness.
Adjudicator Alan Hope was generous in his assessment of what he had heard on Dan Price's excellent 'New World Sketches'.
Crafty

Craftily, the most Geordie of judges ingratiated himself to the audience by declaring his Celtic ties through the announcement of the impending delivery of a litter of Welsh Springer Spaniels by his pet hound.
His assessment of what he heard was dogged enough too – emphasising the need for the bands and their MDs to try and create three different musical portraits of the USA from the colourful score in anything up to 12 different musical styles.
What he didn't mention though was that a few performances were a bit of a dog's dinner, despite some brave efforts to try and overcome the stylistic challenges that included cool jazz (and some real old sleazy stuff too), Negro spiritual, Gershwinesque 'Rhapsody in Blue' and even a touch of Ennio Morricone's classic western scores.
Enjoyed

He enjoyed himself in the box (and he did stay there for about 10 minutes after the last band played sorting out the results) and he came up with a decision that found almost universal approval in the hall.
It wasn't perhaps his hardest days work in the tent, but wearing his Music Panel hat it would have confirmed that this particular work did its job, and did it well for the bands at this level. Unlike a couple of others this year, 'New World Sketches' was a fine choice.
Fine value

The winners were fine value for their success too.
City of Cardiff (Melingriffith) delivered a high-class performance that had clarity of technique allied to authentic appreciation of style. It was in a different league on the day.
The MD Gareth Ritter is one of the rising conducting stars in the Principality and his progress with the band has been marked in the last couple of years.
His direction was a model of clear thinking and well prepared musical ideas, allowing some talented performers the license to show their experience and class.
Foremost amongst these was Paul Jenkins on bass trombone who Alan awarded the 'Best Instrumentalist' prize – 'A real asset to his band', he commented.
The former Cory trombonist produced a lovely ripe tone - just perfect for the music. A talented conductor too, he was waiting in the wings to play with his First Section band Pontardulais with baton and score in hand when he was ushered onto the stage to accept his individual award.
They will head for Harrogate confident of doing well, as this was a performance rich in future promise.
Vibrantly coloured

Joining them there will be Deiniolen, conducted by Gavin Saynor, with an account that was vibrantly coloured, strongly textured and stylish portrayed.
They also overcame what seemed to be a catastrophic bit of tuned percussion playing at the beginning too – a case of signature key blindness on xylophone, which thankfully was cured by the time the player had to have a second go at it.
Despite that mishap, the rest of the band was on tiptop form from the off, and by the time they delivered a powerful finale their place at the finals was all but secured. It was also well deserved too.
Just missing out

Just missing out on this occasion was Rogerstone in third place, after they had come up with a thrill a minute account that seemed to be played with tempi that kept the music flowing – sometimes at breakneck speed that made for roughness around the ensemble edges.
Just a bit more time in the second movement, where the old locomotive sped into the junction like an Inter City 125, could just have gained them that Harrogate place. It was a very enjoyable interpretation however.
One of the bands that failed to travel well was Tylorstown in 4th place. Their performance had extended moments of quality about it at times – but in an inconsistent performance, it was also interspersed with sloppy errors in both solo and ensemble lines too. Their demeanour as they walked off stage suggested that they knew they hadn't done enough to get through on this occasion.
Americana

Newtown Silver on the other hand gave it their best shot of Americana.
MD, Steve Edwards drew a richly coloured performance out of his band, and just a few too many annoying little errors and slips just took the gloss off what was one of the best interpretations of the day.
Blaenavon meanwhile just ran out of steam in the final section, when they looked as if they were going to round off the contest with a possible qualifying performance.
The opening two movements were well shaped and delivered, and whilst there were the odd moments of tuning, things seemed on course for Harrogate until a collective lack of stamina saw them rather limp over the finishing line. On a day when nearly all the bands played to form, it just gave the man in the box the thought that this was a 'nearly' performance – and so it proved.
Disappointed

Lewis Merthyr will have been a little disappointed at their outcome after a performance that had admirable consistency throughout – mirroring the neat conducting style of Gavin Pritchard at the helm.
What it seemed to lack was that extra authentic sense of dramatic USA Technicolor splashes, but despite that it could count itself a little unlucky not to have come higher than 7th.
Bottom three

The bottom three bands of Llanrug, Briton Ferry and Ammanford struggled somewhat to overcome the technical difficulties of Dan Price's enjoyable work, although each gave it a damn good shot.
Llanrug was a little untidy to start, but a cracking solo cornet player (just the right amount of classy old sleaze in the jazz section) seemed to pick things up.
More good playing in the second section also followed, but by then the stamina reserves were just about on empty and a rather tired final movement just took the gloss off a performance that had a great deal of merit under Paul Hughes.
Future promise

So too Briton Ferry, who opened with a cracking first movement full of colour and vibrant playing (especially the percussion team), but who then found the more exposed sections not quite as enjoyable. Understandable tiredness had crept in by the last run for home, but this too held a great deal of future promise.
Finally, Ammanford Town and a bit of a hit and miss affair that certainly captured the differing styles in each of the sections, but did so at the expense of losing a great deal of consistency in the execution.
At times it was great (especially the euph and solo cornet), but it grated the teeth a little too, so they could have no complaints in ending up where they did. The future does look quite bright though.
As for City of Cardiff and Deiniolen – the future holds a trip to Harrogate and on this form they could well be looking at posting a strong challenge for the prizes.
Iwan Fox