2009 Welsh Regional Championship - Third Section - retrospective
18-Mar-2009
The Once and Future King - no, not Barry John, but there were a few cracking performances here the greatest of them all would have been proud to have called his own.
---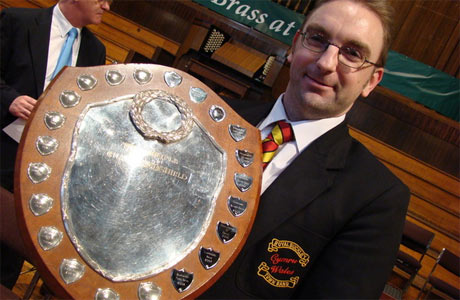 A real Royal first : Royal Buckley enjoy their First Welsh Regional title

Lets get one thing straight – there is only one 'Once and Future King' in these parts – Barry John.
Forget the rest – in his heyday this young outside half from Cefneithin, could conjure up more magic in 80 minutes on a boggy green sward of turf than any bloke with a penchant for pulling the odd kitchen knife out of a medieval breeze block could ever come up with.
Lay claim

Still, the Welsh even lay claim to the mythical pretender too, which may be good news for the PR gurus at the Welsh Tourist Board, but didn't really help too many of the bands in their preparation for this contest. By all accounts Arthur came from Crwbin…
Six bands made it to the starting tape to provide a mixed old contest that opened the Welsh Regional Championships on Saturday morning (plenty of time then to get it over with before Wales played Italy in the Six Nations).
Drop goal

And the contest unfolded a bit like the Arthurian legend – band after band trying their luck to pull a winner out of the stonelike grip of adjudicator David Read, before one came along and plopped it out with the ease of a Barry John drop goal.
Mastermind

Strangely though the winner was masterminded by a very English source – Paul Lovatt-Cooper. Forget the powers of King Arthur, this man seems to have the touch of King Midas – everything he does at present turns to gold.
Composing, playing and now conducting – there cannot be enough hours in the day for him to cram it all in surely? He'll invent a perpetual motion machine and captain the English cricket team in the Ashes next.
PLC led Royal Buckley to a high quality victory with plenty to spare.
It is a great result for a band that has tasted some tough old times of late, a great result for North Wales banding (which has been in need of a real boost) and a great result for Welsh banding. Royal Buckley will be a strong contender come Harrogate if they can reproduce this type of form again.
Off the number 5 draw they produced three movements that had contrasting style, detail, balance, a warm well balanced ensemble sound, solid soloists and (as you would possibly expect from a band conducted by PLC) an excellent percussion team who enhanced the entire performance with rhythmic drive and colour.
They were clear and deserved winners – and it gave the band its first regional title since - well since ever we think! No wonder the sounds of their celebrations filled the bar for quite a few hours into the afternoon.
Complimentary

David Read was in fact very complimentary about all the bands from the country of his birth, stating that he was 'pleasantly surprised' by the standard he had heard. He did feel that the piece, although not to severe a test for this level, was a good choice, as it allowed for musicality to be explored as well as meeting the more obvious technical challenges.
He did point out however that a few renditions just lacked majesty in the opening section, whilst the 'Lyonesse' movement needed a degree of mystery about it. The finale had to be played with care too, especially with regard to the rhythmic patterns, whilst a couple of bands just 'fizzled out' by the end.
David had no doubt about the winners, who he felt would represent Wales very well come the finals.
Little bit of class

Joining them there will be Ynyshir conducted by Dean Evans – another band that has had its fair share of not so great times of late too.
They made it back to the Finals for the first time in a decade courtesy of a strongly coloured performance that owed much to the admirable consistency they showed throughout each of the three movements of Andrew Baker's tricky work.
A strong opening led to a neatly shaped 'Lyonesse', which featured a sweet soprano and the excellent trombone playing of veteran Norman James, who took the 'Best Instrumentalist' prize for his fine contribution (one he has been making for his band since Barry John was in short trousers in fact) – great bloke, great bandsman, great bit of playing. David Read was right in describing it as 'showing a little bit of class'.
By the time they finished with a robust 'Badon Hill' finale, they had set the marker that only Royal Buckley could beat. They may have come second, but Ynyshir was as equally delighted by the outcome.
Close call

The battle to gain that second qualification place was a close one on the day, but both Crosskeys who came 3rd, and Gwaun-Cae-Gurwen who ended in 4th, would know that they left the door open for a rival to beat them to it.
Crosskeys produced a real old dolly mixture of a performance – some great tasty mouthfuls of delight just spoilt by the odd coffee cream that had inadvertently fallen into MDs Ceri Bowden's musical Woolies pick'n mix bag.
This was confident if untidy playing, with a purposeful opening leading to a well delivered second section and exciting finale. There was much to admire from the soprano and solo cornet contributions, but as the band built up a head of steam it got a little too scrappy and that just robbed them of the chance of returning to Harrogate once again.
Best band sound

It was the same story for Gwaun-Cae-Gurwen too – who produced perhaps the best band sound of the contest with a strong, warmly toned bass led foundation.
They did however make us wait for their rendition (someone left their music back in the toilets), but it was well worth it, with a strong and purposeful opening leading to an atmospheric second section that featured a fine soprano and neat trombone.
All seemed on track to post a real contender, but a catastrophic start to the finale (which sounded as if someone had been overcome with key signature blindness) killed off their chances, and they rather finished on a bit of a downer. It was a pity as there was plenty of promise on show.
Decent peformances

That left the two bands of Ogmore Valley Silver in 5th and Goodwick in 6th, both of whom put in decent performances that just lacked for security in tuning and balance, and perhaps needed a little more robustness in the finales.
Ivor Barnett marshalled his resources better than Warren Gatland did in Rome later in the afternoon, and was rewarded with an encouraging performance that featured an excellent soprano and percussion team in particular.
It was the tuning in the more exposed areas that perhaps cost them valuable points, but despite that it was a performance rounded off with a fair amount of brio.
Brio

So too, Goodwick, which was full of brio in fact – brio by the bucketful at times.
What was needed was perhaps a touch more composure – the youthful enthusiasm and talent was there all right (a very fine soprano, cornet, euph and trombone) for all to admire. You couldn't fault the commitment and desire and MD Colin Hogg must know he has a cracking young band in the making. It just needed a touch of cold hearted contesting detachment to have given it that extra bit of qualification quality.
They were not too far off though and you suspect in the next couple of years this is a band that will grow into very competitive contesting force here.
Diary out

As for Royal Buckley and Paul Lovatt-Cooper? Great result, great performance, great big headache of how to now raise the money to get to Harrogate and find time to try and fit in a rehearsal schedule to PLC's crammed packed diary.
By all accounts he may have a 20-minute spot free on the evening of the 23rd of August. The Band Secretary better be quick…
Iwan Fox