2009 Scottish Regional Championship - Introduction and preview
17-Mar-2009
Domestic pride or national success? Its a hard balancing act when Celtic pride is at stake in Scotland.
---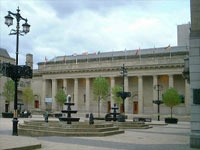 The Scots need independance.
They may not really want it, but in banding terms at least, they desperately require at least some form of it.
Inventive, progressive, hard working – the organisers of the movement north of Hadrian's Wall have the long term health of its banding community as its vision for the future.
External forces

It is a vision that is clouded by external forces however.

Left alone they get on with things in a manner that leaves the rest of the regions in the UK behind: The Scottish Open and Youth Championships for instance, the amazingly effective work of its Development Office Alan Edmond, its continuing dialogue with its member bands over rules and grading.
It's when they get involved with the rest of us that things tend to go a little peetong.
Ali Bongo

Remember the furore over registry queries at the British Open? That was a card trick not even the late Ali Bongo could sort out (and his real name was William Wallace) and it is one that has rumbled on without any clear conclusion either.
Just a few months back those Scottish Youth Championships held so much promise for banding in the country – bucket loads of players the size of a haggis enjoying the experience of music making in front of family and friends. It was a delight.
Yet a few months on and the Scottish Championships is hosting a contest that has seen yet another drop in competitors, with a Fourth Section that can only boast five entrants.
Herring

Left it their own devices the Scottish Championships used to have them crammed in like herring landed in Aberdeen (and they were stand alone championships for close on a century), but given the need to send two bands in each section south to Harrogate and London, they suffer the same problems borne of imported pedantic beauracray, over prescribed rules and testpieces that are not fit for the purpose of Scottish banding.
It shouldn't come as a surprise then that last year, the Scots managed only one top six place in the entire National Championships – the rest was a disaster of Culloden proportions, with a roll call of 12th, 13th; 13th, 14th; 10th, 12th; 7th, 10th; 5th and 11th recorded by qualified bands.
Thankfully, a new initiative of introducing a Community Section for emerging bands to play at the event without being a part of the qualification process has been launched, with two bands to start, playing on stage without restrictions on personnel, instrumentation or music. It's a great Scottish idea, but one that may result in a year or two's time in more wanting to do that than play in the Fourth Section given the test pieces the Music Panel is imposing on them.
Wouldn't it better then for the Scots to truly go it alone and decide just how they send their representatives to the Finals? A bit of independence at the Regionals may just be the answer.
Championship Section:
Three into two doesn't go. Never has, never will. And which three is not diffult to identify up here either.
Only once since 1996 has a band other than Whitburn, Scottish Co-op or Kirkintilloch qualified for London – Newtongrange in 2005. The odds are then that the trational 'Big Three' of Scottish banding will be battling it out for a pair of golden tickets to the Albert in October. One of them will go home 'to think again' to borrow a well known phrase in these parts.
Whoever it is may well be thankful of not making the trip to Kensington – Scottish bands have terrible record over the last few years. 12th and 13th last year, not one top six finisher since 2000, not one extra qualification place gained since 1998. Talk about 'thinking again…'
Who ever gets the nod will also gain the honour of representing the homeland at the European Championships in Linz in Austria, so there is a worthwhile bonus incentive to play for too.
Hard to see an upset, but one or two others may fancy their chances this year, and the Scots are not averse to bringing in a bit of outside help to lead them into battle. From Mortimer to Snell, King and Childs. Now we have Mead, Maines and Simonsen leading the way.
Will one of that trio end up a winner, or will the one of the homegrown talent be crowned King of Scotland this year again?
First Section:
A lot to play for in the First Section as a well matched group of bands do battle to gain a trip south to Harrogate.
'Pentacle' has been causing all sorts of problems around the country, but a country that devised Naparian logarithams should be able to work these fives and three out.
As with the Championship Section, the qualified bands haven't enjoyed much success of late – 13th being the best return in the last two years. The heady days of the late 1990s when the region produced consecutive runners up seem a long time past.
Hard to say who will get the nod, although with the excellent Scottish Challenge Shield provided a number of bands with a late season fling that could well be the launching pad for success here in Dundee.
Second Section:
It's the same story in the Second Section – no Scottish winner for well over a decade at the Nationals, and in the last two years the qualifiers have returned home with a best of 10th place.
Nothing to write home about there then, but 'New World Sketches' may provide a decent looking field with the chance to enjoy themselves before they head south later in the year.
Hard to say who will come through , but plenty for adjudicators Kevin Wadsworth and Graham Jones to think about we are sure.
Third Section:
The Scots seem to be holding their own in the Third Section nationally – although 7th and 10th for last year's qualifiers didn't really frighten the pants off their rivals at Harrogate.
The last time the Scots headed home with the National trophy to their name was back in 2000 (when they came 1st and 2nd), but since then it has been pretty measily pickings.
Things may change this year, given the form of some of these bands, but 'The Once and Future King' is proving to be a stern test.
It was a long time ago that there was an authentic King of Scotland to celebrate – the last one to call himself that was Idi Amin, so one of these homegrown bands better make a claim for the title quick.
Fourth Section:
What a pity there is only five bands making it to the starting tape this year – it wasn't that long ago that there were 22 bands competing here.
It is a pity because they are faced with a terrible test piece too – one that will test their character and patience almost to breaking point.
Renfrew provided the Scots with their best National result last year – 5th at Harrogate, but that has been the only good news from this section in the last couple of seasons.
The Scots have great ideas of how to develop grass roots banding, but are hamstrung by the confines of antiquated rules. As a result Fourth Section banding is in real danger of terminal collapse.
Congratulations then to all the bands that play here on the weekend - lets just hope this experience doesn't put them off from coming back.